Yury, Belarus
Yury, 38, was the first patient to complete treatment in MSF's TB programme in Belarus, run in close cooperation with the Ministry of Health.
Yury learned he was sick in 2013. "I felt weak. I was losing weight. Then I got a fever. I went to the polyclinic, thinking it was a common cold." After learning what it was, Yury was too scared to mention it by name – not so much afraid for his life or health, more the reaction of others. "I thought everything had ended, that everybody would turn away from me."
When MSF set up its treatment programme in 2015, Yury had been fighting the disease for two years and been diagnosed with extensively drug-resistant TB. "My doctors told me, 'This is the only chance'. It was getting worse and worse." Yury agreed to be admitted for treatment with MSF at once. "I started to improve immediately: I didn't feel better, I had no appetite, but the tests, the X-rays – everybody was surprised! Already in October I had clear tests. Everything was clear."
"You certainly get tired in two years. But what can you do? If it wasn't for this treatment, we wouldn't be speaking here right now."
BM*, Democratic Republic of Congo
"We live in a village in Walikale territory. One night I saw armed men in my house – I don't know how they got in. As soon as I saw them I grabbed my two youngest children and tried to take cover under the bed. My eight-year-old son tried to do the same, but the men shot him. The bullet hit him in the chest and he fell next to the bed, dead.
They fired towards the bed where we were hiding. My two-year-old and four-year-old sons were hit by bullets. I shouted, 'You're killing me and all my children', and they replied, 'All you have to do is die!'
I walked for an hour with my children to a health post and then the MSF ambulance took us to Masisi general referral hospital where they were treated. They are a bit better now. I hope they can forget about this tragic incident. So far they haven't talked about it."
*Patient's name changed
Dr Innocent, Democratic Republic of Congo
You think becoming a doctor is hard?

Imagine becoming one in a conflict zone, in one of the most dangerous and remote areas of DRC.

Dr Innocent's parents were illiterate, but that didn't stop him from dreaming big. Now he is only 32 but he's already a doctor and the first Congolese man to lead an MSF emergency team in South Kivu, one of Congo's most troubled provinces.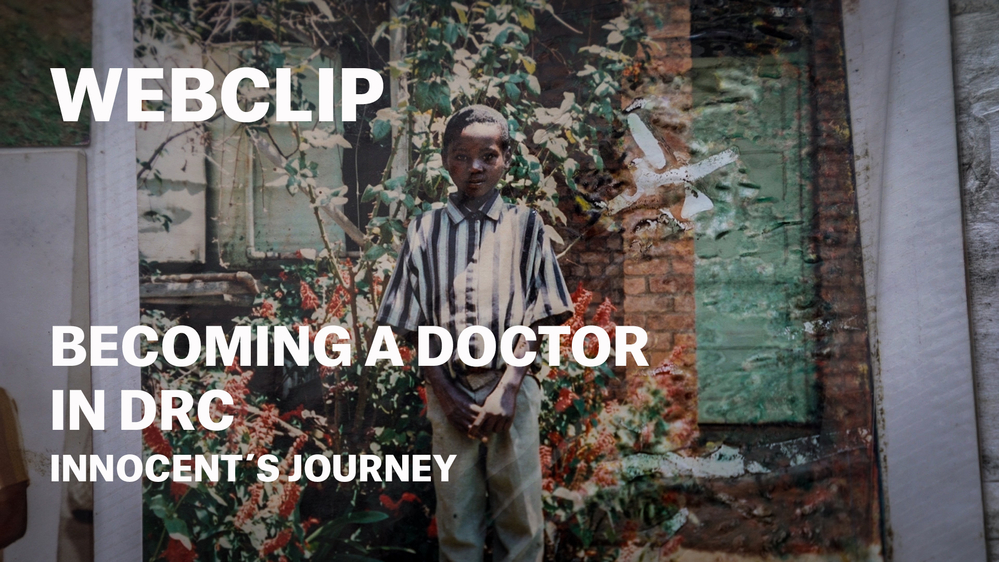 Since fleeing Aleppo four years ago, Yassin and his family's quest for a peaceful existence has taken them through Syria, Lebanon, Turkey and the EU. In Athens, an MSF doctor who treated his wife for mental health problems told him he needed help too. Yassin and his family now live in the reception centre for asylum seekers in Schweinfurt.
"Today, I know that mental health is important, but then I was torn. In Syria, people believe that anyone who goes to the psychologist is crazy. But I realised I needed help.
The talks with the counsellors here do me good. It helps when someone listens to me. I'd like to learn German and work as a truck driver again. But it's not easy for me. Recently, I've been so forgetful and confused."
Unnamed woman, Libya
"I don't know her name or even if she is still alive."
"She was one of a group of women being held in the yard of a detention centre about 60 kilometres west of Tripoli," said photojournalist Guillaume Binet, who gained rare access to several detention centres in Libya. "They were intercepted at sea by the Libyan coastguard while attempting to reach Europe. Many had severe burns on their legs. Sea water had splashed over the sides of the rubber dinghy and reacted with fuel that had spilled on the floor of the boat where the women were sitting.
I don't know what happened to the woman with the pink scarf. But without the medical care she so desperately needed, I doubt she is still alive."
"For 29 years I endured physical and mental abuse at the hands of my husband."
"I stayed with him because in our culture, we respect the wishes of our parents, and my mother felt it would humiliate her if I left him. In 2014 and 2015 I lost my mother, sister and brother, and my life fell apart – I could no longer face my home but had nowhere else to go.
On the streets of Boitekong I had met a healthcare worker called Rosina from MSF, who told me about the services for victims of partner violence at the Kgomotso care centre at Boitekong community health centre. I borrowed 20 rand (US$1.70), and took a taxi to the centre, where I was counselled and then transported to a shelter for vulnerable women and children.
I feel strong now, and ready to leave the shelter. If an abused woman hears my story, I want her to know that I used to hide my problems, but if you don't seek help it can kill you from inside. Getting to a clinic and talking to a counsellor saved my life."
Bakhtilie Akhmadullova, Ukraine
Bakhtilie, 73, lives in Granitne, a village on the frontline in eastern Ukraine. Both her sons and their families had to abandon their houses after they were damaged in shelling and the roofs collapsed.
Thanks to the help of civil society organisations, they are slowly rebuilding their homes but Bakhtilie continues to sleep in her clothes, for fear that further shelling could force them to take refuge in their dark, narrow basement.
After heavy shelling in 2015, Bakhtilie began to lose her voice and now speaks in a low croak. She does not understand why this has happened. Bakhtilie also suffers from hypertension and in order to prevent a deterioration in her condition, she receives free medical advice and medication from doctors and nurses at one of MSF's mobile clinics, which visits the village twice a week.
Arzubay, Uzbekistan
Arzubay, 24, completed a short-course treatment for multidrug-resistant tuberculosis (TB) in September 2014 and now has no signs or symptoms of the disease. But he still recalls when he received his diagnosis.
"I didn't want to believe it. I wanted to ignore what the X-ray film had shown by saying that maybe I swallowed air into my lungs during the X-ray. I submitted sputum [fluid from the lungs] twice for lab analysis. When doctors confirmed the TB diagnosis, there was no way to avoid the situation. The medical team introduced me to the simplified short-course treatment regimen and told me I met the criteria.
I started my treatment in September 2013. I felt so happy to be offered this regimen, because I knew some people were struggling with two years of treatment with side effects and others had no other treatment options left. Besides, nine months were not so long and didn't keep me from helping my family with daily chores. I didn't have to make a choice between supporting my family and getting cured."
Joel*, Zimbabwe
Joel was working as a cleaner at a company in Harare when he suddenly became very violent at work. He was taken to hospital and admitted to the psychiatric unit for treatment.
When he eventually returned to work, he realised his workmates knew he had been admitted to the psychiatric ward. They started to look down on him. He felt stigmatised and finally resigned.
"Stigma is still rife in the community and even in the workplace," he says. "I always see mentally ill people in the community and it really pains me because I realise they did not get the kind of help and assistance that I got."
Despite training as a welder, Joel couldn't find a job because people did not want to employ someone with a history of mental illness. He finally got one after referrals from a psychiatrist.
Joel's condition has now stabilised due to the medication he continues to take.
"I would like to appeal to the government to assist mentally ill patients so that they can start income-generating projects," he says. "If they are occupied and have something to do, they will remain occupied and avoid substance abuse that can in turn cause them to relapse."
*Patient's name changed