In 2021, civilian areas and infrastructure, including medical facilities, have come under direct fire on multiple occasions. Thousands of people have been killed or wounded, and many more driven from their homes. Though the intensity of the fighting in northern Syria has decreased since 2020, millions of people are still in dire need of humanitarian assistance. Over two million of them remain internally displaced in the region and continue to live in precarious conditions.

The already enormous needs that could be seen in northern Syria at the beginning of the 2021 have been further exacerbated by COVID-19 and the continuing collapse of Syria's economy. Water scarcity in the area has also led to higher levels of food insecurity.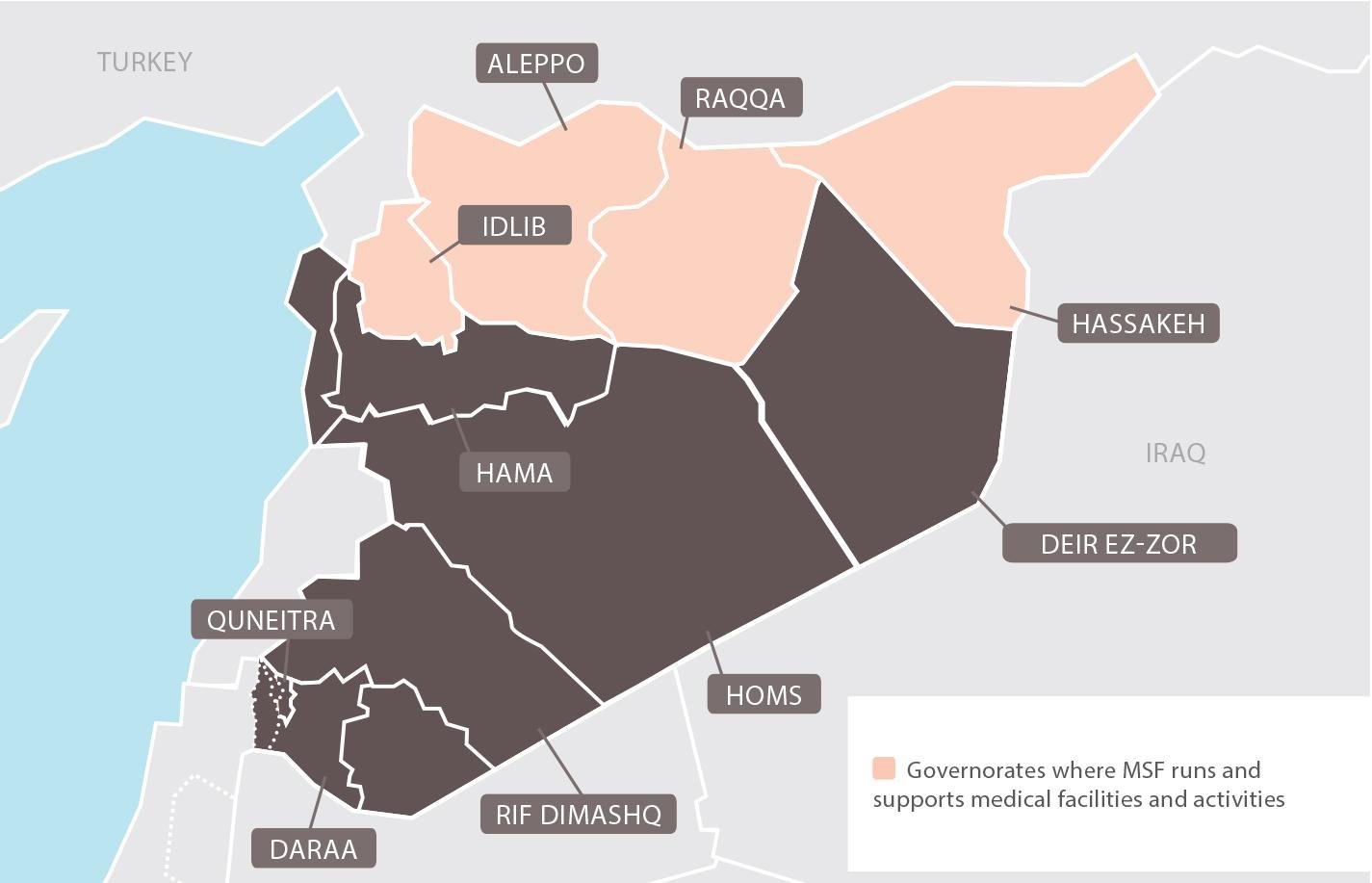 Northeast Syria
Northeast Syria remains heavily affected by the Syrian conflict with widespread medical and humanitarian needs across the region.

Years of conflict and underfunding have eroded the healthcare system in Northeast Syria. Health facilities, including major hospitals, such as the Raqqa National Hospital, remain heavily damaged by the conflict, while others lack sufficient medical supplies or qualified staff. As a result, many people cannot access the medical care they need, particularly for non-communicable diseases and complex medical conditions.

Additionally, civil infrastructure has been repeatedly compromised, severely affecting people's access to water. The Alouk water station, serving an estimated of 460,000 people in Hassakeh province, suffered 23 suspensions of the water supply in 2020 and more in 2021, the longest for 42 days. This, combined with the severe reduction in water flowing down the Euphrates River, has contributed to an increase in waterborne diseases, as well as increased food insecurity and higher risk of malnutrition.
Displaced people
There are almost 700,000 displaced people across Northeast Syria who are almost entirely dependent on humanitarian assistance. People in camps and informal settlements often lack access to appropriate sanitation and live in overcrowded conditions, while unable to implement standard preventative measure for COVID-19 such as physical distancing and hygiene measures.

This includes Al-Hol camp, which holds approximately 52,000 people, 94 per cent of whom are women and children. Boys and men are taken from the camp and put in detention centres.

The situation in the camp is shameful. There is a pressing need for effective healthcare, and water and sanitation infrastructure, to ensure safe drinking water and to prevent the spread of disease. Practical, longer-term solutions must also be found to people's status, including the possibility to return to their places of origin.
MSF response in northeast Syria
We continue to operate in Northeast Syria despite the complex situation. We run activities in areas where access is granted, including Raqqa, Kobane/Ain al-Arab, Al-Hol camp and Hassakeh. In these areas we support health centres and provide healthcare and water and sanitation activities, as well as distribute essential hygiene and essential items. In areas with high medical needs where MSF has no direct presence, we provide support through donation of medications and medical materials. Additionally, we maintain preparedness to provide emergency water trucking delivery when there are cuts in water supply.

Throughout the COVID-19 pandemic, MSF has supported hospitals and health centres in Hassakeh and Raqqa by providing medical supplies, equipment and materials, technical support and guidance, salary incentives and training for staff.
Northwest Syria
In late 2019 and early 2020, a new offensive was launched by Syrian government forces and their allies in Idlib province. Schools, markets and Internally Displaced People (IDP) camps were hit, resulting in almost one million people displaced by the fighting to areas that were already crowded with IDPs.

On multiple occasions, medical teams at MSF-supported hospitals had to deal with mass-casualty influxes. Some MSF-supported hospitals were damaged by bombings, while others had to reduce or suspend their services for fear of being hit.

In March 2020, a ceasefire was signed to put an end to the fighting in the area, but bombings and shelling have not stopped since then, especially in southern Idlib governorate. Athough the intensity of the fighting has decreased, 2.7 million people, the majority of whom are women and children, currently remain internally displaced and continue to live in dire circumstances.

As of today, cross-borders operations remain the only viable humanitarian channels to cover the growing needs in northwest Syria. In July 2021, the United Nations Security Council (UNSC) decided to renew the UN cross-border resolution (UNSC 2533) for the provision of humanitarian aid into the area for the period of six months (with renewal for an additional six-months subject to certain conditions) but if the border-crossing point into Northwest Syria were to be shut down at some point in the future without a practical alternative, the consequences could be dramatic for the population in the area.
MSF response in northwest Syria
Across northwest Syria, our teams provide high-quality medical care in Idlib and Aleppo governorates. Currently, we support eight hospitals and maternities to which we provide drugs and other medical supplies and cover running costs such as staff salaries.
In Atmeh, we run the only specialised burns unit in the area providing surgery, dressings, physiotherapy and psychological support.
In addition, we run and support 14 general healthcare centres and five ambulances for referrals. We also support 14 mobile clinics serving more than 80 IDP camps. Our teams offer basic healthcare services including treatment of non-communicable diseases (NCDs), maternal healthcare and mental healthcare services in addition to conducting health promotion activities. Community-based surveillance (CBS) is also established in 14 camps, where 28 community healthcare workers collect information about the humanitarian and medical needs of displaced people in the region.
Our teams also run WASH activities and conduct winterisation activities in close to 90 IDP camps, where we distribute hygiene kits, build latrines and toilets, improve sanitation, manage waste collection and supply water tanks.
We continue to respond to the COVID-19 pandemic in northwest Syria by running isolation units and supporting COVID-19 treatment centres. In the camps where we work in northwest Syria, our teams also conduct Rapid Diagnostic Testing, spread awareness messages about COVID-19 and the vaccines, and distributing hygiene kits to displaced families.