Rewards Principles and Policies: Chapter Contents
In this chapter you will find information on:
A Rewards System built over 50 years
When MSF was created in 1971, and during its first years of existence, the organisation was mostly based on French volunteers, mainly doctors, who were sent to support other organisations. As MSF grew, it started its own interventions, created "missions" and more permanent bases for its staff outside of Europe, closer to where the teams brought assistance to populations.
A long process of professionalisation led to hiring the first "National Staff" colleagues in countries of intervention and to the realization that some kind of frame was needed to define the status of MSF employees. This was rendered even more necessary as MSF moved from being a French association to an international Movement - with sections in Belgium, Switzerland, Spain, the Netherlands running separate "field" operations under the same flag.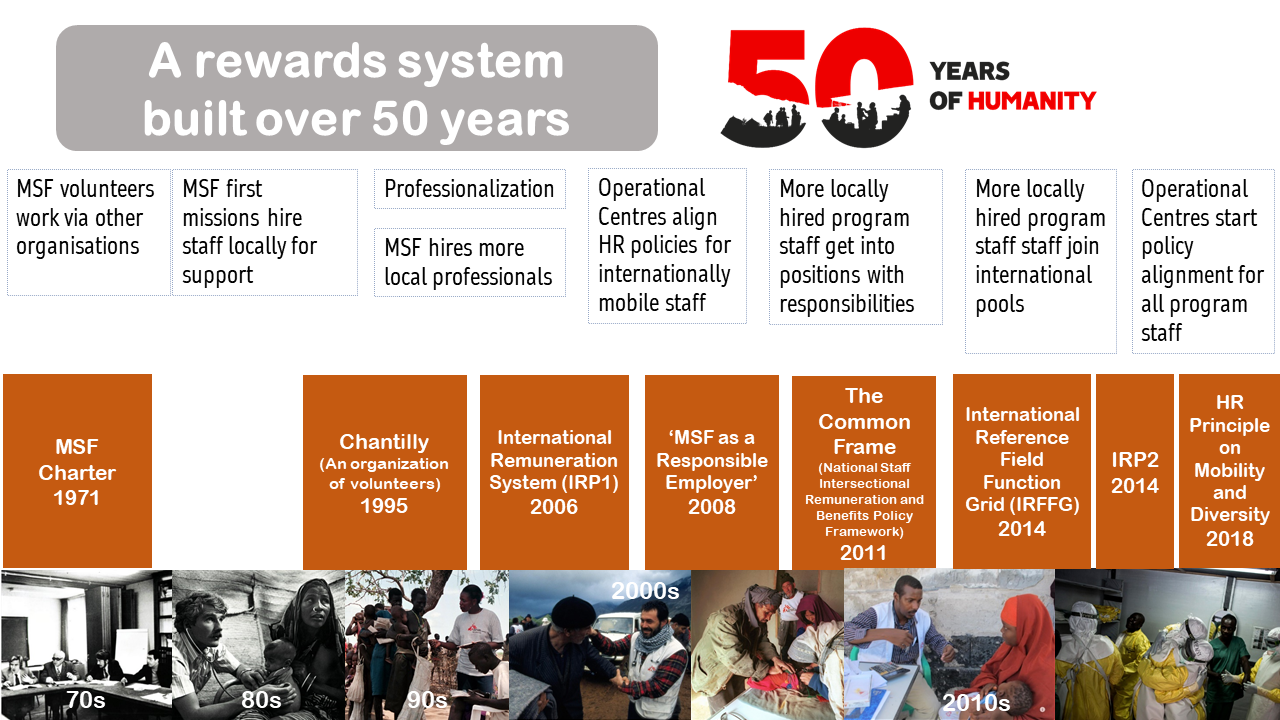 In the mid-1990s, MSF was still considering itself as an organisation essentially based on the sending of international volunteers abroad to provide medical assistance. The 9th principle of the 1995 Chantilly internal agreement (link) states that "MSF is an organisation of volunteers":
"MSF is an organisation based on volunteerism. This notion principally implies: •an  individual  commitment  to  people  in  precarious  situations.  The  responsibility  of  the  organisation is based on the responsibility taken by each volunteer; •disinterest, attested to by the non-lucrative commitment of volunteers. Volunteerism is a determining factor  in  maintaining  a  spirit  of  resistance  against  compromise,  routine and institutionalisation."
Along with the necessity to recruit more staff in a more organised way, the professionalisation of MSF in the 1990s led to the provision of actual contracts that included salaries and benefits – although maintaining a "spirit of volunteerism", which notably meant that volunteers only received an "indemnity" in their first year "in the field" with the organisation – a system still in place today.
In 2006 the first international agreement that framed the rewards of MSF employees focused on these volunteers (International Remuneration Project, IRP1). This allowed the different Operational Centers to align their HR policies for internationally mobile staff. The second and current version of this remuneration system, IRP2, was adopted in 2014. (link to IRP2 Staff sub-site).
By the mid-2000s, MSF staff hired locally in countries of intervention represented 80 to 90% of all staff – this number has remained stable since then. At this period, the organisation defined what it meant by "being a responsible employer" (see below, link), a list of general principles that for the first time applied to all of its staff.
It also started to develop a common policy for all its 25000 (at the time) locally-hired staff, to reduce some large inter-sectional differences in the five Operational Centres national staff policies. Both from an operations and HR perspective, it was felt that a common policy would in many respects be preferable to five different ones.
The National Staff Intersectional Remuneration and Benefits Policy Framework, often referred as "The Common Frame" was adopted in 2011, and intended to ensure a common interpretation of being a "Responsible Employer" (link), improve coherence towards external parties, and facilitate the process towards joint missions. Additionally, it aimed at curbing security incidents related to national staff administration issues as well as legal risk and its economic consequences.
The 2010s saw major evolutions in the distribution or roles and responsibilities among MSF staff categories, as well as staff mobility. More "national staff" got into positions with responsibilities, including in coordination roles. And many of them joined international pools for assignments in other countries – to the point that staff coming from MSF's countries of intervention now constitute around half? of internationally mobile staff. This led to important changes in MSF Human Resources policies.
In 2014, an International Reference Function Grid was put in place, which precisely defined all MSF positions and functions for all staff working in MSF programs (find out more on https://irffg.msf.org/ )
The HR Principle on Mobility and Diversity (link), adopted in 2018. It notably defined that "All positions within MSF are accessible to all staff based on their professional experience, competencies and operational considerations".
In the early 2020s, MSF's current HR system is set in place and made of a number of policies framing the pay and benefits of the different staff categories.