Many of the health facilities in Iraq have been destroyed; those still operating lack medical supplies and qualified health workers, and major public health services are overstretched.
We have been working in Iraq since 1991. More than 1,500 MSF staff provide primary and secondary healthcare, services for expectant and new mothers, treatment for chronic diseases, surgery and rehabilitation for war-wounded, mental health support and health education activities.
We currently have teams in the governorates of Erbil, Diyala, Ninewa, Kirkuk, Anbar and Baghdad.
Enduring displacement
Since 2014, the conflict in Iraq has forced an estimated 5.7 million children and adults to leave their homes and seek shelter elsewhere. By December 2017, more than 2.8 million Iraqis had returned home, but more than 2 million were still displaced in May 2018.
Those who remain in camps for internally displaced people (IDP) are often the poorest and most vulnerable, who can't afford to leave the camps and rebuild their destroyed homes. Others say they can't go home because they don't feel safe.
We work in several IDP camps across Iraq. Our services range from treatment for non-communicable diseases and malnutrition to vaccinations, health promotion, sexual and reproductive healthcare services, and mental health consultations. We've treated newborn babies with neonatal sepsis (a bacterial infection) and many people with skin diseases and diarrhoea. All of these are caused by the poor hygiene in the camps.
The remnants of war
Although the Islamic State group military offensive has been repulsed and Iraq is going through a period of relative stability, violence is still a regular occurrence and the situation remains complex and unpredictable.
A total of 75 Iraqi civilians were killed, while 179 others were injured due to acts violence in Iraq in September 2018, according to casualty figures by the United Nations Assistance Mission for Iraq (UNAMI).
Meanwhile, physical destruction, remnants of war, ongoing displacement and mental trauma are widespread. Collapsed services, hindered access and destroyed livelihoods can cause far higher mortality rates. The conflict has contributed to poverty and unemployment, particularly in the crisis-affected governorates of Anbar, Kirkuk, Diyala, Mosul and Salah al-Din.
In west Mosul, Anbar, Hawija (Kirkuk governorate) and Salaheddin, homes, infrastructure and services have been almost completely destroyed. The healthcare system in west Mosul and Hawija, where most hospitals and clinics were bombed, is still in a dire state and severely lacking equipment, medical staff and medication. In many post-conflict areas, unemployment is high and people struggle to cover basic living costs.
Since the Iraqi forces retook west Mosul from the Islamic State group in July 2017, people have started to return to the city. Our hospital is one of only two that are functioning there and is operating around the clock to keep up with demand. In December 2017, we admitted 2,370 patients in our emergency room.
In the capital, MSF's Baghdad Medical Rehabilitation Centre provides comprehensive care for post-operative patients. This includes physiotherapy, nursing care, infection prevention and control, pain management and psychological support to civilian victims of war.
Changing medical needs as people return home
The number of patients with war-related injuries has decreased. Instead, our facilities have seen a sharp increase in patients with injuries caused by improvised explosive devices (IEDs), mines and unexploded ordnance, and people suffering from intestinal infections after drinking dirty water, notably in west Mosul. Many have food poisoning due to the lack of electricity and gas for refrigeration and cooking. Children in particular are developing skin diseases and rashes because of the lack of hygiene.
As people return to homes with broken pipes and damaged septic tanks, we're also treating an increasing number of patients for scorpion stings and snakebites.
Our field hospital in Qayyarah, Ninewa governorate, was originally set up at the end of 2016 to provide emergency surgery for war-wounded patients. As more people have returned to their homes in the area, the services at the hospital have expanded to include paediatric care, an inpatient therapeutic feeding centre, treatment for burns and mental healthcare. A second operating theatre was also opened in March 2018 to increase the surgical capacity and quality of care for the people of Qayyarah sub-district and beyond.
Our hospitals in west Mosul and Tal-Maraq, Tal Afar district, were assisting more than 1,000 deliveries a month in early 2018. Patient numbers at our maternity unit in Zummar, northern Ninewa province have also increased, and non-communicable diseases (NCD) consultations have almost doubled.
We are also providing treatment for NCDs and mental healthcare in Jalawla and Sadiya (Diyala governorate), Abassi and Hawija (Kirkurk governorate) for families returning to the area.
Our new projects
In early 2018, we opened a comprehensive post-operative care unit in east Mosul for people injured during the recent conflict.
In Anbar governorate, we opened a new mental health unit in Ramadi teaching hospital to provide specialised mental healthcare - including psychiatric care - to patients with moderate and severe mental health disorders.
We also donated a large quantity of first-line tuberculosis (TB) medication to Iraq's National TB Programme in early 2018 and are working to build the capacity of TB specialists in Iraq through international training and workshops in patient care and treatment.
In July 2018, we launched a new programme of mental healthcare and psychosocial support in east and west Mosul, with more than 700 consultations conducted in the first four months alone.
Then, in August 2018, we started work with the Ninewa Directorate of Health in Sinuni hospital, Sinjar district. We have a fully operational emergency department and maternity ward, with a paediatric inpatient ward and operating theatre soon to follow.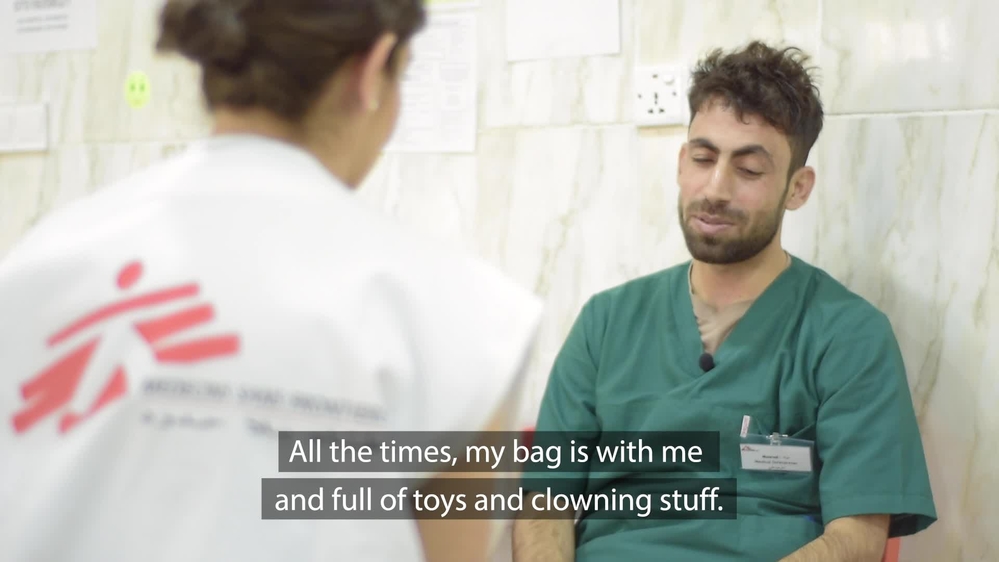 In areas where displaced people are returning to their homes, we're continuing to assess healthcare needs to determine how we can provide support.