The effects of years of conflict and instability continue to be felt in Iraq and 2020 brought additional challenges to the country that are yet to be resolved.
As of August 2021, nearly 1.2 million people are still internally displaced*. Factors like the slow reconstruction of homes and infrastructure, a lack of job opportunities, and the inability to access essential services are preventing the displaced from returning to their homes; some have been living 'temporarily' in camps for years, without adequate access to basic services.
Many of those who have managed to return home desperately lack access to medical care and other basic services. Mass protests and the COVID-19 pandemic have had a significant impact on the ongoing health system recovery and on people's ability to access healthcare.
*http://iraqdtm.iom.int/ - IOM

MSF provides antenatal and postnatal care, neonatal and paediatric care, as well as family planning services. We assist births, including those with complications; our teams in Mosul and Sinjar assisted a total of 14,442 births in 2020. We also support the maternity department, at the Hawija General Hospital in Kirkuk, with emergency obstetric and neonatal care.

Many patients with physical injuries need specialised care. MSF provides surgical and rehabilitative care at Al-Wahda hospital in Mosul. We also run a medical rehabilitation centre in Baghdad, aiming to reduce long-term physical and psychological impairment of trauma patients through early physiotherapy, nursing care, pain management and mental health services care. Even after surgery, we continue to work closely with patients to help them recover and to prevent complications.

The psychological and emotional consequences of war, displacement and instability are still immense; the COVID-19 pandemic, with its additional burden, has only added to it. That's why mental health is a key component of many of our projects in Iraq. MSF psychiatrists, doctors, psychologists and counsellors give vital care and support to people with moderate or severe mental health issues.

As of August 2021, close to five million people have returned to their places of origin in Iraq over the last six and a half years (IOM). But nearly 1.2 million people remain internally displaced; they often lack access to adequate services, including healthcare, and water and sanitation. MSF teams have worked in displaced people's camps and in areas where displaced people lack essential services.

05
Drug-resistant tuberculosis
According to the World Health Organization, Iraq is among the seven countries in the eastern Mediterranean region with a high burden of tuberculosis (TB). MSF has been supporting the National Tuberculosis Programme since 2018. We aim to improve case detection, provide better tolerated and effective treatment for drug-resistant TB patients, and improving the quality of care for patients.
Our activities in 2020 in Iraq
STAFF IN 2020 (full-time equivalent)
Year MSF first worked in the country
MSF in Iraq in 2020
In 2020, the arrival of COVID-19 in Iraq presented new challenges to a country still reeling from the effects of years of conflict and instability.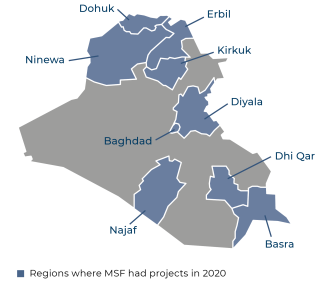 MSF responded to multiple health emergencies across Iraq in 2020, providing care to thousands of people displaced by the war against the Islamic State group, protesters injured in violent clashes with security forces, and patients with COVID-19. We also supported the national health system, which is still in the early stages of reconstruction, by filling gaps in essential healthcare.
Supporting emergency preparedness
The mass demonstrations that started at the end of 2019 continued into 2020, prompting MSF to launch an emergency intervention in Najaf, Dhi Qar and Basra governorates to respond to an increase in the number of patients with violence-related injuries. In Najaf, we ran training in mass casualty planning at three local hospitals to help staff deal with a sudden influx of patients. In Nasiriyah, our teams supported the emergency room of Al-Hussein hospital with training on trauma care, focusing on critical injuries and resuscitation. Teams in Basra provided training on emergency preparedness at city level, as well as trauma training for paramedics, in collaboration with the Department of Health.
COVID-19 response
As many health facilities damaged in recent years have yet to be rebuilt or rehabilitated and returned to full capacity, and there is a shortage of specialised healthcare staff and drugs, it was immediately clear that the health system would struggle to cope with the increased needs and challenges generated by the pandemic. We therefore decided to maintain our lifesaving medical activities while strengthening infection prevention and control measures, and putting in place triage and referral procedures to protect our patients and staff.
In Baghdad, the city hit hardest by the virus, we supported Ibn Al-Khateeb hospital, a facility run by the Ministry of Health. When it was identified as one of the three main hospitals for COVID-19 care in the early stages of the pandemic, we sent a team to train medical staff on patient triage and infection prevention and control. We also supported the capital's Al-Kindi hospital by treating patients with severe cases. At the beginning of the outbreak, our staff worked in the hospital's respiratory care unit (which included beds for patients in intensive care). Later in the year, we opened our own 24-bed ward, and then gradually moved to a 36-bed ward in a purpose-built wing.
We also supported the response to the outbreak in Mosul, in Ninewa governorate, temporarily transforming our 64-bed post-operative care facility in the east of the city into a COVID-19 treatment centre for suspected and confirmed cases. In mid-November, we opened an additional 15-bed intensive care unit at Al-Salam hospital to offer advanced care for patients with critical and severe forms of the virus.
At other facilities in Ninewa, as well as in Erbil, Diyala, Kirkuk and Dohuk governorates, we provided training sessions, with a focus on infection control. In addition, we set up a 20-bed isolation unit and treatment facility at Laylan displacement camp in Kirkuk, in preparation for a potential spike in COVID-19 cases.
Essential healthcare for vulnerable communities
In the rest of the country, we continued to run general and specialist health services at our ongoing projects for displaced people, returnees and vulnerable communities. In all locations, including our COVID-19 centres, we maintained our emergency room and mental health services.
As a result of the pandemic and the closure of private clinics, our maternity and paediatric teams in west Mosul and Sinuni saw a sharp increase in demand for care and admissions.
In Ninewa, we provided emergency and intensive care, burns treatment, physiotherapy and mental healthcare at our hospital in Qayyarah, until October, when we handed over all our activities to local government hospitals. As part of the process, we trained staff and donated medical supplies and other equipment. Until October, at the Qayyarah displacement camp, MSF also offered general healthcare, maternity services, and treatment and follow-up for non-communicable diseases, until we handed over our activities to another organisation.
We also had teams working in general healthcare centres in the towns of Hawija and Al-Abasi in Kirkuk governorate, and in Sinsil Al-Muqdadiya in Diyala governorate, where we supported maternity services, sexual and reproductive healthcare, treatment for non-communicable diseases, health promotion and mental healthcare. Our general healthcare services were also available in Laylan camp (Kirkuk), until its closure in November, and in Alwand and Sinsil camps (Diyala), until August, when MSF handed over these activities to the Department of Health and other organisations.
In Baghdad, MSF continued to collaborate with the national tuberculosis (TB) programme, with the introduction of a new, more effective oral treatment for drug-resistant TB.
Due to the COVID-19 outbreak, we were forced to temporarily suspend our activities at the Baghdad medical rehabilitation centre, where people injured in violent incidents or accidents receive comprehensive care, including mental health support. However, we were able to maintain our support to patients through online physiotherapy and mental health consultations, for example using Skype, and restarted activities later in the year.
In 2020

Emergency room admissions
Individual mental health consultations

Up Next
Health system struggling to make ends meet in some areas of Iraq