Three years after the end of the biggest Ebola epidemic in West Africa, a new outbreak in Democratic Republic of the Congo (DRC) was declared on 1 August 2018.
This epidemic is still uncontrolled and has become the largest-ever known in the country.
To run our Ebola treatment centres in DRC, our teams rely on experienced staff to share their expertise in North Kivu in the fight against this deadly disease.
One of them is Alpha Diallo from Guinea, who works as an expert in water and sanitation, also known as WatSan.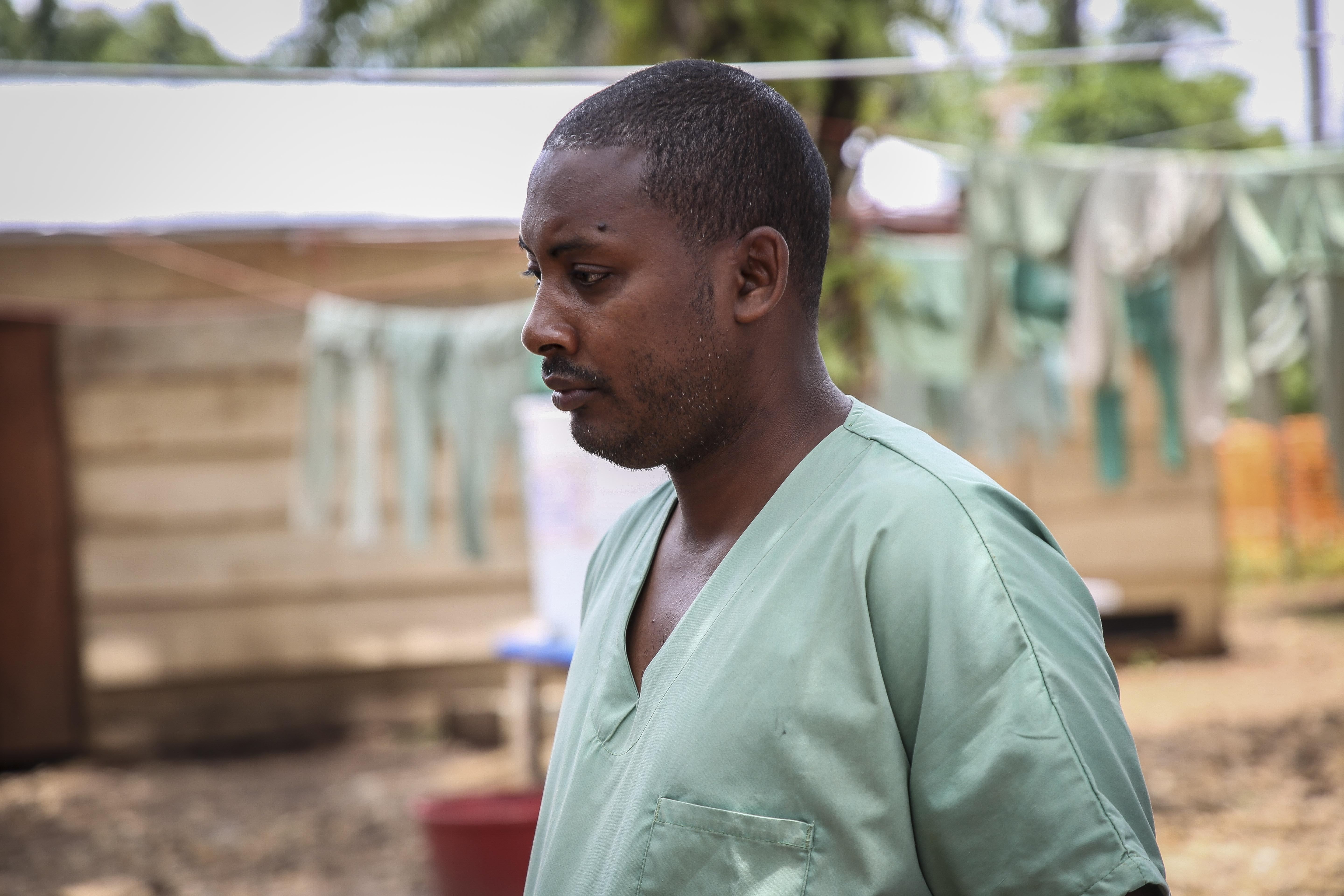 I started working with MSF in 2011, well before the 2014 epidemic, in a maternity and paediatric hospital in Conakry, Guinea. When the outbreak was officially declared in mid-March 2014, I started working on an Ebola project in Conakry. This was the very beginning of the epidemic and I took the opportunity to learn the protocols and protective measures to follow when working in an Ebola treatment centre.
I am a WatSan
WatSan (water and sanitation) is very important in an Ebola epidemic. We support the medical teams a lot and you can't separate one from another. We are in charge of infection prevention and control and must therefore ensure that everything going in, and especially out [the treatment centre], is not contaminated. If this is not properly and meticulously done, an Ebola treatment centre can easily become a new source of the epidemic's spread.

My job is to cut the transmission chains. I make sure no one is infected. But unfortunately, often we also must decontaminate deceased people who have lost their battle against Ebola.
The protective equipment almost feels like a second skin
I remember when I first went to the high-risk zone of an Ebola treatment centre. I was terrified. I had been working at the treatment centre for some time, but I had tried to delay my first time going into the high-risk area a little.
After a long day, a logistician noticed that I was nervous about going with him into the high-risk area to change a lamp. He said, "if we don't change this lamp, people can't be treated at night and they might die".
That's when I realised I had to put aside my initial fear. I went in and lost fear instantaneously. Today, the PPE (personal protective equipment, usually yellow and white) almost feels like a second skin.
On a daily basis, I conduct training with my colleagues in Mangina in DRC and ensure that all procedures are adapted and comply with current standards. My work will be done here if everyone is concerned, attentive and if everything is 100 per cent safe.
I remember when I first went to the high-risk zone of an Ebola treatment centre. I was terrified.
MSF Ebola Watsan expert Alpha Diallo
With Ebola in the equation, you don't want to make any mistakes
Here, we can't afford to send an excuse letter after making a mistake, that's not how it works with Ebola. I am severe and direct, and sometimes it can be a shock to some people.
But with Ebola in the equation, you don't want to make any mistakes. If you do not follow procedures, if you are not careful, you could be responsible for the next epicentre of the epidemic.

This epidemic is far from over. At the moment, people are reluctant to support the Ebola response. I think that's normal.
This reluctance and mistrust were still present in Guinea at the end of the epidemic, but there were handwashing points in all public places and private transporters. Taxis were all equipped with hydro-alcoholic solutions for people to wash their hands.
People have become aware of the need for these preventive measures and this change in behaviour is a clear indication of an understanding of the danger of the disease.

As for me, I am always ready to help where my help is needed. That's why I'm here. Wherever I need to be there, I will help others save lives.