MSF closed our projects in September 2020.
MSF worked in Senegal between March and September 2020.
Teams were responding to the COVID-19 pandemic in Dakar, the capital, and the surrounding suburbs. In Dakar, our teams treated people with moderate and severe cases of COVID-19 in Dalal Jamm hospital.
In Guediawaye district, in Dakar's northern suburbs, we worked with the Ministry of Health on community engagement, case surveillance, testing mechanisms and improving continuity of care.

As the number of people with COVID-19 declined, we handed over all our projects to the Ministry of Health and ended our activities at the end of September 2020.
Our activities in Senegal in 2020
Staff in 2020 (full-time equivalent)
Year MSF first worked in the country
MSF in Senegal in 2020
When the COVID-19 epidemic reached Senegal, MSF mobilised a response team in the country for the first time, to help with patient care, epidemiological surveillance and health promotion.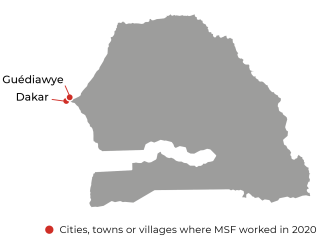 In March, our team from MSF's regional office in the capital, Dakar, which supports operations in West and Central Africa, assembled to assist the COVID-19 response in Senegal. We undertook activities in Dakar's northern suburb of Guédiawaye, and worked with national and regional partners to prepare for an increase in severely ill patients and improve communication around the virus.
These activities continued until the end of September, when we saw a clear reduction in both transmission and the severity of cases.
At Dalal Jamm hospital, we supported a 200-bed COVID-19 treatment centre. As we began to see an increase in complex cases, we boosted capacity for patients requiring oxygen therapy. We also worked to improve patient care management, as well as infection prevention and control measures.
In addition, we ran community engagement and health promotion activities at district level in Guédiawaye, one of the most densely populated of Dakar's suburbs. We collaborated with the national response team on prevention activities within communities, where we collected feedback in order to disseminate messages to combat fear, misinformation and stigma around the virus. Community-based surveillance was a key component of the response. Our team of epidemiologists worked with other national and regional entities to strengthen case surveillance, supporting data analysis to better understand the pandemic.
Experience from this first project in Senegal was implemented during our COVID-19 response projects in other West and Central African countries, including Cameroon, Niger and Burkina Faso.
Filter Tips
Try a different country, year, format, or topic.
Clear one or more filters