Note 14 January 2022: Although conflict and the crisis continues, MSF teams are continuing to respond to the needs through our regular projects and programmes. The information below will no longer be updated and was last updated in October 2020.
For more information on current activities, please visit the pages for Cameroon, Chad, Niger and Nigeria.
Around 17 million people live in areas affected by violence resulting from the conflict between non-state armed groups and military forces in the Lake Chad region.
In 2014, after several years of violence in northeast Nigeria, the conflict between military forces and non-state armed groups in the region expanded into the Far North region of Cameroon, western Chad and southeast Niger.
So far, the states involved have focused on security and a strategy of military containment to fight against the armed groups. They have barely addressed the humanitarian consequences of the crisis, although the armed conflict across the region has had direct consequences on people subjected to indiscriminate violence at the hands of all warring parties and forced displacement.
Food production and distribution has been seriously disrupted and people's health and living conditions affected. Psychological trauma is widespread.
What's the situation today?
The violence has displaced an estimated 2.5 million people across the region. Conflict continues in Borno, Adamawa and Yobe states in Nigeria, and in Niger, Chad and Cameroon. Thousands of civilians have been subjected to violence, abuse and violations.
The UN refugee agency, UNHCR, reports that, as of 31 August 2020, 299,314 Nigerian refugees are living in Chad, Cameroon and Niger.
According to the Armed Conflict Location and Event Data Project (ACLED), more than 37,500 people were killed in the conflict in the Lake Chad Basin between May 2011 and 31 July 2020.
Some 17 million people across the region are facing a complex crisis driven by extreme poverty, climate change and conflict. More than 10 million people need lifesaving protection and humanitarian help. But the provision of aid is hindered by security and access issues.
In Nigeria's Borno state, some camps for displaced people still lack basics such as food, clean drinking water, shelter and sanitation. People's needs are particularly acute in isolated enclaves outside the state capital, Maiduguri.
The rainy season brings further complications, with a rise in malaria and other epidemics such as cholera and hepatitis E. The provision of humanitarian aid in remote locations is hampered by the waterlogged roads.
People from across Borno state and refugees from neighbouring Cameroon continue to arrive – not always by choice – in towns controlled by the military. They have limited freedom to move outside these areas and are dependent on humanitarian assistance to survive. In some areas, people have been stranded for over two years, with little prospect of returning home.
In Cameroon, Chad and Niger, the ongoing presence of armed groups threatens the livelihoods of both the local populations and people displaced in the area.
The majority of displaced people have found refuge in communities already facing challenges, putting more pressure on scarce local resources and overstretched infrastructure.
Due to the ongoing insecurity, families are frequently forced to look for new places to live, making them even more dependent on humanitarian assistance.
In Niger, more than 60 per cent of the displaced and refugee populations living in and around Diffa have settled in informal sites where living conditions are harsh and where the needs for proper shelter, clean water, food, sanitation and healthcare are insufficiently met. A ban on various economic activities and restrictions on people's movements further hamper the ability of locals, displaced people and refugees to be self-sufficient.
In Cameroon, the security situation remains very volatile. The Far North region of Cameroon is frequently affected by attacks and suicide bombings. We have scaled up our emergency surgical activities in response.
In the area bordering Nigeria, health facilities lack staff and medical supplies and many have been abandoned altogether.
Chad's Lac region, one of the poorest areas in the country, hosts thousands of Nigerian refugees and internally displaced people. After a peak in 2015 and 2016, the humanitarian emergency is slowly receding, and relative calm has been restored.
Security incidents and attacks
The International NGO Safety Organisation (INSO) recorded 896 incidents in the Lake Chad Basin region between January and April 2019, including kidnappings, attacks, roadblocks and bombings.
In January 2019, for example, several thousand people fled Rann, Nigeria, following a violent attack on the town, and sought safety over the border in Bodo, Cameroon.
Armed group have directly targeted health workers (we have seen recent examples in northern Borno). We have had to scale back our outreach activities at times to protect our colleagues and patients.
For example, in 2018 in Nigeria, we had to suspend our medical activities following attacks in Borno state. In August 2019, a violent attack in Niger's Diffa region interrupted our work again.
The security situation also increases the risks for people traveling to seek medical support.
Food insecurity, malnutrition and malaria
Rising insecurity and climatic variabilities have led to a spike in the number of people facing food insecurity and malnutrition in the Lake Chad Basin. According to OCHA, by 27 April 2020, 3.6 million people were food insecure, 2.89 million of them in Nigeria alone.
The region is also badly affected by malaria. The World Health Organization's 2019 World Malaria Report lists Cameroon, Niger and Nigeria among the 13 countries worst affected by malaria in the world. Nigeria tops the list, accounting for 25 per cent of cases worldwide.
Food insecurity and chronic malnutrition are aggravated during the 'lean season' between harvests, from June to September or October. This occurs at the same time as the rainy season, when rates of malaria dramatically increase.
Each year, MSF sees many patients suffering from a combination of malaria and acute malnutrition. We conduct malaria prevention activities in the Lake Chad region, including seasonal malaria chemoprevention.
COVID-19
COVID-19 is spreading across the Lake Chad Basin. The major risk of COVID-19 in Africa will probably not be the virus itself, but its indirect consequences, such as the deprioritisation of responses to malaria, diarrhoea, respiratory infections and malnutrition, as well as other diseases and medical conditions.
Since the beginning of the COVID-19 outbreak, we have been concerned about its effects on routine vaccination activities and campaigns because of restrictions on movements and gatherings, and a lack of protective equipment. Misinformation about the virus has led communities to fear becoming infected as a result of visiting health centres.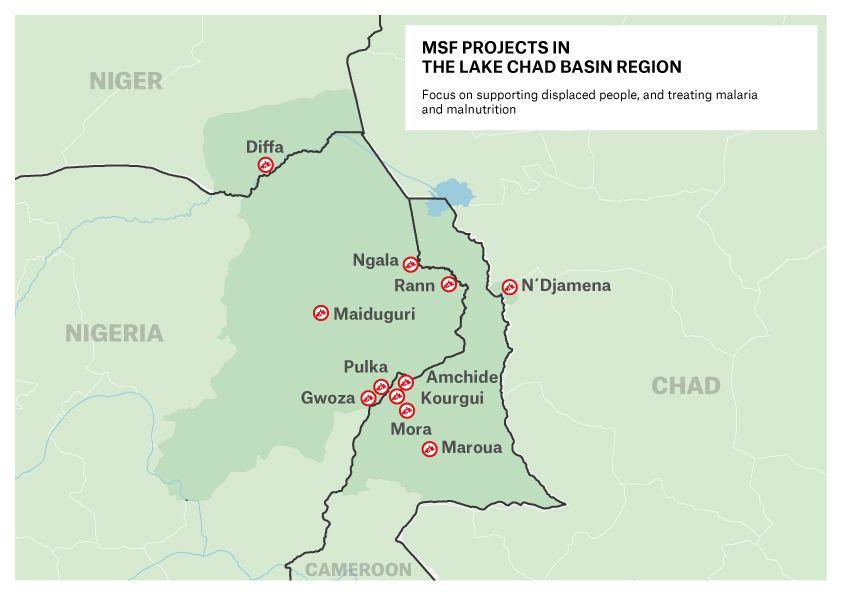 What are we doing in the region?
Our teams are providing medical care to vulnerable groups – both displaced people and host communities – across three of the four countries of the Lake Chad Basin.
Women and children are the most vulnerable, so our activities focus on maternal and child health. Our teams also respond to outbreaks of disease, as well as providing medical care and mental health support to victims of violence.
Telemedicine allows MSF to offer distance consultations in areas that medical specialists cannot access. In the Lake Chad Basin region, it is used in its simplest form via a secure messaging platform.
Our COVID-19 response in the Lake Chad Basin region
We have adapted our ongoing projects, while supporting national responses to COVID-19. In places where the needs are the greatest, we have opened or contributed to the creation of COVID-19 treatment centres.
We are also supporting many existing health facilities by helping them to recruit and train medical staff, establish isolation units and triage systems, and strengthen hygiene and prevention measures. In facilities in Niger, Chad and Cameroon, we have installed oxygen generators to help treat severe cases.
Disease outbreaks
Outbreaks of disease are a major concern, as sites are overcrowded, shelters are inadequate, and the water and sanitation infrastructure is insufficient for the large numbers of people living in the sites.
The onset of the rainy season poses higher risks of outbreaks such as cholera and malaria.
Cholera is endemic in this region, especially in the Lake Chad Basin, where poverty and displacements of people due to insecurity worsen the situation.
In such contexts, a multifaceted approach is key to prevent and control any outbreak at a local and regional level – including, in particular, epidemiology.
In 2019, we continued to respond to an ongoing cholera outbreak in the North and Far North regions of Cameroon.
In addition, we supported the response to a measles outbreak in Maroua, where we treated more than 1,300 patients in outpatient consultations. Nearly 400 severe cases were admitted to the treatment centre at Dougoi.
The water and sanitation infrastructure must be strengthened in order to increase access to safe drinking water to prevent spread of water-borne diseases. This includes the construction of waste management sites, the construction or rehabilitation of latrines and the chlorination of water points.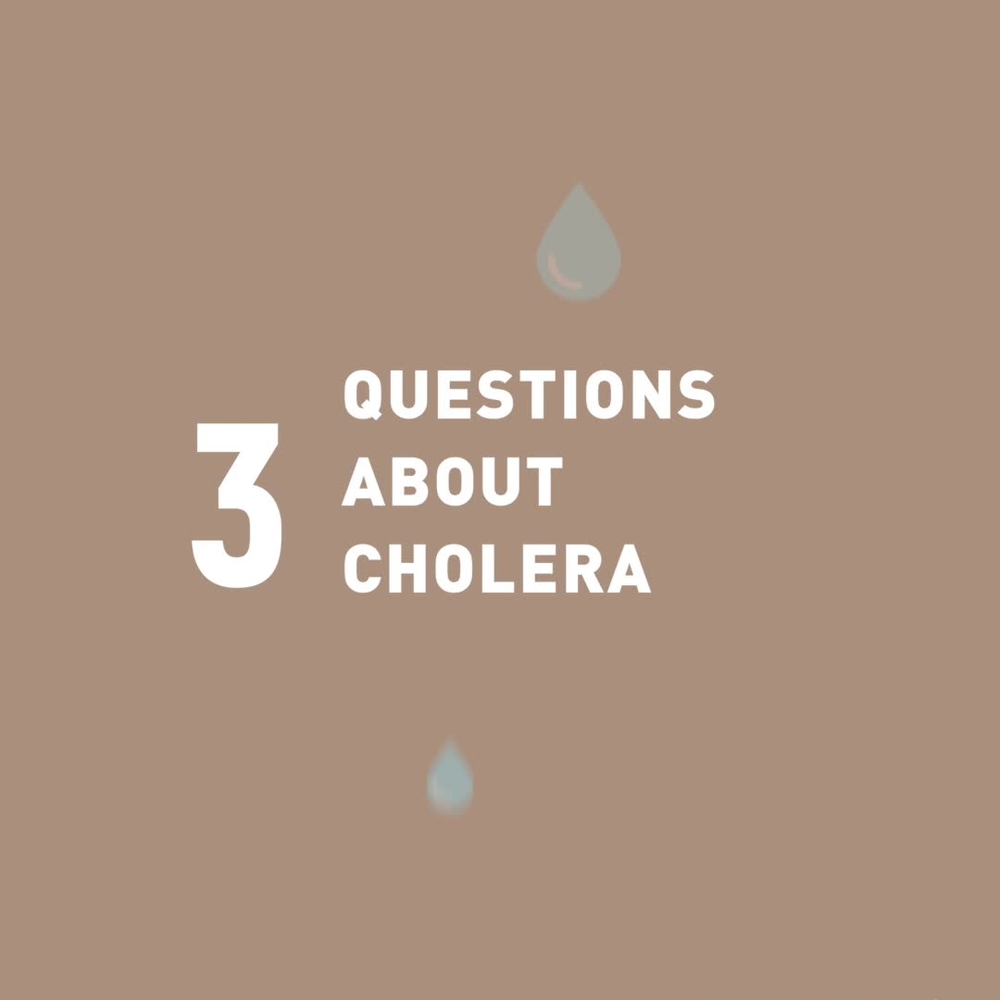 Mental healthcare
Mental healthcare is an increasingly significant part of MSF's work in the Lake Chad region, given the psychological suffering of the host, refugee and internally displaced populations.
In 2018, we introduced a new community approach in Niger, with mental health agents at sites for internally displaced people, schools, water points, etc. in order to reinforce the identification of people in need of psychological support.
In Chad, psychological support has been offered at all our mobile clinics, where staff reported that deep psychological traumas were quite common. This prompted the launch of a specific mental health programme to provide psychological consultations and follow-up.
We also provide mental healthcare in the Far North region of Cameroon and in northeast Nigeria.
Emergency care following attacks
In Cameroon in particular, we provide emergency care to victims wounded in violent attacks. In Mora, we are working in the local district hospital and have established a special ambulance service to transfer severely injured patients who require lifesaving surgery to the hospital in Maroua.
We continue to provide support to local health authorities to help respond to mass casualties following violence, by means of an emergency response plan implemented with all relevant medical providers in the area and by training local medical staff in how to manage influxes of wounded.
In northeast Nigeria, we run emergency rooms in Maiduguri, Damaturu, Gwoza and Pulka.
Surgical resources are very scarce in the overall region, and particularly in the enclave of Borno state, Nigeria. This is a particularly an issue for pregnant women in urgent need of caesarean sections, and for wounded patients who need urgent referrals after being stabilised, which is not always possible.
Diffa region, Niger
We support the regional maternal and child health centre in Diffa and the district hospital in Nguigmi by providing paediatric, neonatal, nutrition, maternity and obstetric emergency services.
We also run mobile clinics and organise community activities in rural areas and carry out emergency interventions to help people affected by violence.
Our mental health and psychosocial support programme for children and adolescents in Diffa aims to reduce the possible psychological and social repercussions of the traumatic events they have experienced.
Far North region, Cameroon
MSF provides paediatric and specialised malnutrition care for children under the age of five at Mora hospital in the Far North region. We also provide basic healthcare and mental health services to displaced people, refugees and host communities.
At the Kourgui and Amchidé health centres, our teams provide primary and reproductive healthcare, treatment for severe malnutrition and mental health care, and run health promotion activities. In May 2019, we launched community health activities to reduce child deaths from malaria, diarrhoea and malnutrition near the Nigerian border.
Chad
In Chad, living conditions for internally displaced people have significantly improved, people are progressively returning to their villages of origin, and development programmes have been put in place by NGOS and humanitarian agencies. We therefore decided to withdraw our teams from Chad's Lac region in 2018. We still work in the south of Chad and in the capital, Ndjamena.
Northeast Nigeria
Since the beginning of the conflict in northeast Nigeria, which has spread across the Lake Chad Basin region, more than 36,000 people have been killed in Borno, Adamawa and Yobe states. Almost half of them were civilians. Thousands of women and girls have been abducted. Today, 1.9 million people are still displaced, over 80 per cent of them are in Borno state, the epicentre of the crisis. Many live in dire conditions.
In June 2016, we observed extremely high levels of malnutrition and mortality in Bama, Borno state's second largest town, and raised the alarm about the humanitarian needs in Borno state, which led to a large deployment of aid to the area.

While the nutritional situation has generally stabilised today in Maiduguri, vulnerable pockets still remain, here and elsewhere in Borno state. Access to adequate nutrition is more precarious in isolated enclaves such as Pulka, Gwoza, Banki, Bama, Dikwa, Rann and Ngala, as people are unable to farm or fish, and their freedom of movement is restricted, making them heavily dependent on humanitarian assistance.
MSF response in Borno state
In Maiduguri, we run an inpatient therapeutic feeding centre, which treats severely malnourished children with medical complications.
We also run a paediatric hospital in Gwange to treat children with measles and malaria. Since 2014, MSF has supported displaced groups living in informal settlements across the city, monitoring them for potential disease outbreaks and providing health education.
In Gwoza and Pulka, two MSF-run hospitals provide general healthcare, surgery, maternity and paediatric services, nutritional care, mental health support, treatment for sexual and gender-based violence, HIV/AIDS and tuberculosis. We also offer protection activities, referrals and psychosocial counselling.
In Ngala, we run a health centre, which offers treatment for severely malnourished children with complications, inpatient care, maternity services and medical care for patients who have suffered sexual and gender-based violence.
In Rann, MSF runs an outpatient feeding care for malnourished children, and provides general healthcare, including treatment for diarrhoea. We also support water and sanitation activities.
Read more about our projects in Cameroon, Chad, Niger and Nigeria in our 2019 International Activity report.