We provide mental healthcare and carry out emergency interventions in Indonesia.
With Rohingya refugees living in four camps in Banda Aceh, we provide mental health care, including psychological sessions. We work from a base in the capital, Jakarta, and a mobile unit provides counselling in the areas needed.
Our teams are currently responding to the coronavirus COVID-19 pandemic in Indonesia.
Our activities in 2020 in Indonesia
Staff in 2020 (full-time equivalent)
Year MSF first worked in the country
MSF in Indonesia in 2020
In Indonesia, MSF focused on improving adolescent healthcare and working with the authorities to strengthen emergency preparedness and response capacity during the COVID-19 pandemic in 2020.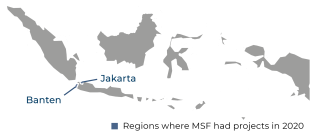 The main goal of our programmes in Banten and Jakarta provinces is to improve the quality and availability of targeted health services for adolescents, such as ante- and postnatal care for pregnant girls and young mothers, by building connections between local communities, schools and health service providers. Health education is given in a way that is adapted to the target group. We also support the provision of adolescent-friendly health services inside health centres.
In 2020, our programme in Jakarta included activities such as counselling sessions, as well as consultations in adolescent healthcare services at Islamic boarding schools and for street children. However, we had to suspend these activities when COVID-19 broke out. Where possible, we adapted our other projects to the new health protocols during the pandemic. We were able to continue some of our face-to-face activities using the necessary protective equipment, while others had to be switched to online platforms.
Our teams in Jakarta and Banten also supported the response to the pandemic, by conducting workshops and training medical staff and community health workers involved in the management of suspected COVID-19 patients. In addition, the team in Banten worked in Labuan and Carita subdistricts, supporting the surveillance taskforce.

In places where confusion about COVID-19 was widespread, our teams conducted training of trainers. Groups of household heads participated in interactive training sessions about the virus and were then able to educate and inform their communities. We also donated personal protective equipment to different health centres.
In 2020