Much blood was shed the night between December 5th and 6th and much more continued to be shed the following days in Bangui. Hundreds of victims fell prey to that surreptitious, cowardly, beastly violence. That morning we went out in our ambulances driving through the town in search of injured people that might have survived not only the fighting but the rage unleashed under the cover of the night that hides everything. In that torrential rain we watched, as we drove past corners and avenues, dozens of dead bodies piled up in the streets. Some of them had been tied up and killed in cold blood opposite Hôpital Amitié, others were half naked and left as a warning for all passers-by. The rain splashed the streets with the mud concealing the blood.Read Part I of this story
That day I started working as the head of the ambulance service. Our aim was to go in search of injured and sick people wherever they were and take them back safely to the hospitals where MSF works. This non-stop coming and going across the length and breadth of a wounded town allowed us to know in real time the security situation in each end every corner and prepare our centres to receive new massive flows of injured people.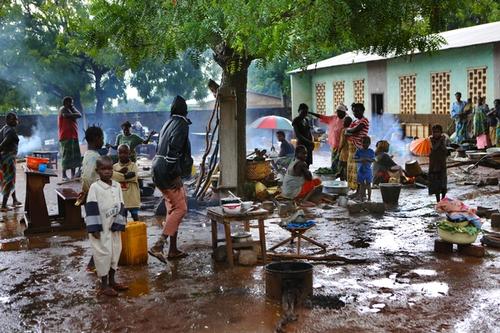 According to UN estimates, over 600,000 people have been forced to flee due to violence in CAR.
These days of December, both in the ambulances and in the hospitals, my main responsibility was to guarantee the safety and physical integrity of our patients, whoever they were, pregnant women or children, regardless whose side they were on or their origin. Any patient could have been forced to get down from the ambulance and be killed with impunity in the middle of the street. We came across crowds reprimanding one another and getting violent at the mere sight of a student, a Muslim or a Christian passing by. The mob's derangement knew no creed or religion. Believers and non-believers followed the same wicked an eye-for-an-eye a tooth-for-a-tooth rationale: "this one collaborated with the Seleka, let's destroy his shop", "this one burnt my house throwing a hand grenade and killed my daughter, he deserves to die", "this one is a Muslim, look him in the face and kill him, he isn't from here"…
Fortunately, we did not have to mourn any victims in our ambulances. During those ten days, we picked up people with gunshot, machete and shrapnel injuries, carrying some of them even in wheelbarrows. Some people's feet were completely lacerated, we treated open fractures, alleviated victims of torture, cared for traumatised girls, witnessed shooting nearby our hospitals, took shelter in the operating theatre while the walls shook, we fought our way in the midst of a flood of injured people, we saved lives… We helped thousands of IDPs that had spontaneously taken shelter in more than 30 sites across the town, addressing their medical needs, trying to prevent malaria from snatching away the life of yet another child living in the open, giving pregnant women the chance to give birth in a safe, clean environment assisted by professionals and not in some dark, humid place with who knows what kind of grim instruments.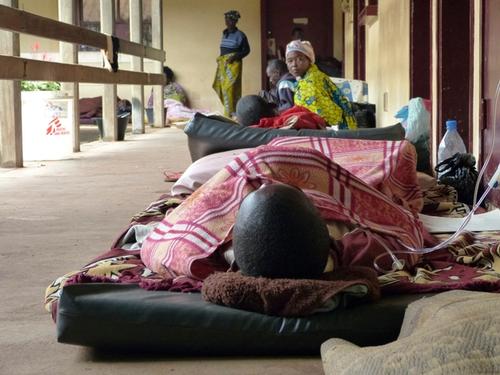 Due to the lack of space in Hôpital Communautaire in Bangui, some patients had to sleep in the corridors
Most of my colleagues are still there, as the emergency continues unabated. However, I had to return home, to Madrid, a few days ago, because I was expected at another mission, as urgent as this one, and just as tragic: Syria, Aleppo, where barrel bombs are being thrown just to cause as much damage as possible. This is our work, this is what we do: trying to reach those people in need, assist them, protect them with our presence when necessary.
It is precisely places like Bangui, like the Central African Republic, a country which many people were unaware of until this recent wave of violence broke out, that push you to the limits, yours and those of others. It is also in places like this where our work acquires significance, where being where we are and doing what we do is essential: sounding the alarm to prevent this chain of successive atrocities, violence and revenge from happening inadvertently not only before the eyes of the international community, of decision-makers, but also of each and every one of those normal people inhabiting our streets.