The health system in Yemen has largely collapsed during the years of war. Health facilities – including those run or supported by MSF – have been destroyed in the fighting.
Following the outbreak of the war, the imposition of a blockade by the Saudi-led coalition in 2015, import restrictions, high inflation and the division of the country into areas ruled by different authorities have crippled Yemenis' access to healthcare and other essential services.
War and violence
MSF teams and facilities supported by MSF have treated more than 80,000 patients wounded by violence across 12 governorates since the conflict began in March 2015. According to the Yemen Data Project, more than 22,000 air raids had been recorded by November 2020.
Neglected health needs
Even where medical facilities are operational, most people are no longer able to afford the transport costs to go to them. This prevents them from seeking timely care, allowing easily curable health conditions to become severe or deadly. Women often give birth at home and seek care only when complications occur. Malnutrition among children remains high.
Cholera and diphtheria
Cholera is a waterborne infection transmitted by contaminated water or food or direct contact with contaminated surfaces. The war in Yemen makes it even harder for people to access clean water, dispose of waste and receive medical care.
Waterborne diseases remain a real and present risk in Yemen and MSF teams have the knowhow and emergency stocks prepared for rapid deployment should new outbreaks occur. In 2019, we treated 35,100 people for cholera.
In 2017, we began to see cases of diphtheria, an infectious disease that systematic childhood vaccinations has eradicated from most countries. The last case in Yemen had been recorded in 1992, and the last outbreak in 1982. In 2019, our teams treated 720 people for diphtheria.
Measles
The near collapse of the Yemeni health system has led to a resurgence of outbreaks of preventable diseases such as measles, one of the leading causes of death among young children globally. Between late December 2018 and February 2019 the number of cases spiked, prompting authorities in the northern governorates to launch a measles vaccination campaign. MSF treated people in Abs, Haydan, Ibb, Khamer and Taiz.

Surgical interventions
MSF teams performed 27,100 surgical interventions in Yemen during 2019. Our emergency surgical hospital in Aden received mass casualties on several occasions.
In the video below, surgeon Bernard Leménager guides us around the MSF field hospital in Mocha. It was set up during the battle for Hodeidah, a city a few hours' drive to the north of Mocha. At the time, it was the main surgical facility between the frontline and the hospitals further south in Aden.
In November 2019, an aerial attack hit buildings surrounding the hospital, causing significant damage. Activities resumed rapidly and our team continues to regularly handle mass casualty influxes of ten or more severely injured patients at once.
The team is increasingly performing emergency caesareans for women with complicated pregnancies that pose an imminent risk for them or their babies.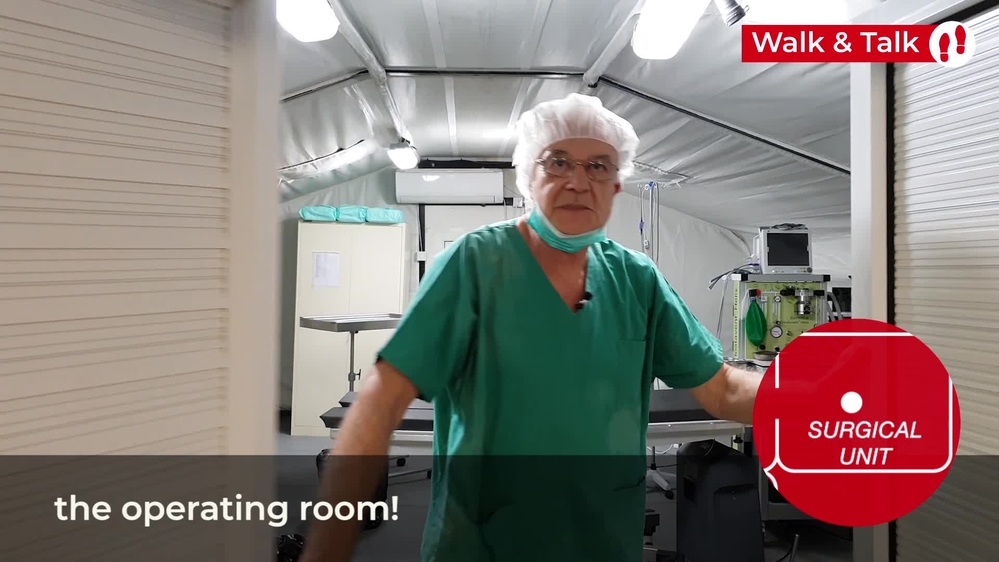 COVID-19
COVID-19 spread rapidly across Yemen.
In the treatment centres we ran, our teams witnessed a high level of mortality in May and June, as people came late to the hospitals. Sometimes, this was out of fear; sometimes it was because they had travelled very far as there were few options for care. We are sure that many other people died at home after choosing not to come to the hospital, or not being able to.
Many of the last functioning hospitals and health centres in the country shut their doors at the beginning of the pandemic, as the staff lacked personal protective equipment and were fearful of this unknown disease.
This further reduced the precious few options for people to get life-saving medical care in the country, leading to even more deaths.
The testing capacity in the country remains extremely low, but our teams noticed a sudden reduction in the number of cases beginning in June. We are continuing surveillance to check for any signs of a possible second wave of the disease.
Mother and child care
In most governorates that MSF supports in Yemen, we work to help meet the ever-increasing demand for maternal and child healthcare. In 2019, we assisted more than 5,900 births in Taiz, Hajjah and Ibb governorates alone.
Many mothers, children and newborns die in or on arrival at the hospitals we run or support. Factors contributing to the high death rates mostly relate to the war. They include an insufficient number of functioning health facilities and people's inability to reach those in operation due to insecurity. In 2019, we started to build a new maternity hospital in Al-Qanawes to serve Hajjah and Hodeidah governorates.
Attacks on healthcare
In 2020 and 2019, armed intruders killed patients receiving medical care inside the MSF-supported Al-Thawra hospital, southwest Yemen. This hospital alone has been subjected to more than 40 incidents of violence since 2019, including shelling. Our staff witnessed numerous attacks on patients, medical facilities and civilians throughout 2019.
Since Saudi-led coalition airstrikes destroyed our hospital in Sa'ada governorate's Haydan district in October 2015, other medical facilities we run or support have been damaged or destroyed, including in Taiz (2015), Abs (Hajjah governorate, 2016) and 2018); Shiara (Sa'ada governorate, 2016) and Mocha (Taiz governorate, 2019).
Each of these incidents forced us to suspend our activities, depriving people of vital medical care. MSF has repeatedly called on the warring parties to take all necessary measures to respect health facilities and hospitals as humanitarian spaces, and to end indiscriminate attacks and other violations that threaten the lives of healthcare workers, patients and caregivers.