Statement delivered by Dr Joanne Liu, International President of Médecins Sans Frontières, Palais des Nations, Geneva, 18-02-2016
Today in Syria, the abnormal is now normal. The unacceptable is accepted.
Relentless, brutal, and targeted attacks on civilians are the dominant feature of this war. In addition to the countless numbers of dead, hundreds of thousands of people are fleeing for their lives. Many of them trapped, and denied the fundamental right to flight.
Deliberate attacks against civilian infrastructure, including hospitals struggling to provide lifesaving assistance, are routine.
Healthcare in Syria is in the crosshair of bombs and missiles. It has collapsed.
Let me be clear: attacks on civilians and hospitals must stop. The normalization of such attacks is intolerable.
The latest attack came just three days ago, on February 15th, in Ma'arat al-Numan, Idlib Province. At 9:00am, airstrikes destroyed a hospital supported by MSF. At least twenty-five people were killed, among them 9 medical personnel and 16 patients. Ten others were wounded.
According to accounts from medical staff onsite, four missiles struck the hospital in an attack lasting about two minutes. Forty minutes later, after rescuers arrived, the site was bombed again.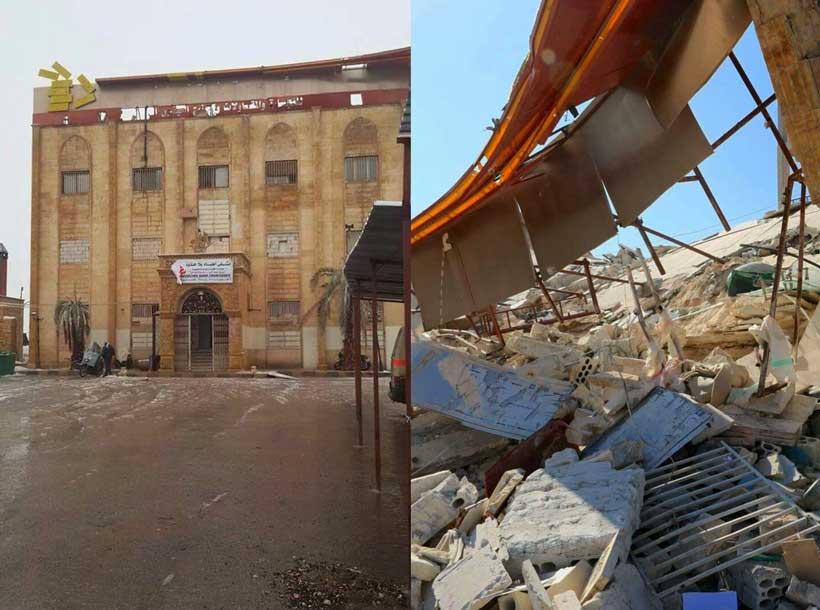 These secondary strikes- in military jargon – known as "double taps" – that target rescue and medical personnel trying to save the injured are outrageous.
But it didn't stop there. A nearby hospital that received many of the wounded from the first strike was itself hit an hour later.
This cynical destruction of hospitals and killing of medical personnel deprives entire communities of critical medical care.
This attack can only be considered deliberate. It was probably carried out by the Syrian-government-led coalition that is predominantly active in the region.
We say loud and clear: the doctor of your enemy is not your enemy.
The hospital in Ma'arat al-Numan was a lifeline. It was a 30-bed facility with 54 staff, two operating theaters, an outpatient department, and an emergency room. Thousands of people were treated monthly.
And the attack in Ma'arat al-Numan just echoes a broader reality.
In 2015, MSF collected medical data from 70 clinics and hospitals it supports in Syria. More than 154,000 war-wounded people were treated. Of these, of these: 30 to 40 percent were women and children.
While the data we collected are staggering, they are just a snapshot of a larger toll. Those injured or dying beyond health facilities supported by MSF remain uncounted. The true situation is very likely far, far worse.
Equally shocking are the101 aerial or shelling attacks that struck MSF-supported facilities over the last 13 months. Several were struck twice after the arrival of medical and rescue personnel. Patients have told us they're now too afraid to go to hospitals.
With attacks more intense in recent days and weeks, many thousands of people - including women and children - are fleeing for their lives.
Between 1.6 to 1.9 million other Syrians are besieged - they cannot escape the random and devastating aerial assaults. They desperately need medical supplies, food and other aid.
Four of the five permanent members of the UN Security Council are involved in military operations in Syria. They are failing to abide by their own resolutions protecting civilians, healthcare, and the provision of humanitarian assistance.
Life in Syria is shattered. There is no safety or sanctuary from the unrelenting attacks. Schools, hospitals and homes are destroyed. Millions have run. Others cannot; they are caged inside closed borders.
Today, Syria is a kill box. We are witness to a collective global failure.   
Dr Joanne Liu, International President of Médecins Sans Frontières
Today, Syria is a kill box.
We are witness to a collective global failure.
Attacks on health facilities and other civilian targets must stop, and be subject to independent investigations.
We repeat our demand that bombing stops in areas under siege.
We call for increased and unhindered deliveries of aid, and the immediate evacuation of the wounded and sick. People have a fundamental right to flee from active war.
The UN Security Council, and all the powers involved in the region, must do more. For the simple sake of saving lives.
For the simple sake of stopping this agony.
100,000 people are caught in northern Syria, near Azaz. They're trying to escape the escalating air strikes and ground combat. They are trapped between the Turkish border and a frontline. While Turkey has made notable efforts to host millions of Syrian refugees, a potential civilian catastrophe now sits across its border. Meanwhile in the south, a similar situation is unfolding at the now-closed border with Jordan.