MSF closed our COVID-19 projects in Spain in late May 2020.
From 1994 to 2005, MSF worked with vulnerable people, including migrants, in Spain.
Our activities in 2020 in Spain
Staff in 2020 (full-time equivalent)
Year MSF first worked in the country
MSF in Spain in 2020
The gravity of the COVID-19 pandemic in Spain in 2020 prompted MSF to support the national response.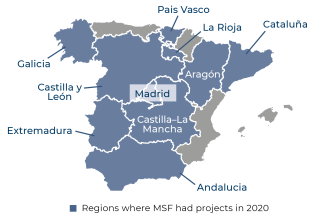 In March, we reached out to the health authorities in Spain to share our epidemic control expertise and offer support on strategies to manage the public health crisis. Our response in the country lasted until 31 May. One of our objectives was to help increase hospital capacity by setting up field facilities in nearby venues, such as sports centres. Decongesting hospitals in this way enabled them to focus on treating the most serious patients. We supported 20 hospital extensions in total. We also advised the management of these facilities on infection prevention and control, circuits and zoning, to protect health workers as much as possible.

Another focus of our activities was to reinforce the care and protection of elderly people in care homes. We supported around 500 centres across the country. Our teams provided tools and training to the staff; for example, in the use of protective equipment and designing circuits to keep positive and asymptomatic cases in separate areas. Some 27,000 people benefited from these programmes.

Our teams also offered advice in crisis management through an online platform aimed at health professionals, care homes and directors in public administration involved in the response to the pandemic.

Finally, our testimony and advocacy work on the pandemic included the publication of briefings and external reports, such as The protection of healthcare personnel during the COVID-19 outbreak in Spain and Too little, too late: The unacceptable neglect of the elderly in care homes during the COVID-19 pandemic in Spain, which described the difficult situation in which elderly people, the most vulnerable population, lived during the worst moments of the pandemic.
Up Next
COVID-19 coronavirus hits Spain hard