South Africa has the largest HIV patient cohort in the world and is helping to lead the way in gaining access to new treatments for multidrug-resistant tuberculosis (MDR-TB).
In KwaZulu-Natal province, our project's community-oriented approach is to increase integrated HIV testing and TB screening, as well as access and adherence to HIV treatment.
The Khayelitsha project near Cape Town continues to develop and implement treatment regimens for MDR-TB and innovative models of care for patients living with HIV and TB.
Our teams are currently responding to the coronavirus COVID-19 pandemic in South Africa.
Our activities in 2020 in South Africa
Staff in 2020 (full-time equivalent)
Year MSF first worked in the country
MSF in South Africa in 2020
In South Africa, MSF supported the COVID-19 response, while continuing to provide care for HIV and tuberculosis (TB) patients, victims of sexual violence and vulnerable migrants.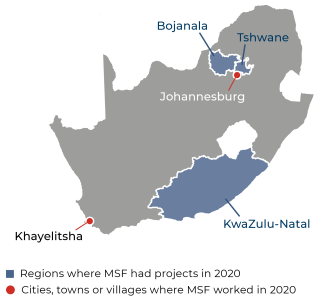 To address the secondary consequences of COVID-19, which included a sharp decline in the uptake of health services, we adapted our existing activities in novel ways. Our sexual violence project in South Africa's platinum belt ensured that health services for victims remained accessible through the provision of phone-based counselling and transport at a time when public services had ceased.

Our teams in Eshowe and Khayelitsha worked to maintain HIV and TB diagnosis and treatment through large-scale distribution of oral HIV self-testing kits, and by making sure that local facilities tested for COVID-19, HIV and TB at the same time. Staff delivered antiretrovirals (ARV) and medications for other chronic diseases to patients' homes or community pick-up points, and provided home-based care for drug-resistant TB (DR-TB) patients.

Our teams worked in numerous shelters for homeless people in the cities of Tshwane and Johannesburg, delivering mental health and medical services, which in Tshwane included the distribution of opioid substitution therapy. During the first COVID-19 wave, we set up, staffed and managed a 60-bed COVID-19 field hospital in a sports hall in Khayelitsha, treating patients with moderate-to-severe COVID-19 in their community. In the second wave, we supported COVID-19 wards in seven hospitals in three provinces.

In 2020, MSF celebrated 20 consecutive years of operations, with milestones including the development of the first ARV treatment programmes on the continent and a successful push for shorter, less toxic treatment for DR-TB.
in 2020

people on first-line ARV treatment in MSF-supported programmes
people started on treatment for TB
people treated for sexual violence

patients admitted for COVID-19
Contact us
MSF South Africa
7th Floor, Zurich House
70 Fox Street, Marshalltown
Johannesburg
South Africa