Along with large areas of northern and central Iraq, in 2014 the Islamic State (IS) group took control of areas in Al-Muqdadiya, Jalawlaa and Saadiya districts in Diyala governorate. Although the IS group controlled these areas of Diyala for a relatively short period (June to November 2014), there were significant consequences for the people and infrastructure.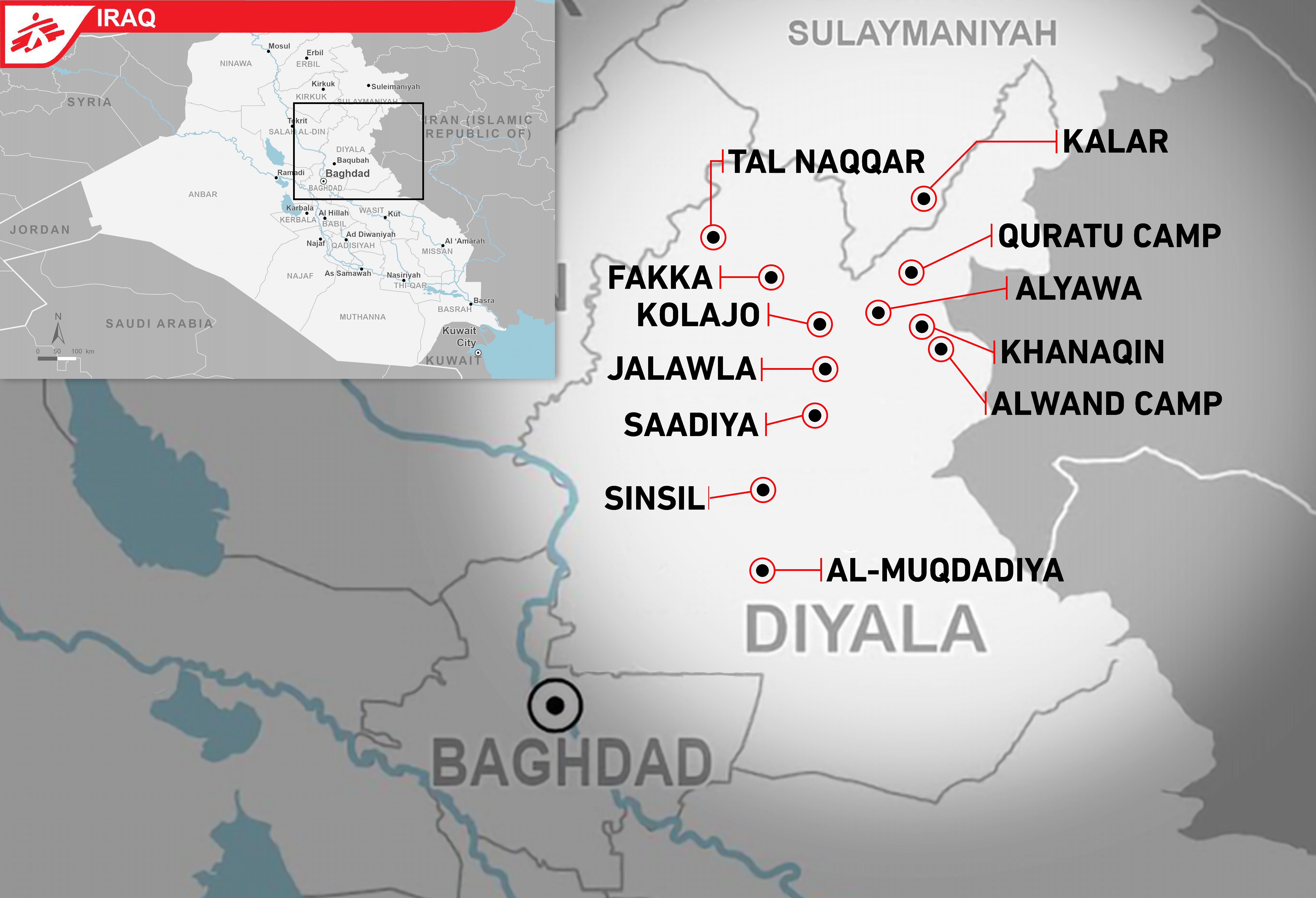 As the conflict between the Iraqi Security Forces and the IS group erupted, people living in the conflict zone had no choice but to flee to safety with whatever they could carry by hand or fit in their cars.

As a result of the conflict, families lost loved ones, their homes, while others lost their primary source of income – farms, orchards and cattle. According to the International Organization for Migration, by December 2014, more than 170,000 families were displaced from their homes in Diyala. Some resettled in safer areas of the same region, while others fled further.
From late 2014 until August 2020, Médecins Sans Frontières (MSF) provided much-needed healthcare services across Diyala governorate. The services included supporting the health infrastructure in districts like Kalar, Jalawlaa and Saadiya with the rehabilitation of destroyed health structures, running of mobile clinics to respond to the acute needs of displaced people and those returning, as well as donations of essential supplies to existing health facilities.

MSF also provided necessary healthcare services to displaced people living in camps and among host communities in the governorate. However, MSF continues providing healthcare services in our regular projects in Ninewa, Kirkuk and Baghdad. Additionally, we support health structures in other locations on Iraq when there is a need.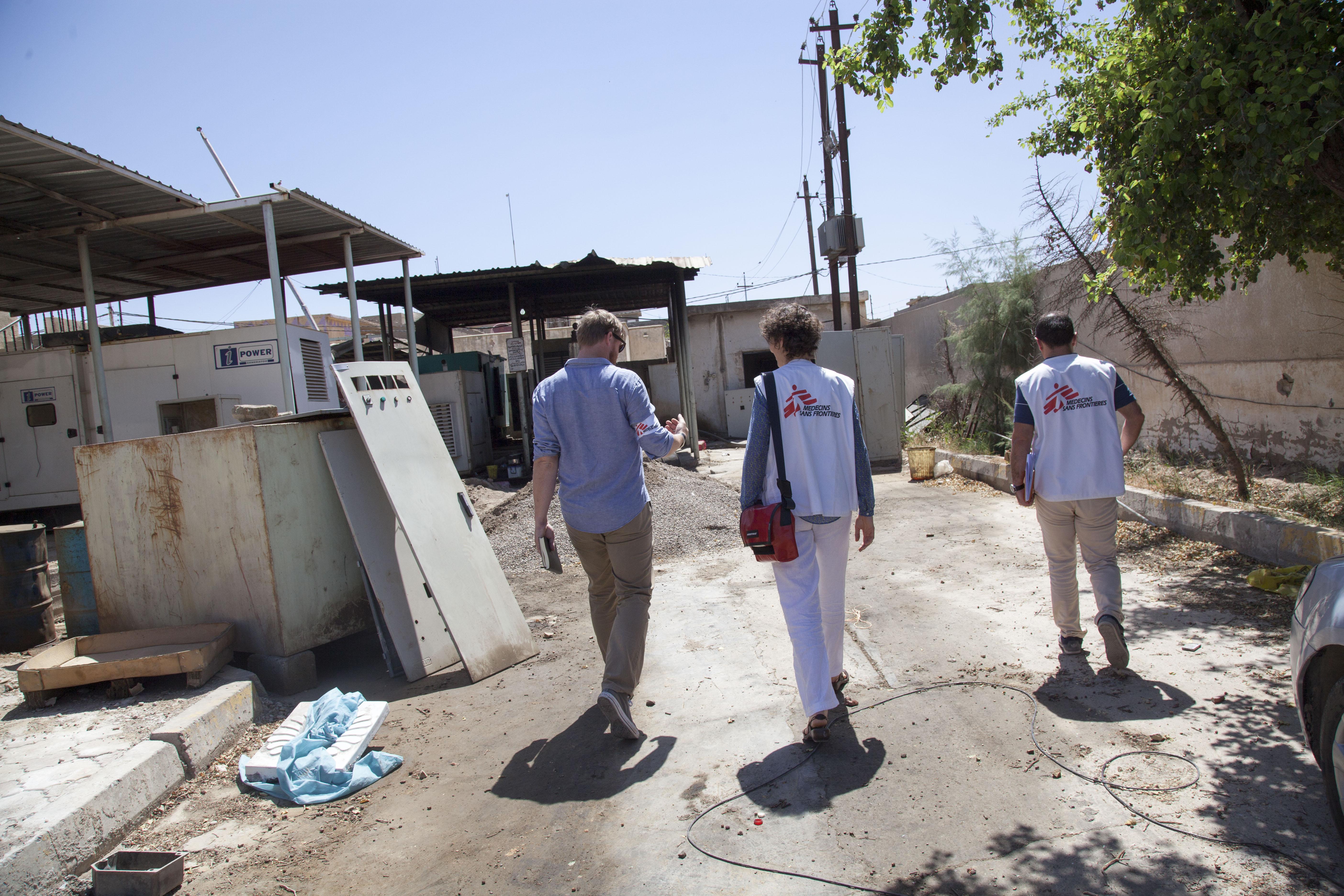 In August 2020, after consultation with the Diyala directorate of health, MSF handed over the clinics at Alwand 1 camp and Sinsil primary healthcare centre – our last projects in Diyala – to the directorate of health and other local and international organisations, who will continue providing healthcare services to the remaining displaced people in the camp and returnees in other areas.
MSF will now focus our resources on other sites in Iraq, where urgent medical care is needed.
MSF support in numbers
From late 2014 to August 2020, MSF provided care for 13,400 patients across Diyala governorate through:
outpatient consultations for patients with non-communicable diseases
health education sessions
sexual and reproductive health consultations
mental health care sessions
2014
Kalar District
When the armed conflict began, MSF provided healthcare services to those fleeing. At the time, people were mostly moving north towards the Iraqi Kurdistan region, and many of them settled in and around Kalar district in nearby Sulaymaniyah governorate. In the area, MSF supported and ran an emergency room in a primary healthcare centre in Kolajo village, providing mental healthcare services, outpatient consultations, sexual and reproductive healthcare, as well as 24-hour emergency room services.

We also ran mobile clinics which travelled around Kalar and provided essential healthcare services to newly displaced groups arriving at the villages of Tal Naqqar, Fakka and near the entry point to Iraqi Kurdistan Region. We also built a small camp in Kolajo with water and sanitation support which was later merged with the official Qurato camp for displaced people in northern Diyala. As many displaced people began settling in and around Kalar, hospitals in the area faced an influx of patients, to which MSF supported with essential supplies and training.
Nov 2015
Aliaoua and Korato camps
By the end of 2015, Alyawa and Qurato camps had been set up in Nothern Diyala to host newly arriving people. After assessing the needs, MSF decided to conduct a broad cleaning campaign in Alyawa and laid gravel along the roads of the camp.

MSF also provided mental health care services in both Alyawa and Qurato camps, including a system for referring psychiatric patients to the Kalar general hospital.
Mar 2016
Alwand camps
In 2016, people started to be moved from Alyawa camp to the newly established Alwand 1 and 2 camps near the Alwand river in Khanaqin. In response, and in collaboration with the Khanaqin directorate of health, MSF built a clinic in Alwand 1 camp, providing care to patients with non-communicable diseases, consultations for sexual and reproductive health, mental health and ran health promotion activities for camp residents. We opened a second clinic in Alwand 2 camp as people needed to walk long distances to reach the clinic in Alwand 1.

The clinic in Alwand 1 was open from March 2016 until August 2020, while the clinic in Alwand 2 was open between April 2016 and June 2017. When moving between the two camps became manageable for residents, MSF merged the clinics to continue activities in Alwand 1 camp and then handed over our camp activities to the directorate of health and other health organisations.
May 2016
Jalawlaa and Saadia districts
When the Iraqi Security Forces recaptured the districts of Saadiya and Jalawlaa, MSF was among the first organisations to enter the districts and provide humanitarian support. We repaired and rehabilitated the general hospitals in Jalawlaa and Saadiya districts. In Jalawlaa, this included fixing the water and electricity systems and rehabilitating the emergency department. In Saadiya, MSF provided several healthcare services, including non-communicable diseases and sexual and reproductive healthcare. We also ran mental health services and health promotion activities.

For a year, MSF trained Iraqi staff and provided essential supplies to the Jalawlaa maternity hospital. MSF also rehabilitated the district healthcare centre and began providing healthcare services for patients with non-communicable diseases and sexual and reproductive health, mental health services and health promotion activities.
Oct 2019
Sinsil primary healthcare centre, Al-Muqdadiya district
As per the announcement by the Iraqi Government to close the Alwand camps, displaced people were expected to start leaving the camps and resettle back in their areas of origin in Diyala governorate. Because the need for a local primary healthcare service was anticipated to become more prominent in the areas where people are returning, and because most of the people in Alwand camp were originally from Sinsil subdistrict in Al-Muqdadiya, in October 2019, MSF started supporting Sinsil primary healthcare centre. In that project, MSF provided and supported healthcare services for non-communicable diseases, sexual and reproductive health, health promotion and mental healthcare services.

Later in 2020, the number of people returning to Sinsil reduced, as Alwand camp did not close as expected. Therefore, people would not return to Sinsil anytime soon, and as a result, in August 2020, MSF handed over the activities to the Diyala directorate of health.