Médecins Sans Frontières (MSF) is urging the Greek authorities to immediately scale up their response to COVID-19 in Vathy camp on Samos island and transfer people at high risk to safe accommodation on Greece's mainland or in other EU states.
Vathy camp, which hosts 4,300 people, has registered more than 100 positive cases of COVID-19, yet the authorities have so far failed to put an appropriate medical response in place. Forty asylum seekers in the camp are at risk of developing severe symptoms and at least 10 people have serious medical conditions that cannot be addressed at Samos hospital. Only one army doctor and three nurses are available at the camp.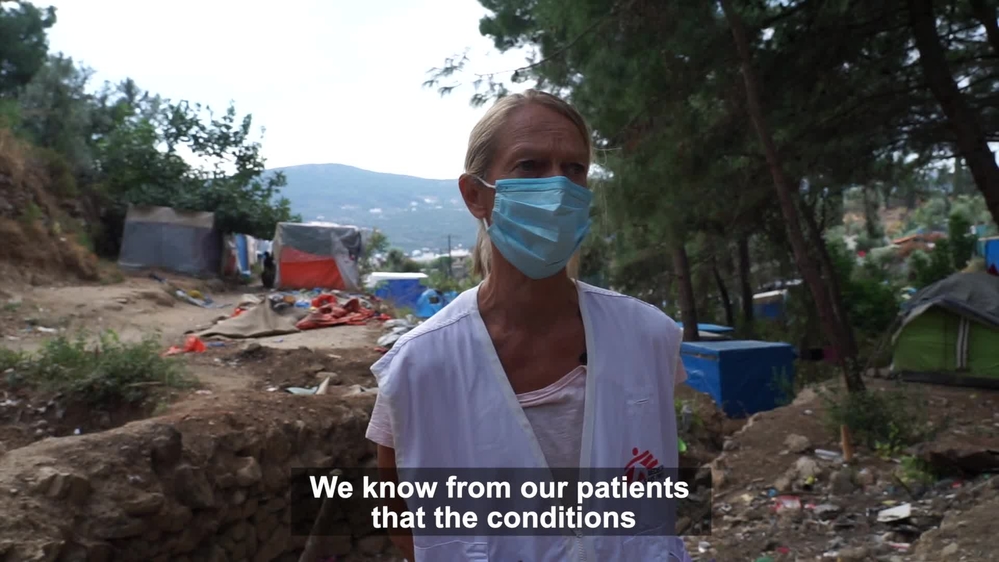 Quarantine conditions in the camp for those who have tested positive for the new coronavirus are unacceptable and dangerous.
Some people are locked in dirty containers and most of them sleep on the floor. Some do not have running water or toilets. The floors of certain containers have holes in them.
MSF has heard alarming accounts of newborn babies isolated with their mothers in containers without mattresses. At least one person discharged from hospital following surgery was left on the floor of a container with very limited medical attention.
Among the patients our staff are treating in the camp are people with mental health issues, pregnant women and victims of sexual violence. All of them are extremely vulnerable. Many people in the camp have told our health promoters that they will not see a doctor in the camp because they fear the atrocious conditions in the isolation containers.
Oumaima Alhabib, 52, is from Deir ez-Zor, Syria and has lived in Vathy camp with her husband and their three children for a year. Oumaima has asthma and her husband has hypertension and cardiovascular problems. Both are at high risk of COVID-19 because of their medical conditions.
"We left Syria because of war, after our house was bombed and my 19-year-old daughter and her husband were killed," says Omaima.
"The war destroyed our lives in Syria. We had nothing left and when I lost my daughter, I started suffering from mental health problems."
Omaima says that all the family want is to find healthcare and a safe place.
"We are afraid of COVID-19 as, in these living conditions it is impossible to protect ourselves or isolate. My children have also developed mental health issues due to living in the camp."
Recently, Omaima's 11-year-old son, who is constantly stressed, said he wanted to throw himself in the sea.
We are just a family that lost everything in the war. We came here to find a safe place and education for our children, that's all.
Omaima, a primary school teacher from Syria, who has lived in Vathy camp with her family for a year
"Sometimes he says he wants to go back to Syria," she continues. "This camp is not a place for children. This is not a place for anyone. We thought that in Europe we would be able to rebuild our lives, but what we found here is shocking."
Oumaima and her husband were primary school teachers in Syria and she says she used to have many dreams for her children's future.
"We are just a family that lost everything in the war. We came here to find a safe place and education for our children, that's all."
For more than six months, MSF has called for urgent transfers to the mainland of the elderly and people with chronic and complex medical conditions. Yet these people are still forced to live in tents and containers without being able to adopt any of the measures to protect themselves from COVID-19.
We call on the competent authorities to urgently increase support to the Hellenic National Public Health Organisation (EODY) unit on Samos.
Quarantine and isolation spaces that comply with COVID-19 international protocols must be quickly identified to provide the minimum of dignified and humane living conditions, which allow people to spend some time outside, without putting others in danger.
Continuity of care must be ensured for patients with chronic or other critical medical conditions under lockdown and quarantine/isolation measures should be put in place. Isolation conditions should be tailored to hosting vulnerable patients such as pregnant women and people with severe mental health issues
We also call on the authorities to provide comprehensive information about the COVID-19 response in the camp in languages people understand.