Estelle Thomas, MSF project coordinator in Iran, describes a day at MSF's clinic in south Tehran, which provides medical care for homeless people, drug users and other vulnerable groups.
It's 7.15am and the first patients start to arrive at our clinic, which opens at 8am. They're not really morning people, but after spending a cold night on the streets, they arrive early to find a little warmth – from the heater and from the MSF staff who are already here.
Here in south Tehran, most patients are homeless and most use drugs. Some became homeless because of their drug use; others started using drugs because they had nowhere to live. Everyone lives in difficult circumstances and none have regular jobs, apart from collecting and selling garbage or doing small bits of mostly illegal business.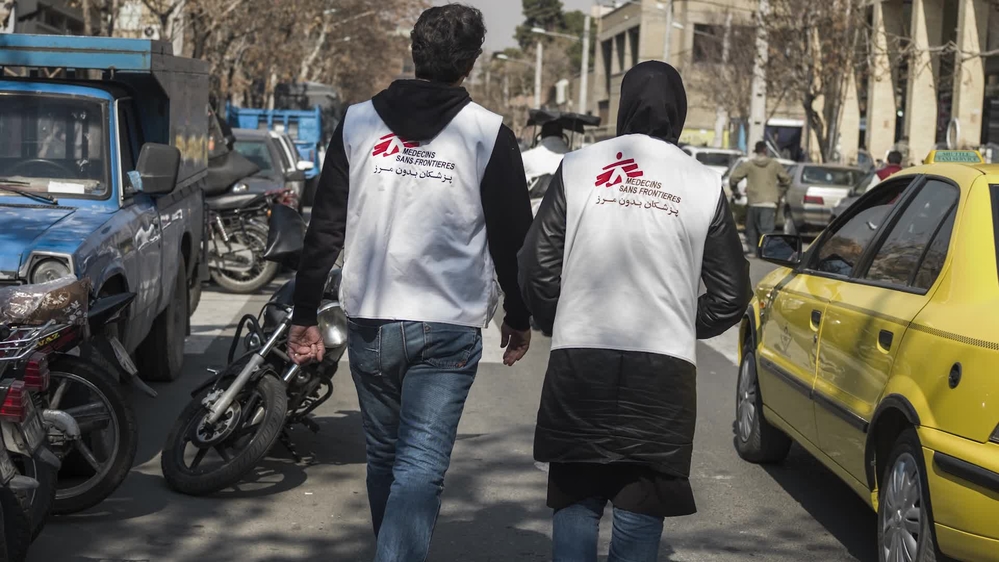 Some patients have families, others have none, but they are all excluded by society because of the way they live. Occasionally, they may find a place in a local shelter for the night, but usually they sleep on the streets or find a quiet spot where they can take drugs from late afternoon until the following morning. There are numerous spots like this – mostly in parks – but some on pavements and in the streets around the southern bus terminal.
An estimated 3.5 per cent of Iran's population are addicted to drugs.
Estelle Thomas, MSF project coordinator, south Tehran
An estimated 3.5 per cent of Iran's population – almost three million people out of a population of 84 million – are addicted to drugs, according to the Drug Control Headquarters of Iran. In the area around MSF's clinic in south Tehran – a historical neighbourhood where poverty and overcrowding are rife – the main drugs used are heroin and methamphetamine, which are mostly smoked or inhaled. Few people here inject drugs, which lessens the risk of transmitting infectious diseases via dirty needles.
Today, 40-year-old Mohammad visits the clinic for the first time. Twenty-five years ago, when he was just 15, Mohammed left his family to find work in Tehran. Failing to find a job and with no relatives in the city to help him, he soon fell into using drugs. He suffers from frequent hallucinations as a result of the drugs and sleeps in the city's parks, which is where he met MSF's mobile team.
After a consultation with Dr Aida, and counselling from health educator Mariam, Mohammad is tested for infectious diseases including HIV, hepatitis B and C, syphilis and tuberculosis (TB). Patients who tests positive for hepatitis C can receive free-of-charge treatment and support at the clinic, while those who test positive for HIV or TB are referred to national treatment programmes.
Mohammad's test result for hepatitis C test is positive, so he meets again with Dr Aida and Mariam, who explain that the disease can be cured with proper treatment and that he will be supported by MSF's doctors, nurses, psychologists, social workers and community workers to take his treatment correctly and to help with the hallucinations. He is introduced to Neda, a community worker, who will keep in close contact with him to remind him about his appointments at the clinic and support him through the course of treatment.
When MSF doctors come across patients with complicated medical and psychosocial issues – such as patients with cardiac diseases or psychiatric disorders – they refer them for specialist care elsewhere. This could be a consultation with a specialist, a laboratory for further analysis or admission to hospital. Patients needing hospital care are supported by a social worker to facilitate their admission as most are unfamiliar with receiving hospital care and can be refused.
Perhaps they will start the following day by arriving early at the MSF clinic, knowing that here, at least, they're certain to get a warm reception
Estelle Thomas, MSF project coordinator, south Tehran
The MSF team includes 15 community workers, health educators and peer workers, such as Mariam and Neda. As part of the community in south Tehran, they know where drug users, homeless people and sex workers are likely to be found, and they understand their dynamics. They can reach out to vulnerable people who may be in need of medical care, telling them about MSF's services and directing them towards our clinic and our mobile clinics, which take place several times a week in the city and its outskirts.
The 15-strong team also teaches people about the risks of transmitting infectious diseases, and provides support to patients on a daily basis. Along with social workers, they make the link with families, shelters or other charities; they accompany patients during referrals; and they help patients visiting MSF's clinic for the first time.
At 4.30pm, the MSF clinic closes its doors. Our mobile clinics often stay open later, as drug users usually gather in the late afternoons. Eventually our patients disperse, many to spend the night in parks and streets across the city. Perhaps they will start tomorrow by arriving early at the MSF clinic, knowing that here, at least, they're certain to get a warm reception.