Over a succession of days in September, cholera cases were declared in southern Niger. In collaboration with the Ministry of Health, Médecins Sans Frontières (MSF) emergency teams have treated almost one thousand affected people while 20 deaths were reported since the beginning of the outbreak which has affected several districts: Tamaske, Madaoua, Bouza Tahoua, Maradi, Madarounfa.
The intervention was launched beginning of September immediately after the first cases were identified. "It's important to act quickly, identify the source of transmission, clean it with bleach, isolate patients, and provide appropriate treatment," says Luis Encinas, MSF desk manager in the Sahel. Immediate action from emergency teams when cases are identified is crucial. "Once the infection sources are identified, action is taken to contain the spread as soon as possible," he adds.
Water and Sanitation specialists worked on a daily basis, disinfecting the homes of cholera patients, providing people chlorine for treating their water, and teaching them safe practices to avoid transmission. "At the same time our teams also organise awareness campaigns in affected villages to inform people about the symptoms of cholera, so that they will come to treatment centres as soon as they identify it" explains Encinas.
MSF is now about to wind up activities in the two places, Kieta in Tamaske district and Tufanti in Madaoua district, initially identified as sources of the epidemic. The intervention has moved to two newly detected outbreaks, Gradoumé in Bouza and Konni in Tahaoua, which are being constantly monitored by the teams. MSF emergency teams are also acting in Maradi and Madarounfa districts.
In Niger, cholera epidemics appear recurrently and are seasonal in nature. This outbreak is affecting several areas of the country: Tamaske, Madaoua, Bouza Tahoua, Maradi, Madarounfa. Vast areas are potentially vulnerable, which concerns MSF: "it is very likely that new outbreaks will emerge, in any moment and any place" explains Cristian Casademont, a MSF medical doctor in Niger.
Cholera is an acute intestinal infection transmitted by the intake of bacteria-contaminated food and water and by faecal-oral contamination. It often breaks out when there is overcrowding and inadequate access to clean water, trash collection and proper toilets. It causes profuse diarrhea and vomiting which can lead to death by intense dehydration, sometimes within a matter of hours.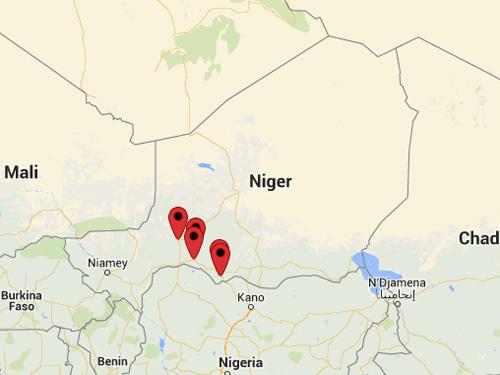 MSF has had an emergency medical team for the Sahel (EMUSA) since 2013, which responds immediately to emergencies such as the recent cholera outbreak in Niger.
MSF has been working in Niger since 1985. Activities focus on improving access to medical care for children under 5 and pregnant women through prevention and early treatment of malnutrition. MSF's teams manage outpatient nutritional programs in 38 health centers in Zinder, Maradi and Tahoua regions. They also manage the hospitalization of patients at the nutritional centers in the Zinder, Magaria, Madarounfa, Guidan Roumdji, Madaoua and Bouza hospitals