"I voted and I came back because I knew that South Sudan was going to be independent."
John Aken was living in Darfur when the 2011 referendum on South Sudan's independence took place. Now 35, he had lived in Darfur since the age of nine, when he and his family fled Sudan's second civil war, which finally came to an end in 2005.
"I got married and had six children in Darfur, but two years ago I decided to return, because there was no longer conflict in my homeland," says John, who lives with his family in a hut in South Sudan's Northern Bahr el Ghazal state.
The 2005 peace agreement between the government of Sudan and the Sudan People's Liberation Army (SPLA) – an armed movement mainly based in the south – led five years later to the referendum, but John and many others like him sensed the result before it came out and decided to go back home. They are the so-called returnees. They returned for a range of reasons – social, economic and political – including the alleged discrimination they suffered in the north. In the past years, 400,000 returnees have arrived to the state of Northern Bahr el Ghazal.
The returnees are building new lives for themselves in South Sudan, but they are not the only newcomers. In the last year, over 20,000 people have arrived in Aweil North, near Sudan, to escape violence in the disputed border region and beyond. Most are living in remote camps spread across the isolated region, struggling to survive and virtually cut off from aid.
When I saw the burnt houses, I told my people, 'there's nothing left, we have to leave.
Anthilio Akon, a community leader
While the UN's refugee agency, the UNHCR, officially recognises the 220,000 refugees living mainly in South Sudan's northeastern corner, no one seems to know how to refer to the new arrivals further west, in Northern Bahr el Ghazal state. This is because the area from which they are fleeing – the settlements along the Kiir or Bahr el Arab river – is a no-man's land, disputed by both Sudan and South Sudan.
"Before we used to fish in the river," says Anthilio Akon, a community leader from a town on the banks of the Kiir river. "We could buy goats and cows. We had lots of sacks of maize. We could cultivate anything we wanted." Then Anthilio's hometown was attacked. "When I saw the burnt houses, I told my people, 'there's nothing left, we have to leave."
Anthilio and the other residents of Burpeny left their homes and came to South Sudan, but could find nowhere to settle. Time after time they were told by local communities that the land they were occupying was needed for grazing and cultivation, and so they were forced to move on.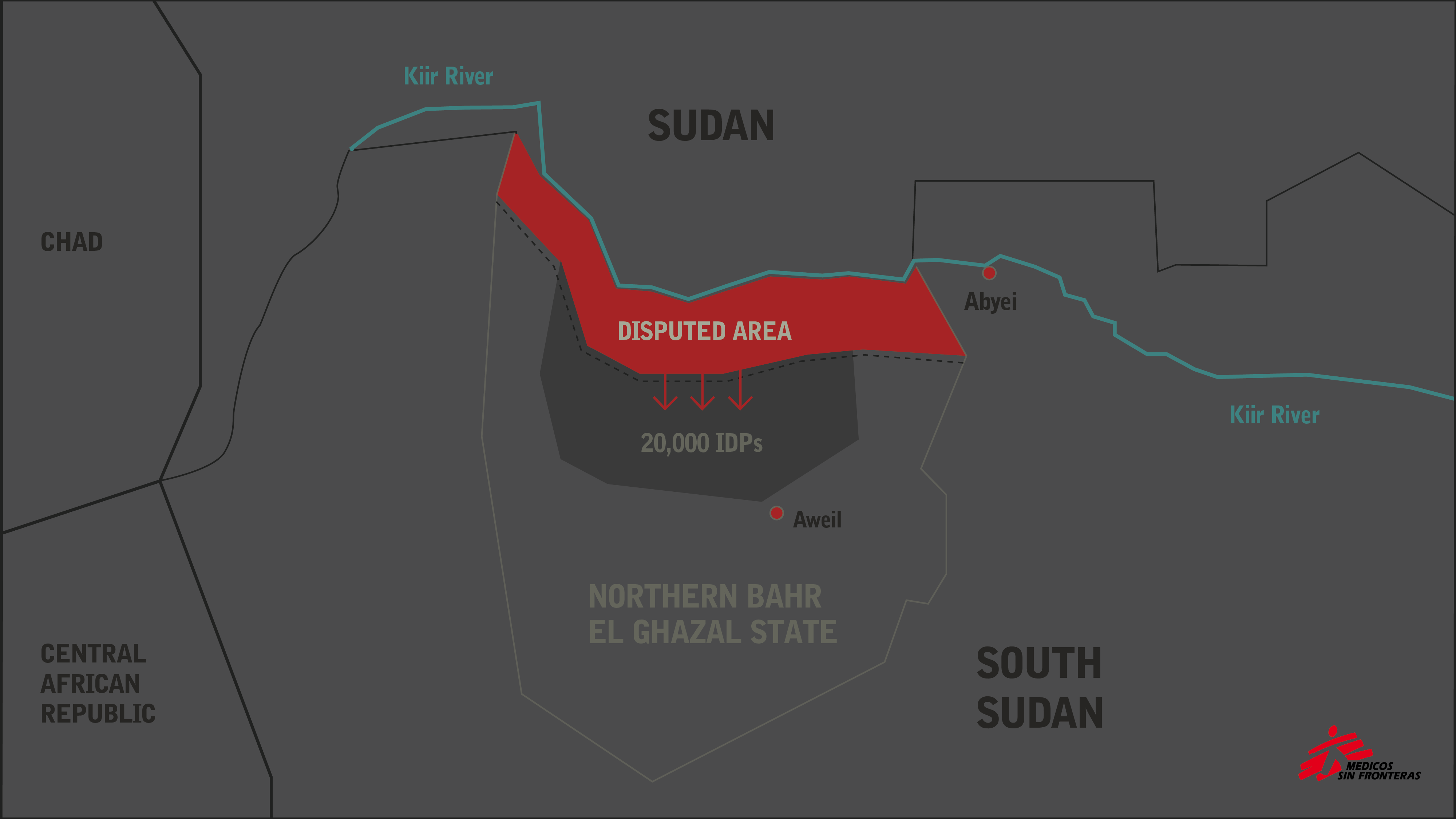 Now Anthilio is living in Ajok Wol camp. His hut is one of a very few in the camp that provides shelter from the elements. Most people in the camp are living in makeshift structures of tree branches. "Our children are sleeping under trees; we don't have shelter, and it's terrible when it rains," says Anthilio.
The rainy season is gearing up in intensity. Already the landscape is changing. Just a few weeks ago, it was dry and dusty; now – outside the camps at least – it has turned a fluorescent green. The new vegetation will also mean an increase in malarial mosquitoes. To counter this, MSF teams, who are already running mobile clinics and a basic healthcare centre, are training people from the camps to become home-based health workers. As the camps become increasingly inaccessible due to the rains, the health workers will be able to provide continuing care to their own communities.
For Anthilio and the thousands of people scattered across this isolated region, the humanitarian situation is of serious concern, but the most important issue for them is safety. "We will not go back to Burpeny because it's a battlefield," says Anthilio. "Everyone is claiming that Burpeny belongs to them, both the governments of Sudan and of South Sudan. Although we know that it's our homeland, we will have to wait to find out who it belongs to."