The latest arrivals come on top of hundreds of thousands more Rohingya who arrived in previous years and were already living in difficult conditions. Combined with the existing Rohingya refugee population, more than 900,000 refugees are now in Bangladesh.
Those arriving in Bangladesh have shared stories with our teams about their villages being raided and burnt by the Myanmar military.
Who are the Rohingya?
The Rohingya are a stateless ethnic group, the majority of whom are Muslim, who have lived for centuries in the majority Buddhist Myanmar.
However, Myanmar authorities contest this. They claim the Rohingya are Bengali immigrants who came to Myanmar in the 20th Century.
Prior to the military crackdown in August 2017, roughly 1.1 million Rohingya people lived in the Southeast Asian country.
Described by the United Nations in 2013 as one of the most persecuted minorities in the world, the Rohingya are denied citizenship under Myanmar law.
Due to ongoing violence and persecution, hundreds of thousands of Rohingya have fled to neighbouring countries, either by land or by boat, over the course of many decades.
Targeted violence
Entire villages of people fled Rakhine state, Myanmar, after government military operations targeting Rohingya scaled up in August 2017.
The government response was in retaliation for a series of attacks claimed by the Arakan Rohingya Salvation Army against police stations and a military base.

Rohingya who have arrived in Cox's Bazar, southwestern Bangladesh, have told of homes and villages being burnt to the ground, often with entire families still locked inside.
Women and girls have been raped. Men and boys rounded up and shot. Children have been beaten to death.
In December 2017, surveys we conducted in the refugee camps found that at least 6,700 Rohingya - in the most conservative estimations - were killed by violent means in Myanmar between 25 August and 24 September 2017. At least 730 were children under five years of age.
The military came to our part of town around 6pm and said: 'Leave the village before 8am tomorrow. Everyone that stays will be killed.'
61-year-old MSF Rohingya patient in Bangladesh, after fleeing Myanmar
Atrocious living conditions
Refugees arriving in Bangladesh are often in dire need of medical care, having had no access in Myanmar.
Finding shelter in the overcrowded camps is a challenge for the new arrivals. The exponential growth of the population in such a short amount of time has resulted in a severe deterioration of living conditions.
The situation is extremely precarious, with many people lacking access to healthcare, safe drinking water, latrines and food. What we see remains an acute emergency situation with huge humanitarian needs.
Living conditions must greatly improve - with a focus on water, sanitation and shelter - to avert a public health emergency.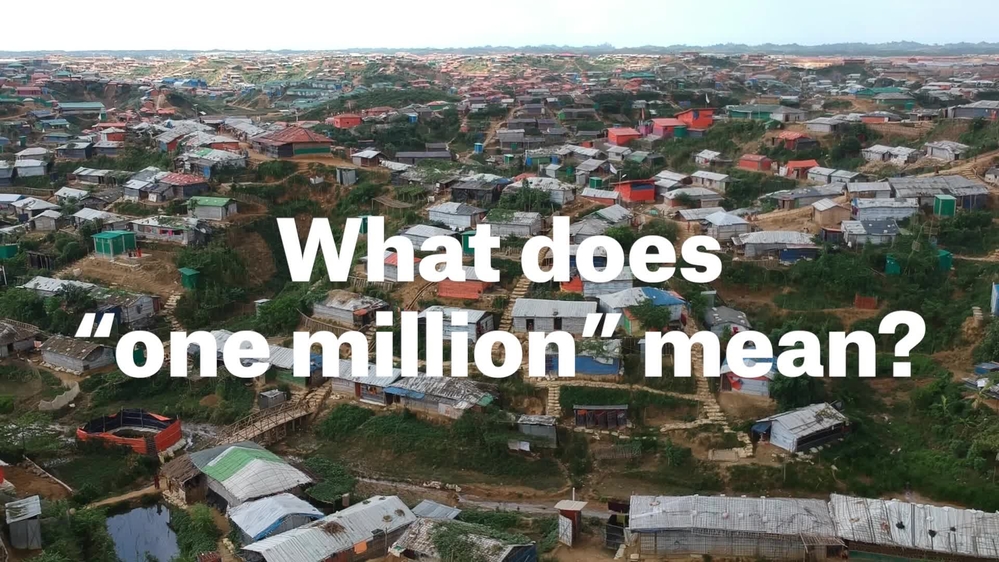 Multiple disease outbreaks
Outbreaks of vaccine-preventable diseases among the refugees in Bangladesh demonstrate just how little access the Rohingya population had to routine healthcare in Myanmar.
Between August 2017 and June 2019, MSF teams treated over 5,000 cases of measles, after a number of outbreaks.
In the current context of the dense population, and poor water and sanitation conditions, the risk of people falling ill is high.
There is an urgent need for a better response from organisations providing healthcare to mitigate the risk of additional diseases spreading and to ensure that all those who need vaccinations receive them.
Outbreak of a forgotten disease
Starting in November 2017, an outbreak of the long-forgotten disease diphtheria was reported among refugees.
Diphtheria is a vaccine-preventable, contagious bacterial infection, which can be fatal without an antitoxin to treat it. The infection causes the buildup of a sticky grey-white membrane in the throat or nose, which can obstruct the airway and damage the heart and nervous system.
We set up a diphtheria treatment centre and by the end of the outbreak, we had treated 6,547 cases of the disease, with most cases being children aged between five and 14 years old.
Cholera, diphtheria and measles vaccination campaigns have been carried out but risks of disease outbreaks remain.
Our teams are seeing streams of people arriving destitute and extremely traumatised, and who have had no access to medical care.
Pavlo Kolovos, MSF head of mission in Bangladesh, September 2017
MSF significantly scales up activities
Prior to the influx of refugees in August, we were already offering comprehensive basic and emergency healthcare for Rohingya in Cox's Bazar.
With the new arrivals, we have significantly scaled up our efforts in support of the growing population. We now manage multiple health posts, primary health centres and inpatient facilities across the camps.
In addition to treating outbreaks of diseases such as measles and diphtheria, we treat the main complaints of respiratory infections and diarrhoeal diseases. We also provide mental health services to those traumatised by their experiences, and by June 2019, had provided 31,980 individual consultations since August 2017.
Overall, between the influx of arrivals starting in August 2017 and June 2019, MSF had provided over 1.35 million medical consultations to people in Cox's Bazar.
Non-medical help
Our teams are also providing water and sanitation services, including water trucking and installing hand pump, tube wells and latrines. Between August 2017 and June 2019, we had supplied over 280 million litres of chlorinated water in the camps.
Many other entities, including the government of Bangladesh, have responded with food, shelter, health care and water.
Limited access
The absence of roads into the huge, densely-populated camps means that aid is still not reaching many in Cox's Bazar.
As the settlements continue to expand, refugees face unequal access to basic services such as healthcare, food and water, which increases their vulnerability.
Work is continuing on building a new road but additional improvements to access need to be made to ensure aid reaches everyone.
Crisis in Myanmar
The crisis in Myanmar is not over. The number of Rohingya arriving in Bangladesh from Rakhine state steadily decreased in mid-2018 but people are still fleeing from Myanmar, fearing for their lives and seeking safety.
As of September 2018, the UNHCR had recorded over 13,000 new arrivals in Bangladesh since the start of the year. This includes people who have been forced or asked to leave their homes within the host community and move to refugee camps. Those arriving from Myanmar tell our teams of continuing violence, harassment, detention and coerced registration as "non-citizens".
For now, those in Myanmar have no, or very limited, access to medical care. Humanitarian organisations are still blocked from accessing and operating in northern Rakhine, where Rohingya come from.
The Government of Myanmar has decided to work with only a select group of organisations, such as the Myanmar Red Cross, in providing aid.
We are urging the Myanmar government for unfettered access to Rakhine state to ensure the impartial delivery of aid to those in need.