"I always wished that one day I would become a healthcare worker," says Chimwemwe Naluso. "I am glad I am one now." Chimwemwe is one of 40 young Malawians who were awarded a Médecins Sans Frontières (MSF) scholarship to receive medical training in Thyolo – a rural district in the south of the country where MSF has been working for over 15 year. MSF started the scholarship in collaboration with the Ministry of Health in 2010 as an innovative approach to address one of the main challenges the country faces in providing healthcare: a critical shortage of healthcare workers.
Malawi, one of the world's least developed countries, is among the top 10 countries with the highest HIV prevalence worldwide. An estimated 960,000 people, or 10.6 per cent of the adult population, are living with HIV. While the country has made progress in the fight against HIV in recent years, vacancy rates are averaging 65 per cent among key healthcare worker positions and this presents a major barrier in the provision of HIV services and healthcare overall. The situation is especially grave in the rural areas which is home to over 80 per cent of the Malawian population, yet is serviced by less than 30 per cent of nurses and other health workers.
The main reason for this shortage is the low output from national training institutions. Only 60 doctors graduate from the Malawi Medical College each year, for a population of approximately 15 million people. Further, due to financial shortages, only 392 students graduated from Malawi College of Health Sciences in 2012 – the lowest number in five years.
Another reason for the staff shortages is the difficulty of the Malawian health system to retain the limited staff they do have. "Human resources are the greatest need of the Ministry of Health. Particularly staff ready to work in the rural areas, where most of the population is and where most of the health problems are," says Feline Kaliati, district nursing officer in Thyolo.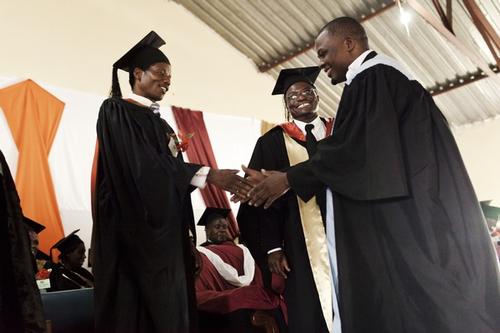 Harsh living and working conditions, exacerbated by high patient numbers, discourage the few staff available to work on the countryside. Chimwemwe explains: "There is often no water and electricity and most health workers don't like it there. Most facilities are hard to reach, with no communication network, which can cut off health workers completely. You can't even call for an ambulance. Healthcare workers need to walk to certain spots to access a telephone network, leaving other patients unattended."
Providing healthcare in such remote settings is a challenge for medical staff, but it is exactly those areas where there is the most need. A rural health worker in Thyolo sees more than 200 patients a day and a nurse might have to perform five to six deliveries daily with minimum assistance. Therefore, MSF decided to conduct a needs assessment to identify the types of healthcare workers needed and the geographical locations most affected by shortages of staff in Thyolo District. This resulted in the Malamulo scholarship initiative, created as a way of developing longer-term local capacity to serve under-resourced areas. The 30 scholars are all mid-level health workers, including 13 nurse-midwives, 10 medical assistants, five clinical officers, and two laboratory technicians. The students get their tuition fees, accommodation costs, a monthly stipend and a kit of medical gear from MSF and, in turn, are required to sign a five-year bonding agreement to work for the Ministry of Health in the areas from which they were recruited.
"We recruit students from within communities in need and thus can build on their natural motivation to be able to serve their communities," says Rodd Gerstenhaber, country coordinator for MSF in Malawi. "Many of them have experienced firsthand the consequences of what it means to be in need of a healthcare worker and not being able to find one. Next to this being a unique career opportunity for most of them, this is a very strong motivation."
While it remains to be seen whether scholarship recipients will continue to work in rural areas long-term, it is also a challenge to encourage other organisations and donors involved in the health sector to work on long-term recruitment and retention strategies for health staff and to invest in supporting Malawian training institutions. Many of them are struggling to keep their doors open, battling with scarce financial resources.
As one of the first students in the programmed, Chimwemwe graduated from Malamulo College in December 2012 after two years of studies to become a qualified medical assistant. He is currently doing a practical training at Thyolo District Hospital, before being posted to a health centre in Thyolo in September. "Five years is not a long time," says Chimwemwe, "It all depends on how motivated and how keen you are. It has been my wish since I was young to work in the medical profession. Now my community will benefit through this scholarship as I can help them right there," he says proudly. "As an untrained patient attendant I used to support patients but now I will treat them."