Rosario* arrived at the health centre in Nueva Capital, a neighbourhood of Tegucigalpa, the capital of Honduras. looking for help. Médecins Sans Frontières gave her the medical attention she needed.
Four days earlier, Rosario's husband was murdered and she was raped in front of her children, aged one and eight. The family used to live on the outskirts of Tegucigalpa, in a little town in the Francisco Morazan department. They moved to Nueva Capital due to insecurity and a lack of public services.
When she arrived at the health centre, Rosario's overriding fear was that she might be pregnant. At the centre, the MSF psychologist explained to Rosario that, besides taking medication to prevent sexually-transmitted infections, HIV and a possible pregnancy, she should have a mental health consultation. Rosario was aware that the traumatic event had deeply affected her, as she replayed the incident in her mind over and over again, and it had deeply affected her children too.
Victims of sexual violence, like Rosario, often go through a tremendously difficult and painful process as they attempt to deal with their experiences. In Honduras, according to the testimonies of MSF patients, victims of sexual violence are stigmatised and may be denied medical assistance in health centres unless they have a formal police report.

According to Honduran law and international protocols, reporting sexual violence is a right and not a duty. But although though sexual violence is a medical emergency, Honduras has no comprehensive health protocol for treating victims of sexual violence.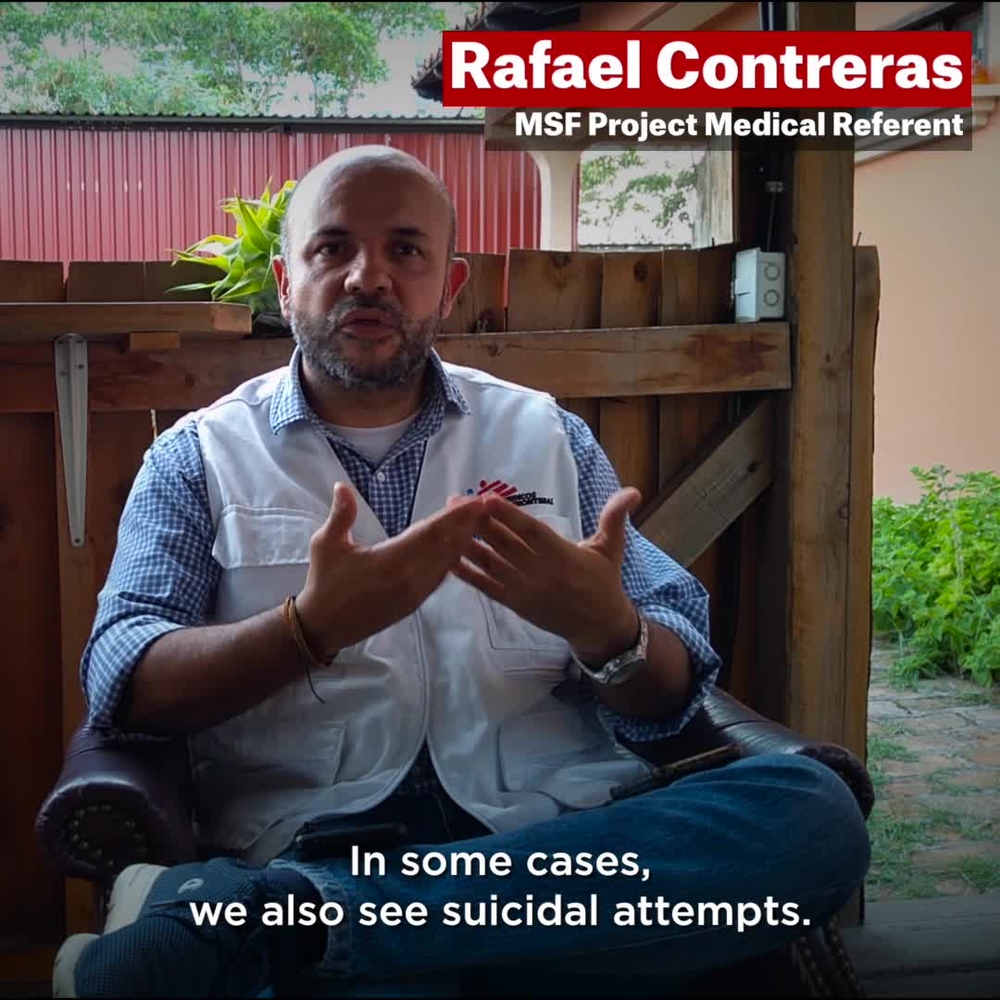 Often people come to us seeking care, but at the same time they feel so exposed, so afraid of putting themselves in danger
MSF psychologist Brenda Villacorta
In 2017, MSF and other international and national organisations working in Honduras and concerned about sexual and reproductive health rights delivered a draft protocol to the Honduran Minister of Health. It has still not been validated because the emergency contraceptive pill (ECP), essential to this health protocol, is prohibited in the country.
ECP is a medical necessity to prevent unwanted pregnancies. While other methods exist, they are not nearly as effective. If preventing unwanted pregnancies is ignored, then girls and women will continue to get pregnant against their will, increasing the risk that they use unsafe abortion practices.

The prohibition of ECP in Honduras urgently needs to be overturned so that a comprehensive health protocol for victims of sexual violence can be validated and put into practice.
The health protocol also needs to ensure that victims of sexual violence receive comprehensive care within 72 hours of the assault, so that sexually transmitted infections, HIV and pregnancy can be prevented, and so that the victims can receive timely psychological support.
The risk of not receiving treatment in time
In 2011 MSF opened a project to fill the gap in services for victims of violence, including sexual violence, at four locations around the capital – at Tegucigalpa's University Hospital, in the Alonso Suazo health centre, at the police department's 'Centro Integral Dolores', and in the health centre in Nueva Capital – all in coordination with the Ministry of Health and the Public Prosecutor's Office.
In 2018, only one in three MSF patients who had been victims of sexual violence came for medical care within 72 hours of the assault. This suggests that two in three are at risk of sexually-transmitted infections, unwanted pregnancies and psychological consequences from their traumatic experience.

To improve this situation for victims, MSF's health promotion team provide people with information about the physical and mental consequences of sexual violence, believing that if they are forewarned of the potential risks following an assault, these risks can be reduced.
"Often people come to us seeking care, but at the same time they feel so exposed, so afraid of putting themselves in danger, that they stop coming to consultations," says MSF psychologist Brenda Villacorta. "So the first thing we do is inform them about the mental and physical impact of living in a situation of violence."
Many are afraid of talking about their situation because their aggressor lives either with them or nearby. According to MSF data, 50 per cent of perpetrators in Tegucigalpa are family members or acquaintances, and 41 per cent of victims of sexual violence are children under 18.
The medical welfare of victims of sexual violence is one of MSF's priorities globally, but it is only possible if health institutions provide comprehensive services, in the belief that every human being deserves dignified, empathetic and quality treatment.
* Names have been changed to protect patients' identities.