South Africa is known for some of the world's highest rates of rape and femicide (female murder), with 52,420 sexual offences reported nationally in 2018. The data suggests this figure may be much higher.
In a new short film, Driving Change in South Africa, Lebogang Seketama, one of eight drivers working in a Médecins Sans Frontières (MSF) project that treats victims of sexual and gender-based violence in Rustenburg, South Africa shares his story
Every day, he transports victims of sexual violence to the nearest clinic. Like the other drivers, he is often the first person a victim meets after an incident and has received psychological first aid training to enable him to engage and support the victims from the start.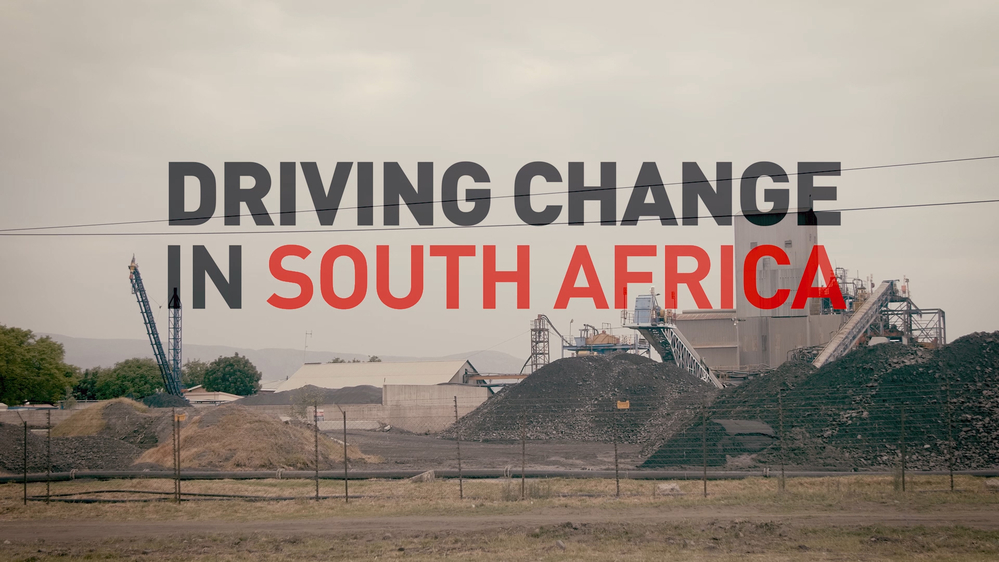 Lebogang Seketema – known as Lebo – knows the pain and suffering that sexual violence can cause those who experience it. His sister was molested by a neighbour when she was nine years old. There was little access to care back then, and the family chose to put it behind them.
Lebo has also worked for three years as a driver in a sexual and gender-based violence project run by MSF in Rustenburg in the heart of South Africa's platinum mining belt. In the informal settlements that lie sprawled around the area's mines, men outnumber women by 120 to 100. A potent mix of historical structural violence, economic hardship and traditional gender dynamics mean many women, especially those with children, are dependent on male partners for survival.
This leaves many vulnerable to sexual and gender-based violence.
Each day, Lebo and seven other male drivers rotate to collect and transport survivors of sexual violence – or clients as they are referred to – for emergency medical and psychological care, in addition to social support, in one of four 'Kgomotso Care Centres' (KCC).
The centres are run in partnership with the North West Department of Health across the area's largely informal settlements. Kgomotso means "place of comfort" in the local Setswana language. Each centre is staffed by forensic nurses, registered counsellors and social workers, who offer clients a package of care to treat injuries, help prevent HIV, STIs and unwanted pregnancies, provide psychological counselling and critical social support.
As first responders, MSF drivers are often the first person a survivor meets following an incident. Their role in the survivor's journey of care is seen as a vital part of the approach MSF is developing that ensures humane, non-intrusive and supportive care for survivors from the start.
Yet like Lebo, all the drivers have become acutely aware of their identity as men for victims, where the vast majority of sexual abuse across South Africa is caused by male perpetrators. In 2015, an MSF survey of 800 women in the Rustenburg municipality found that one in four women had experienced rape in their life-times, with 11,000 women and girls being raped for this area alone.
of women in an MSF study said they didn't report their rape
Tragically, 95 per cent of women in the study had never reported their rape to a healthcare worker, many out of fear and shame, and limited knowledge about the importance of seeking immediate care. While South Africa is already known for some of the world's highest rates of rape and femicide (female murder), with 52,420 sexual offences reported nationally in 2018, the data suggests that this figure may be much higher.
As such, MSF's drivers have received psychological first aid training on how to engage survivors with compassion while avoiding any secondary trauma. The principles of psychological first aid, which offers first-line support to anyone facing a crisis, entails assessing the immediate situation, building trust and rapport with clients, and helping to link them safely with the next stage of care.
"You can imagine I am a man, and the lady has been abused by a man. She has to get inside the car, and sometimes I'm alone inside the car with her. So, you know how it feels. You have to let her know that she's in a safe place, she's safe with you," says Lebo.
You have to let her know that she's in a safe place
Lebogang Seketama, MSF driver
For survivor Poppy Makgobatlou, from Babong district in Rustenburg, her first encounter with an MSF driver left a lasting impression. After many years of abuse from her now ex-husband, Poppy finally gathered the courage to seek help from MSF. After logging a call with the 24-hour hotline for survivors to report her case, an MSF driver came to collect her.
"I was crying, then [the driver] says, "I don't know how much pain you feel, I cannot tell you it's going to be okay, because I don't know for how long have you been living like this, but what I can tell you is just try to be strong," says Poppy, who received treatment in the MSF-supported KCC in Babong.
As awareness of the Kgomotso Care Centres grows, an increasing number of survivors are seeking care.
In 2015, the first Kgomotso Care Center in Rustenburg received 62 cases of sexual and gender-based violence. This number has grown, with the four centres in Rustenburg and Madibeng receiving a combined total of 1,266 new cases in 2018, and 657 new cases within the first half of 2019. Many cases are now referred from MSF's growing community activities which raise awareness around sexual and gender-based violence and train local leaders as 'first responders' to identify survivors and provide immediate support while linking them to care.
For Lebo and the other drivers, working for MSF and meeting survivors has changed their own understanding of violence, and the role each of them can play in changing other men's mindsets. Beyond their day job, each driver is taking an active role in driving change in their communities.
About MSF's response to sexual violence in South Africa
Since 2015, MSF has been working with the North West Department of Health to expand access to free, high quality and confidential care for survivors of sexual and gender-based violence in Rustenburg's Bojanala district through four dedicated clinics, known as Kgomotso Care Centres. MSF teams, including forensic nurses, psychologists, registered counsellors, social workers and social auxiliary workers and support staff, including drivers, provide clients with an essential package of free emergency and follow-up care. An increasing number of survivors are being referred from MSF's community-based initiatives in Rustenburg's Freedom Park and Sondela areas. This includes a schools' programme that educates learners about sexual and reproductive health, as well as gender-based violence. The programme, which screens learners for signs of sexual violence as they are a vulnerable group, has reached 25,500 learners across 20 schools in the district since early 2018. From 2017 to 2019, the four MSF-supported Kgomotso Care Centres (KCCs) in Rustenburg provided care for 3,007 clients. In South Africa, MSF is calling for all survivors of sexual violence to have immediate and longer term access to complete medical, psychological care and social support.