Attacks against health workers and medical facilities continue to have a significant impact on people affected by conflict and violence, depriving them of healthcare services often when they are needed the most. Médecins Sans Frontières (MSF) continues to highlight and condemn such attacks worldwide.
At the time that MSF lost government authorisation to continue providing medical care in northern Rakhine State, Myanmar, on 11 August 2017, MSF ran four primary healthcare clinics in Maungdaw District, in Ah Leh Than Kyaw, Inn Din, Myint Hlut and Shwe Yin Aye villages.
The clinics were predominantly bamboo structures with signs bearing the MSF logo in both the Burmese and English languages, and the name of the clinic. MSF teams visited each of the clinics multiple times a week in order to provide primary healthcare services, including women's healthcare and mental health interventions, and stabilisation and referral for patients requiring secondary healthcare.
The people living in the villages of Ah Leh Than Kyaw, Inn Din and Myint Hlut were believed to be Rakhine and Rohingya, with a smaller proportion of other ethnicities, while Shwe Yin Aye was located in a predominantly Rakhine village.
In keeping with MSF's commitment to impartial humanitarian assistance, MSF provides medical care to everyone without discrimination. As such, the clinics were open to all people living in the villages and surrounding areas. However, because significant restrictions were placed on movement for the Rohingya, affecting their ability to seek care in Maungdaw and Sittwe, they comprised the majority of patients attending all four of the MSF clinics.
During the "clearance operations" carried out by the Myanmar authorities in northern Rakhine, three of the four MSF clinics were burnt down. The destroyed clinics were located in Ah Leh Than Kyaw, Inn Din, and Myint Hlut. The fourth clinic, located in Shwe Yin Aye, was undergoing renovation at the time that MSF activities were suspended. Some construction materials were stolen, but the clinic remained intact.
In order to better illustrate the damage to MSF's clinic locations, satellite images and Geographic Information Systems (GIS) analyses produced by MSF's GIS team are made available here.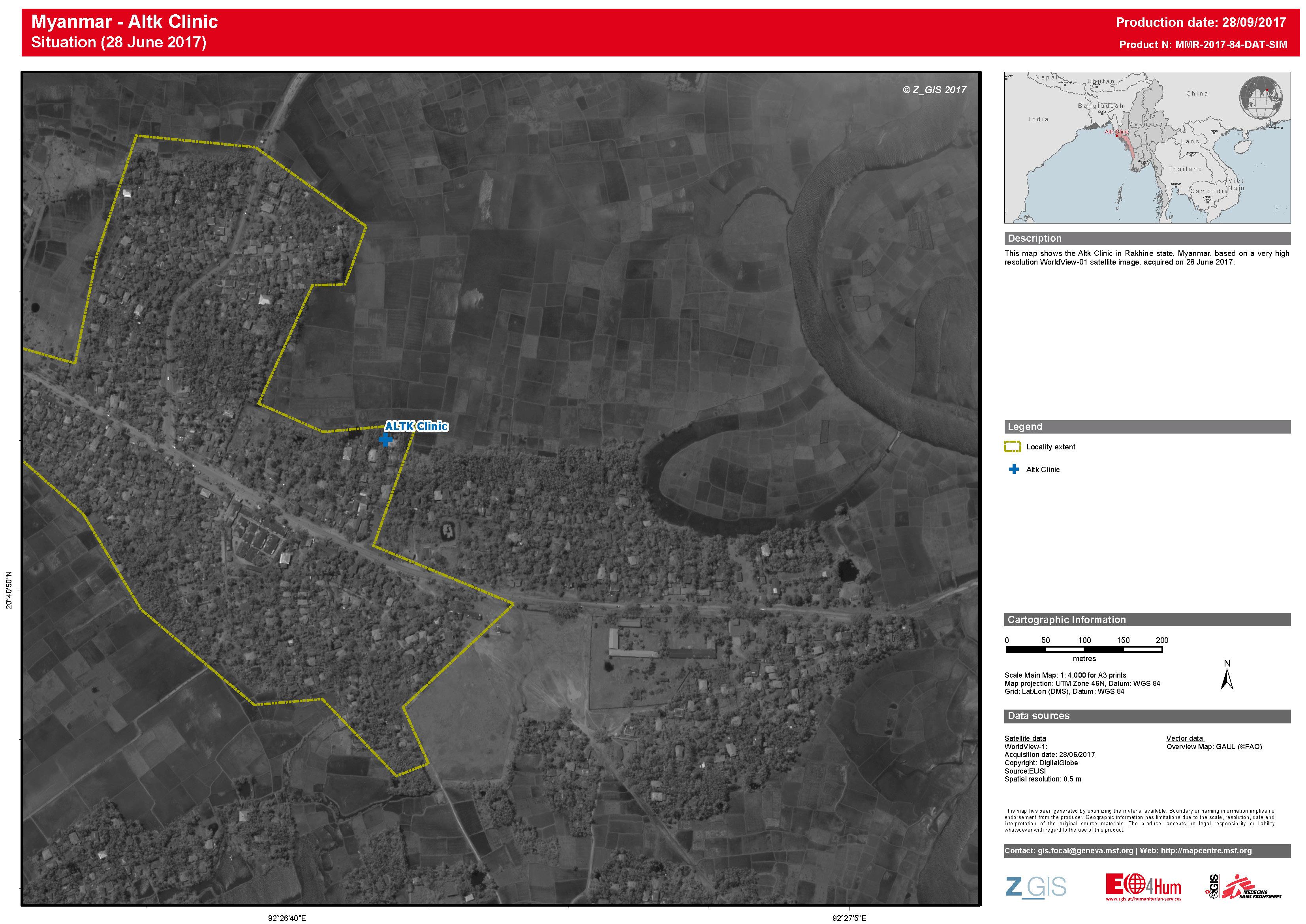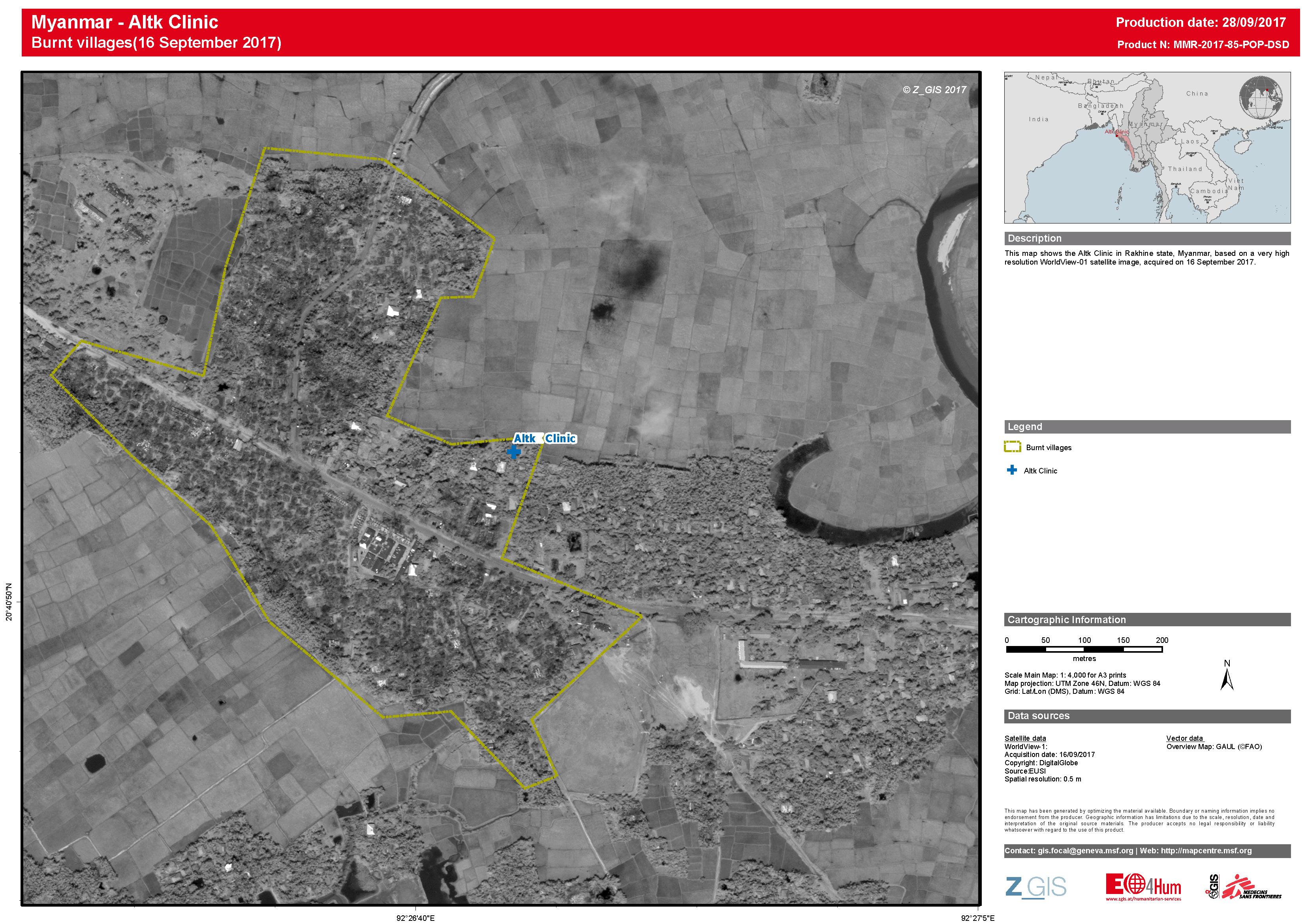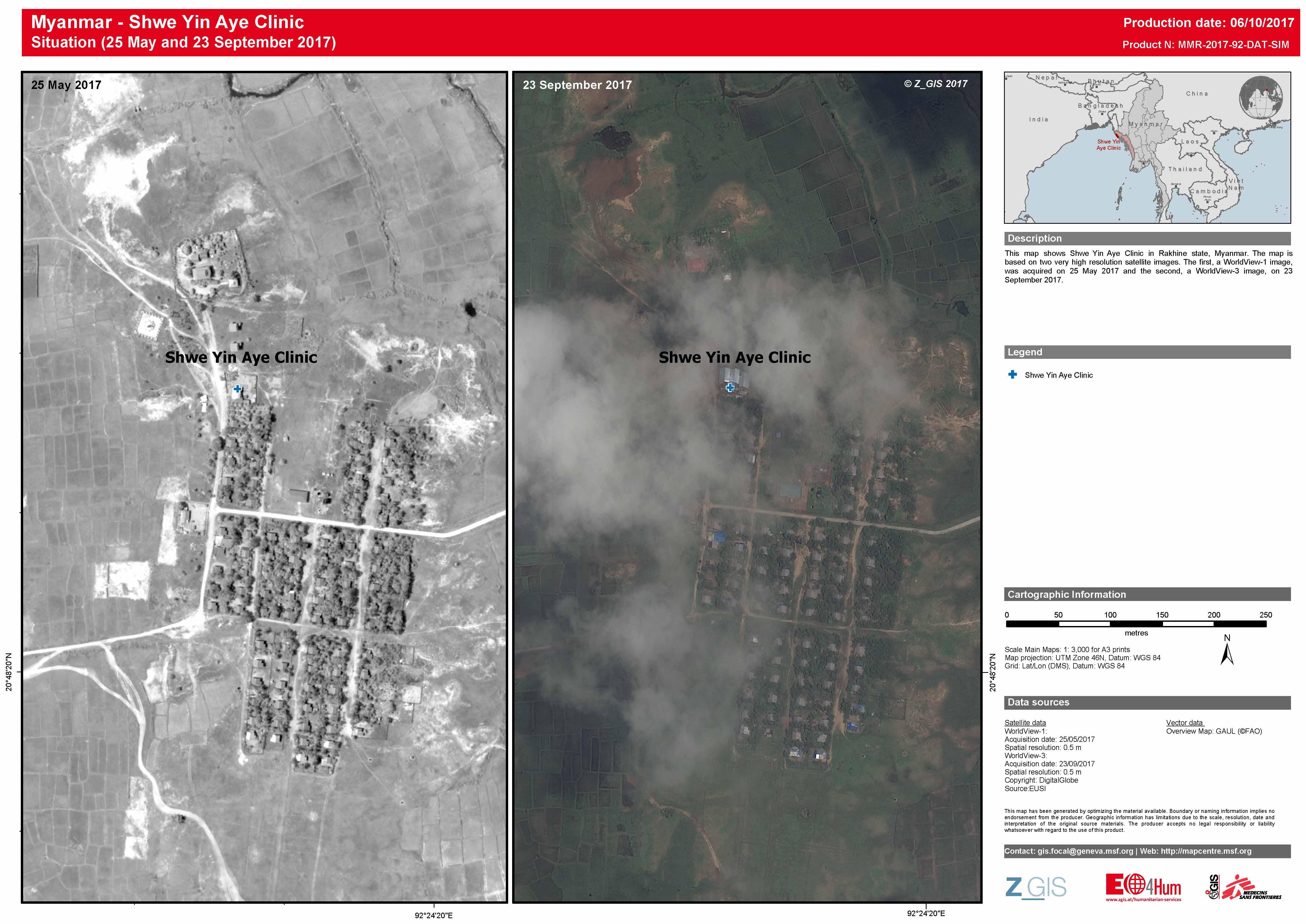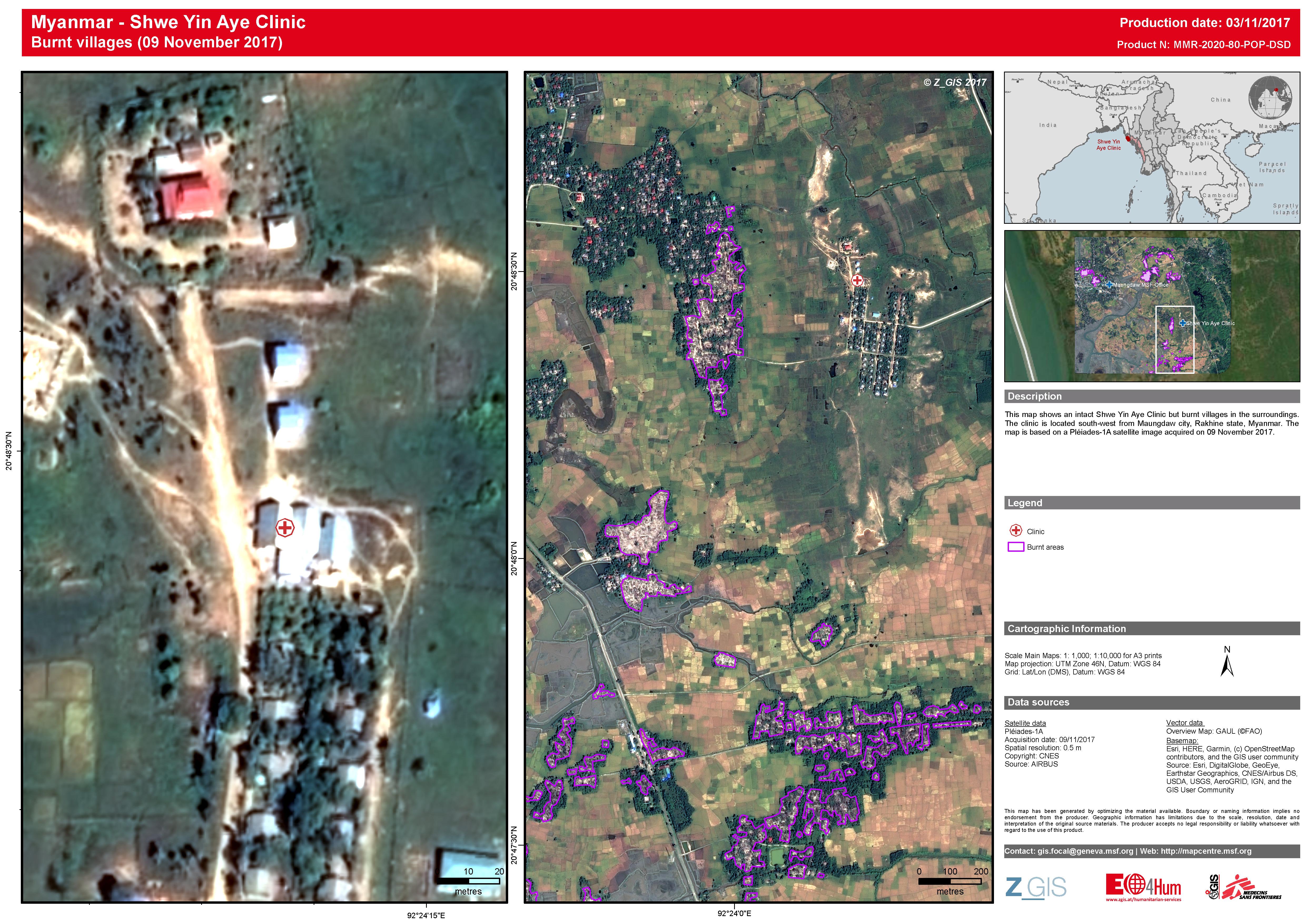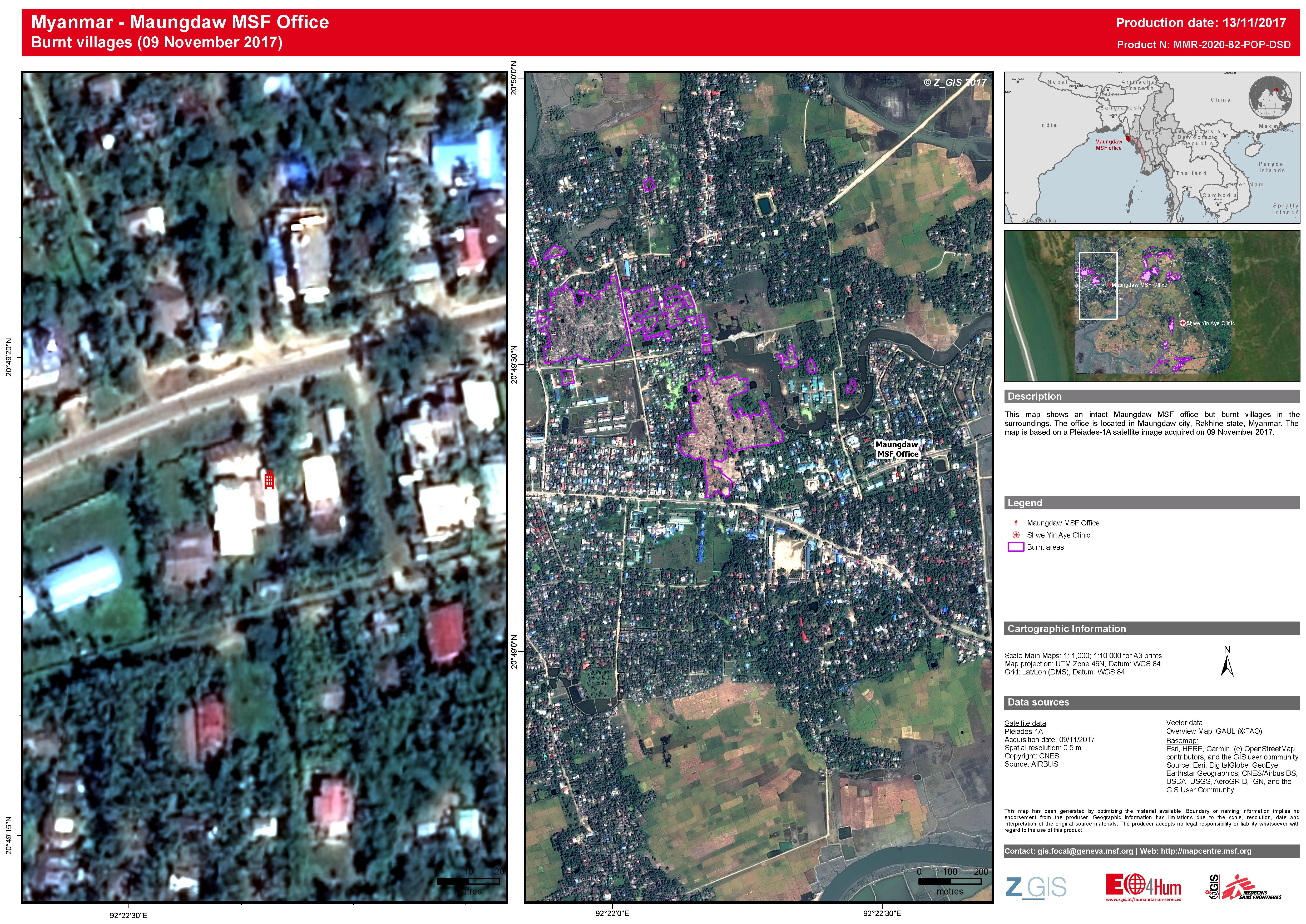 Addendum 01/09/2019:
While MSF staff have remained present in northern Rakhine State, it was only in September 2018, with the necessary government approvals, that MSF was able to re-establish a significantly reduced medical programme, with a focus on HIV support. Initial activities included HIV counselling training for hospital staff delivered in Buthidaung and Maungdaw hospitals.
Activity approvals to conduct mobile clinics with the Ministry of Health were granted for August 2019, with the first mobile clinic held three days a week in Buthidaung Downtown.
In Sittwe and neighbouring areas, MSF's activities were put on hold on 25 August 2017. Travel and activity authorisations were received on the 12 October 2017, and the MSF team was able to re-establish regular activities, before returning to a normal schedule as of mid-October 2017.