More than 688,000 Rohingya refugees have arrived in Cox's Bazar, a district in southeast Bangladesh, since late August 2017, after fleeing violence in Rakhine State, Myanmar. They joined several other thousands who had made the same journey in previous crises.
The refugees – from a minority Muslim group denied citizenship and other rights in Myanmar – have settled in existing camps, as well as in new makeshift settlements set up by the Bangladeshi authorities in an effort to cope with the humanitarian crisis. Here we recount the journey of Humaira, a refugee.
Humaira is a 25-year-old Rohingya refugee from Maungdaw district in Rakhine state. She arrived in Bangladesh in October 2017, after the violence reached her hometown. In late January 2018, she was found in a state of shock by an MSF outreach team in the Jamtoli makeshift settlement and brought to the MSF primary healthcare centre there, where she is being hydrated.
She is with her seven-year-old son, Mohammed Faisal, and a three-and-a-half-month-old baby girl, Ruzina, who doctors say is malnourished and weak. Humaira hasn't been able to breastfeed her daughter since she was born. If the MSF team cannot help Humaira start breastfeeding, Ruzina may be given infant formula milk, the MSF staff say. Mohammed Faisal has been looking after Ruzina, feeding her with chips softened in water.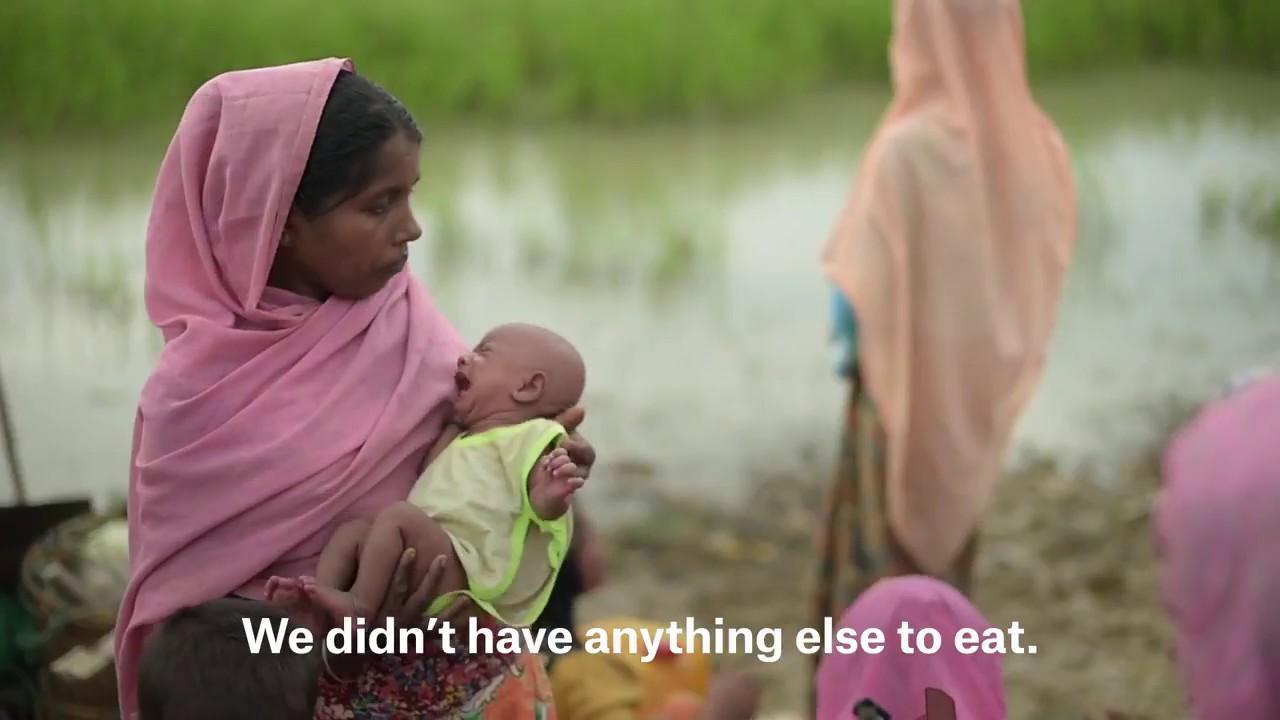 The departure
When the violence broke out, my husband was taken by the Myanmar military. I don't know whether he is dead or alive. They took us from our homes, burned them to the ground and beat us very badly. When we fled, I was already heavily pregnant. I left with my son and another woman, but lost contact with her during the journey. I couldn't take any belongings with me. We walked for several days through the forest. We were starving and only survived by eating the leaves of the trees. We slept in the bush. We finally reached the riverside and boarded a boat that would take us to Bangladesh.
The journey
My baby, Ruzina, was born on the river. I went into labour while already on board and the whole process lasted for three hours. The boatmen and another woman who was there helped me through it. Throughout the journey I felt bad, it was so hard. I thought only about giving birth to my child and getting her away from the violence. I thought of fleeing as far away as I could and I believed only in Allah. After we reached Sha Porir Dwip [the southern point of the Cox's Bazar peninsula] we were taken by bus to Jamtoli settlement. I was given a tent to live in with my two children. I was unable to build it, but some villagers helped me.
The present
After a month in Jamtoli I started to get some [humanitarian] relief. But I never have enough to eat and because of that I can't breastfeed my baby. I felt sick in the beginning. I can't sit down properly and can't do some things due to the pain I feel in my body. All the food I get in the settlement is found by my boy [Mohammed Faisal]. He goes to school and plays football in the afternoon. He washes his sister's clothes and fetches water. I hope that he will help me through all the difficulties of the future.