An earthquake, tsunami, flood or cyclone can have a devastating impact on entire communities. Hundreds or even thousands of people can be injured, and homes and livelihoods destroyed. Access to clean water, healthcare services and transport can be disrupted.
Floods or tsunamis can cause many deaths but comparatively less injured. Earthquakes can leave a huge number of people injured in a matter of minutes, crushed in collapsed homes and buildings. In some cases, hospitals are also damaged such as in Pakistan in 2005 and Haiti in 2010, while tens of thousands of people are wounded.
In other disasters, the health system may still remain functional, with a strong disaster response capacity, such as in Sri Lanka after the 2004 Tsunami. All these differences will influence the level and type of response we develop.
First responders
Rescue efforts in the first hours are mainly carried out by people already on-site, including community members and any local authorities and aid organisations already present when the disaster struck. Indeed, we treated our first patient shortly after the Haiti earthquake, as we were already providing medical care through programmes in the country.
The urgent priority is to rescue the victims, and to quickly re-establish means of communication, transport and supply routes for deployment of external relief.
Emergency deployment
From large-scale catastrophes to local emergencies, our network of aid workers in more than 70 countries and supply centres around the world mean we can quickly respond to disasters.
With over 40 years experience working in natural disasters, we've developed tools to deploy rapid relief and life-saving assistance. This can include surgical kits, relief items, or even entire mobile hospitals. Our first response staff can be reinforced with additional teams if a larger response is needed.
Accessing a disaster zone
The more transport routes are disrupted and communities are isolated, the longer it will take for external relief to arrive. It can be a race against time to access isolated areas, especially for people needing to be rescued, the wounded needing medical treatment, and those living in terrible conditions without any shelter.
In Nepal in 2015, many villages were cut off by landslides, or just simply inaccessible by road, so our teams flew by helicopter to assess needs and provide relief.
Treating the wounded
One of our priorities is to evaluate whether there are many wounded and whether local health capacities have been hit by the disaster. If people suffering from cuts and fractures do not access treatment, including proper post-operative care, their wounds can quickly become infected.
We'll send medical units to perform surgical procedures, provide post-operative care and physiotherapy. We may deploy mobile hospitals, such as an inflatable hospital, which is particularly appropriate after an earthquake when there are after shocks.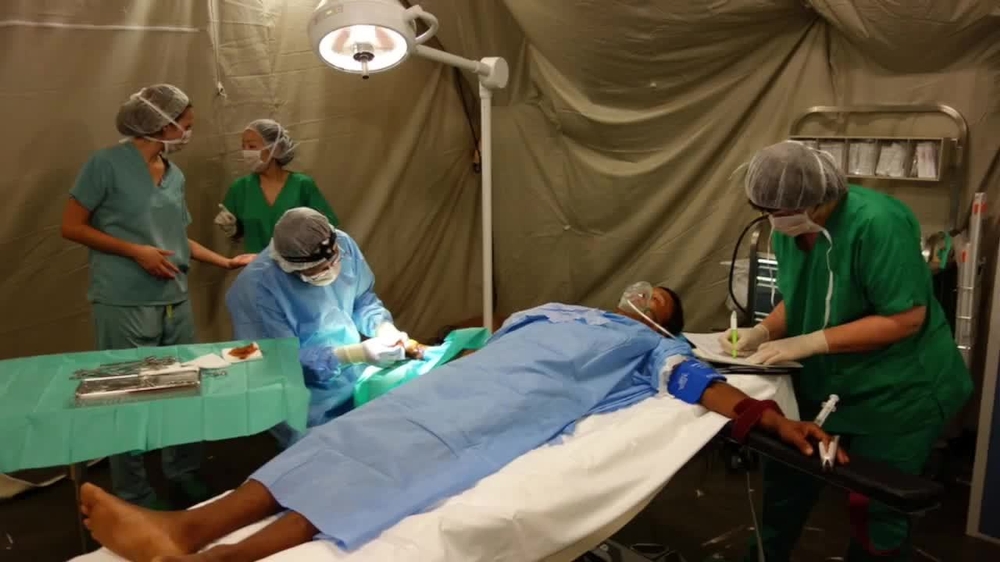 Restoring health services and providing relief items
The destruction of homes often means that people are displaced and are forced to regroup in makeshift settlements. Overcrowding, insufficient access to drinking water and lack of medical treatment can encourage the spread of common infectious diseases. Sleeping outdoors and in temporary shelters can lead to respiratory infections, especially in children.
In these cases the restoration of routine health services and the distribution of shelter and basic relief items are also among the priorities. Providing mental health support is also necessary to help people recover from the trauma of the event.
Coordination with national relief efforts
Our response is developed through extensive collaboration with national actors, taking into account the importance of local efforts and strategies, and the limitations of an international intervention in regards to time, quality and pertinence.
We analyse the added value of the assistance we can bring, and regularly question the pertinence of our continued presence. Our aim is to 'hand back' any medical activities to local authorities or partners once they no longer need our support.
Emergency funding
As an organisation, we pride ourselves on the incredible support of our donors. Our funding structure relies on lots of regular donations from hundreds of thousands of individuals around the world who give us money every month. This gives us the flexibility – and the ready cash – to respond to emergencies as they happen rather than setting up individual funding 'pots' for each separate crisis.
In 2004, following the Indian Ocean Tsunami, MSF found itself very quickly over-funded for the work we needed to do (people had either died or didn't have extensive medical needs and the global public response was incredibly generous). This was despite closing our appeal after just a few days.
We decided to contact our donors, asking their permission to derestrict, or untie, their donations from the Tsunami response so that they could be used for other emergencies and forgotten crises, such as in Democratic Republic of Congo, Niger or South Sudan. The response from our donors was overwhelmingly positive. Of all the people contacted, only one per cent asked for their money to be refunded rather than redirected.
We are now very cautious about matching 'earmarked' funding with operational budgets. We judge very carefully how much we'll need for our work and how much the public might give us. In an emergency this is hard to do and sometimes we get it wrong, for example, with the 2010 Haiti earthquake, when we ended up needing, and spending, a lot more than we allowed ourselves to raise.
But our donors can be confident that we think very hard about asking for any extra support – if we do ask for additional funds for a crisis, it's because the scale of the needs and our response really warrant it.