On 1 September 2016, French Minister of the Interior, Bernard Cazeneuve, announced that the northern part of the so-called 'Jungle' – the  migrant camp set up in Calais in northern France in the spring of 2015 – is to be dismantled.
With refugees about to be evicted from their shelters, specific measures to protect the 627 unaccompanied foreign minors MSF assists in the camp have yet to be proposed.
In March 2016, the southern part of the 'Jungle' was forcibly evacuated and demolished. The first stage of dismantling the camp was executed in a climate of violence, as the refugees, refusing to abandon their shelters, put up resistance. 
The threat of yet another eviction is now hanging over thousands of people who have spent the past six months crammed into what is left of the 'Jungle'. There are currently almost 7,000 people living in the camp according to police reports, but over 9,000 according to other organisations.
What alternative are they being offered? France's regional prefects have been ordered to create accommodation for 9,000 to 12,000 people by the end of the year, who will be housed in reception and orientation centres throughout the country. "Many refugees in Calais don't trust this strategy," explains Franck Esnée, MSF's head of mission for France. "They've received only partial information, and not always in a language they can understand. They'll have to change the plans they had for their future and apply for asylum in France, which wasn't an option they'd envisaged. Ultimately, what they really want is to go to the UK via Calais – still the main route for getting there. Closing the border, dismantling the camp, and the recent announcement that a wall is to be put up all point to the UK and French governments not assuming their responsibilities to provide shelter and assistance to people who've fled from their countries because it was quite simply impossible for them to stay."
There are 861 unaccompanied foreign minors among the refugees currently living in Calais, 627 of them in the 'Jungle' itself. Mostly from Sudan, Afghanistan, Eritrea or Ethiopia, the youngest is only 10 years old. "We're seeing that no specific arrangements have been made for these children for when the camp is dismantled. None at all," says Esnée. "We have every right to ask, where are these minors going to live? Will they be with children their own age? How many of them together? Will they be accommodated with adults? What kind of protection will they get? And what about access to essential services such as healthcare and education?"
According to the organisation Citizens UK, 178 unaccompanied foreign minors in Calais are eligible to be reunited with family members living in the UK. "This is a country that, let's not forget, made an official commitment to take in 3,000 children," Esnée adds. "Once they're dispersed in Brittany, in southwestern and southeastern France, how can we be sure their applications will still be processed? It's the same for minors as it is for adults seeking to be reunited with family or claiming asylum and whose cases are being reviewed."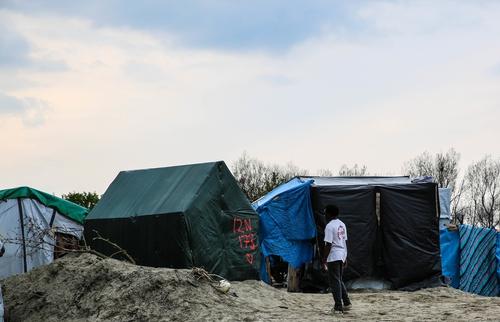 In July, MSF opened a centre for unaccompanied foreign minors in the 'Jungle', where 50 to 80 children go for psychological and educational support and legal advice every day. In partnership with the organisation Refugee Youth Services, a specially trained teacher provides some respite through recreational activities. This gives the children space and a degree of freedom to make their own choices, to take back control of their lives and no longer be victims. "We don't know what's going to become of these children," says Esnée. "We may well lose track of them once the northern part of the 'Jungle' is dismantled. Neither MSF nor any other organisation working with them and helping them sort out the red tape will be able to continue to provide them with quality services."
Our teams are also concerned for patients receiving care via MSF's mental health programme. The programme was set up to provide treatment to the many refugees suffering from psychological trauma caused by what they endured in their home countries and experienced during their journeys into exile and time in the 'Jungle.' "Among the 91 people coming for consultations, 18 are on medication; how can we ensure their care is continued?" worries Esnée. "How will the eviction affect people already suffering with depression, anxiety or post-traumatic stress? Soon the authorities should be providing details on the various stages involved in the imminent dismantling of the camp. Let's hope our questions and concerns will be addressed swiftly and that the answers will be commensurate with the circumstances."
9,106 people live on the site, according to a census conducted between 6 and 9 August 2016 by L'Auberge des Migrants and Help Refugees.