Mediterranean Migration
Last updated 20 June 2016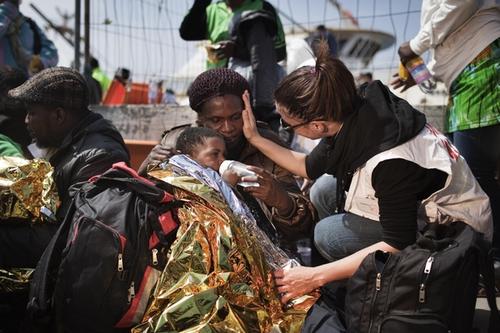 Every year, thousands of people fleeing violence, insecurity or persecution at home attempt a treacherous journey across the Mediterranean Sea to reach Europe. And every year, countless lives are lost on these journeys.
More than 59 million people worldwide are currently displaced from their homes. Some 8.3 million people were forced to leave their homes in 2014 alone – the biggest ever increase in a single year.
In 2014, the number of people arriving by boat in Europe was 219,000. In 2015 that number leapt almost five-fold to over 1 million. Most arrived in Greece (856,723), followed by Italy (153,600), with smaller numbers arriving in Spain (2,797) and Malta (105).
Despite the winter conditions, people have not stopped making the journey. Since the beginning of 2016, more than 200,000 people have arrived in Europe, mainly via the Aegean Sea.
Tragically, more than 2,800 people this year alone have drowned or gone missing after their boats capsized or sank.
Externalized border controls in transit countries and countries of origin cannot be the EU's solution to the European refugee crisis
The enforcement of migration cooperation deals between the EU and its member states with third countries is resulting in unacceptable humanitarian consequences, including high levels of violence and a sustained erosion of refugee and asylum law.
The EU-Turkey proposed deal, presented as "the" solution to the current crisis, is a perfect illustration of this dangerous approach. Unless concrete protection measures to assure equal treatment and the dignity, safety and protection of people on the move are in place, abuses of migrants and refugees will worsen with increased externalization of border control.
For more information on arrivals, demographics and deaths, please consult the IOM and UNHCR websites.
The urgent need for safe passage
Europe's restrictive policies put some of the world's most vulnerable people in more danger, causing more suffering, as they risk it all to try to bring themselves, and their families, to safety. European countries (and transit countries) have the responsibility to ensure their policies guarantee the right to seek asylum and respect fundamental rights and human dignity.
To save lives and alleviate suffering, people need to be provided with safe passage, by:
Swiftly providing safe and legal channels for people seeking asylum, in particular allowing asylum seekers to apply for asylum at external land borders, including the Evros land border between Turkey and Greece. This also includes making wider use of legal entry schemes, such as family reunification, humanitarian visas, simplified visa requirements, resettlement and relocation.

Creating legal migration pathways to decrease the demand for irregular migration and smuggling networks.

Creating an ambitious search and rescue mechanism to save lives at sea. This operation should proactively search for boats in distress as close to departure points as possible and should be accompanied by pre-identified disembarkation points where humane disembarkation procedures, including adequate reception conditions, medical care and vulnerability assessments, are in place.

Investing in the reception of asylum seekers, according to EU standards, instead of deterrence measures only. Europe must move away from a fortress approach to a reception approach designed to address the needs and specific vulnerabilities of people arriving at its borders, in particular their medical and mental health needs.

In the absence of a functioning common European asylum system, investing more ambitiously in intra-EU relocation schemes and the creation of safe passage through the EU.

Putting an end to acts of violence and abuse by state authorities.
What is MSF doing to help?
MSF has been providing assistance to people crossing the Mediterranean to Europe since the autumn of 2002, when an MSF team started working in Lampedusa reception centre, providing new arrivals with medical care.
Since then we have been assisting people at multiple points along the route:
On 17 June 2016 we announced that MSF will no longer take funds from the European Union and Member States, in opposition to their damaging deterrence policies and intensifying attempts to push people and their suffering away from European shores. This decision will take effect immediately and will apply to MSF's projects worldwide.
For more details on MSF's current activities with refugees and migrants in Europe, please see the latest crisis update.