Kunduz Hospital Airstrike
Last update: 3 October 2016
3 October 2016
Today, MSF remembers one of the darkest moments in its history. On 3 October 2015, U.S. airstrikes killed 42 people and destroyed the MSF trauma hospital in Kunduz, Afghanistan. As we grieve the loss of our colleagues and patients, we are left with the question: is it still possible to safely provide medical care on the frontline? In the past year, there have been a further 77 attacks on medical facilities run and supported by MSF in Syria and Yemen. Hospitals are being continually dragged onto the battlefield, and patients and their doctors and nurses are sacrificed in the process.

Read the full text of One year after Kunduz: Battlefields without doctors, in wars without limits by Christopher Stokes, MSF General Director
29 April 2016
Read MSF's initial reaction to public release of U.S. military investigative report and the many questions that remain outstanding seven months after the attack.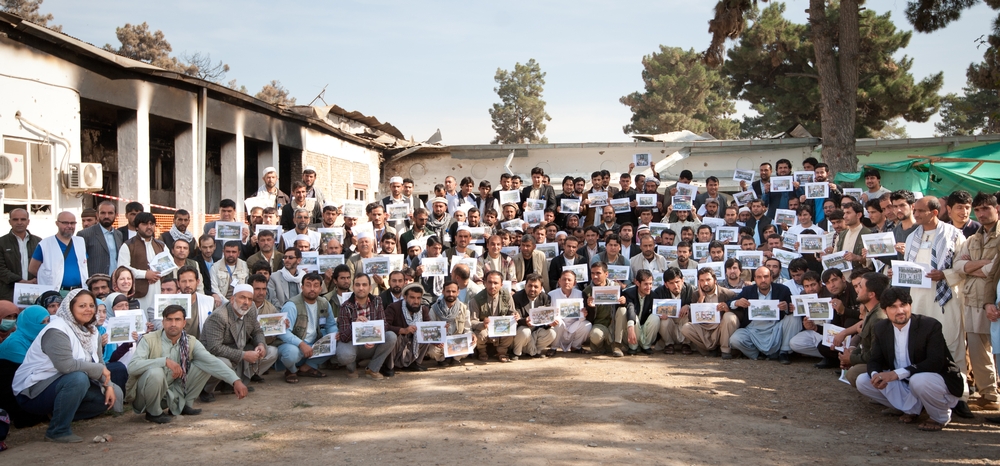 On Saturday 3 October 2015, the MSF Trauma centre in Kunduz was hit several times during sustained bombing by coalition forces, and was very badly damaged.
The total number of dead is known to be at least 42, including 24 patients, 14 staff and 4 caretakers.
All of MSF grieves with the victims' families. They will be tremendously missed and never forgotten.
On this one month anniversary of the attack on our colleagues and patients, we wish to express our deep concern for each wounded and severely sick person in Kunduz that has not had access to trauma care in the last month.
We also request that the protections of health staff, health structures and patients in conflicts, granted by International Humanitarian Law, be respected. The possibility to receive impartial medical care by victims of wars depends on it.
Read on to learn more. Further details are also involved in this fact-sheet.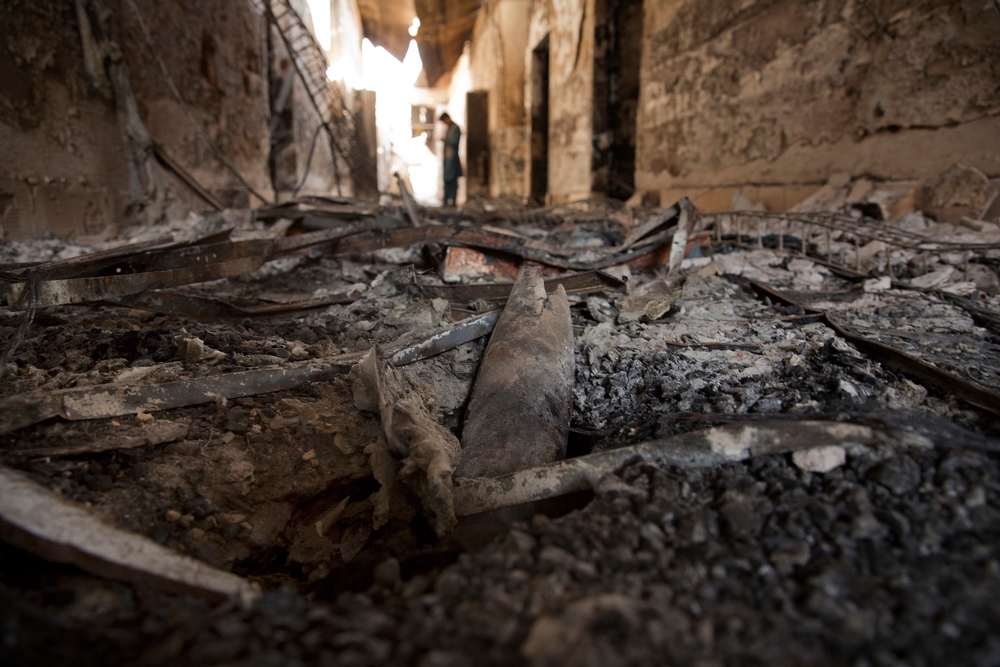 5 November 2015
Review of events leading up to, during, and immediately following airstrikes shows no reason why the hospital should have come under attack.
Video: Before and After the attack
This video shows an aerial video of the damage inflicted on our hospital and staff.
Read full details in our fact-sheet
MSF is pushing for a full, transparent, and independent investigation into this shocking event. Help us by adding your name to the growing petition at Change.org, asking U.S. President Obama to consent to an independent investigation.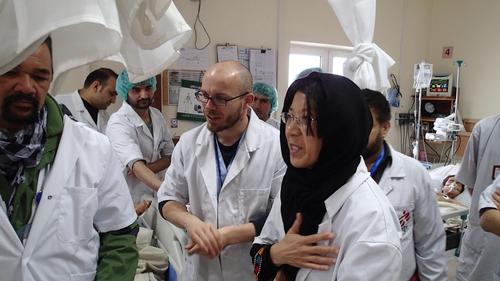 Statement by Dr Joanne Liu, MSF International President:
"Today we pay tribute to those who died in this abhorrent attack. And we pay tribute to those MSF staff who, while watching their colleagues die and with their hospital still on fire, carried on treating the wounded.
This was not just an attack on our hospital - it was an attack on the Geneva Conventions. This cannot be tolerated. These Conventions govern the rules of war and were established to protect civilians in conflicts – including patients, medical workers and facilities. They bring some humanity into what is otherwise an inhumane situation."
"We are seeking an investigation into the Kunduz attack by the International Humanitarian Fact-Finding Commission. This Commission was established in the Additional Protocols of the Geneva Conventions and is the only permanent body set up specifically to investigate violations of international humanitarian law." Read the full speech.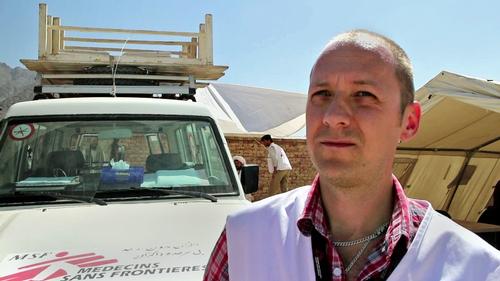 MSF nurse Lajos Zoltan Jecs was in Kunduz trauma hospital when the facility was struck.
"There are no words for how terrible it was. In the Intensive Care Unit six patients were burning in their beds.
We looked for some staff that were supposed to be in the operating theatre. It was awful. A patient there on the operating table, dead, in the middle of the destruction. We couldn't find our staff." Read his full account.
"Under the clear presumption that a war crime has been committed, MSF demands that a full and transparent investigation into the event be conducted by an independent international body. Relying only on an internal investigation by a party to the conflict would be wholly insufficient.
Not a single member of our staff reported any fighting inside the MSF hospital compound prior to the US airstrike on Saturday morning. The hospital was full of MSF staff, patients and their caretakers.
We reiterate that the main hospital building, where medical personnel were caring for patients, was repeatedly and very precisely hit during each aerial raid, while the rest of the compound was left mostly untouched. We condemn this attack, which constitutes a grave violation of International Humanitarian Law." – Christopher Stokes, General Director, Médecins Sans Frontières.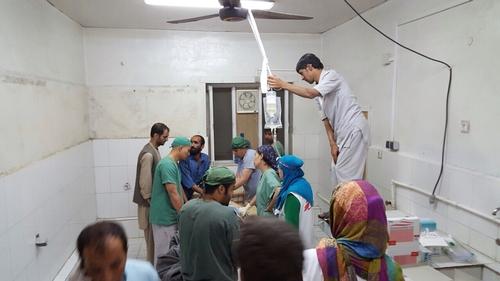 "Under International Humanitarian Law hospitals in conflict zones are protected spaces. Until proven otherwise, the events of last Saturday amount to an inexcusable violation of this law. We are working on the presumption of a war crime." – Dr Joanne Liu, President, MSF International. Read complete statement.
US admits their airstrike hit hospital
"The US government has admitted that it was their airstrike that hit our hospital in Kunduz and killed 22 patients and MSF staff. Their description of the attack keeps changing – from collateral damage, to a tragic incident, to now attempting to pass responsibility to the Afghanistan government.
The reality is the US dropped those bombs. The US hit a huge hospital full of wounded patients and MSF staff. The US military remains responsible for the targets it hits, even though it is part of a coalition.
There can be no justification for this horrible attack. With such constant discrepancies in the US and Afghan accounts of what happened, the need for a full transparent independent investigation is ever more critical." – Christopher Stokes, General Director, Médecins Sans Frontières
We had informed all fighting parties of hospital GPS coordinates.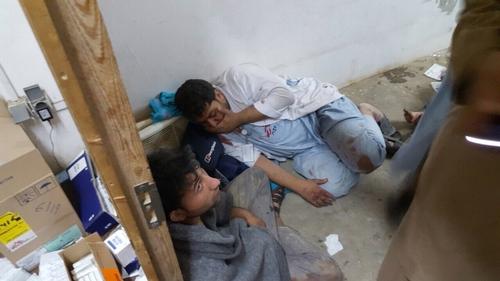 All parties to the conflict, including in Kabul and Washington, were clearly informed of the precise location (GPS Coordinates) of the MSF facilities – hospital, guest-house, office and an outreach stabilization unit in Chardara (to the north-west of Kunduz). As MSF does in all conflict contexts, these precise locations were communicated to all parties on multiple occasions over the past months, including most recently on 29 September.
The bombing continued for more than 30 minutes after American and Afghan military officials in Kabul and Washington were first informed. MSF urgently seeks clarity on exactly what took place and how this terrible event could have happened.
We reject statements by Afghanistan authorities
"MSF is disgusted by the recent statements coming from some Afghanistan government authorities justifying the attack on its hospital in Kunduz. These statements imply that Afghan and US forces working together decided to raze to the ground a fully functioning hospital – with more than 180 staff and patients inside – because they claim that members of the Taliban were present.
This amounts to an admission of a war crime.
This utterly contradicts the initial attempts of the US government to minimise the attack as 'collateral damage'. There can be no justification for this abhorrent attack on our hospital that resulted in the deaths of MSF staff as they worked and patients as they lay in their beds.
MSF reiterates its demand for a full transparent and independent international investigation." – Christopher Stokes, General Director, Médecins Sans Frontières
Hospital closed. Staff evacuated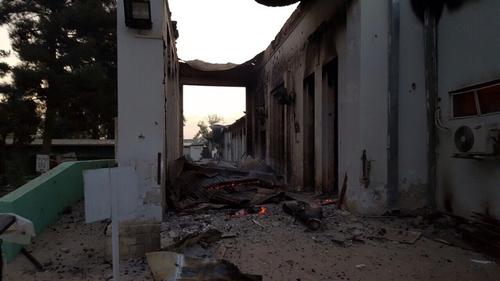 The MSF hospital in Kunduz is currently not operating, following the sustained bombing early Saturday morning. All international MSF staff members that were in Kunduz have been evacuated. All critical patients were referred to other health facilities. The MSF Afghan staff who were not killed are either being treated in health facilities in the region or have left the hospital.
On Saturday, some staff assisted to provide healthcare in other non-MSF facilities in the region, and others have joined their families at this difficult time.
No medical activities are possible now in the MSF hospital in Kunduz, at a time when the medical needs are immense. It is painful for MSF to withdraw at a time when the medical needs are so acute, but in the aftermath of being bombed, it is too early to know if it would be safe to continue running medical activities.
MSF works hard in conflict areas, as had been the case in Kunduz, to ensure all fighting parties respect the sanctity of medical facilities. At the moment, MSF has not received any explanations or assurances that give us the confidence to be able to return. This is why the organisation is demanding a full, independent and transparent investigation of what happened, and why. Without that information, there are too many unknowns to allow a return in the immediate future. MSF is committed to the people in Kunduz and will explore, as soon as key questions are answered, options to return with medical services in the Kunduz region. MSF continues to run four other health facilities in Afghanistan.
This is the first step needed to undertake an independent investigation into the attack on MSF's hospital in Kunduz, Afghanistan, on 3 October.
The IHFFC is now awaiting the agreement of the United States and Afghanistan governments to proceed.
"We need to know if the rules of war have changed, not just for Kunduz, but for the safety of our teams working in frontline hospitals all over the world," said MSF International President, Dr Joanne Liu.