Syria: The silent war
In June 2017, Médecins Sans Frontières (MSF) employee Diala Ghassan visited Tal Abyad hospital in Raqqa governorate, northern Syria. Here, she describes her day with the patients and staff.
"Women are the revolution" and "I will not emigrate" signs welcome you to northern Syria. Along both sides of the roads are fields of wheat and olive trees, grown and harvested by the residents. At first, you don't realise you're in a conflict zone – or not until you've driven for some distance and start to see the many roadside pictures and posters of those who have died in the fighting. From then on, it's impossible to ignore the signs: we drive alongside a large wall, built recently to separate Turkey from northern Syria; other walls have gashes from bombs and there are ruined buildings everywhere. Some towns and villages have been almost totally destroyed by years of war. But despite the devastation, Syria has a specific smell which reminds me of my childhood: a union of fresh soil and newly baked bread.
I am on my way to visit Tal Abyad hospital, in Raqqa governorate, just south of the Turkish border. Around the corner from the hospital's entrance, I see the rubble from a building that was obliterated during fighting in the area. The same bomb that destroyed this building also affected the hospital. For a couple of months, the hospital was barely functional, as the fabric of the building was damaged and most of its medical equipment either destroyed or looted. After the fighting stopped, the hospital had to be renovated before it could start running again.
In recent months, MSF has been providing support to the hospital's paediatric, maternity and surgical wards. Once again, people come to the hospital from nearby towns and villages, as well as from places up to 120 km away, including Raqqa, Maskaneh, Hazeema, Deir Ezzor and Al Tabqa.
The surrounding streets are full of rubble and half-repaired buildings, and echo with the barking of stray dogs. The sheer number of dogs in the area surprises me at first, but I discover that most people here were sheep farmers, and generally farmers have a dog or two to protect their livestock. When people fled the war in these dark years for safer areas, some managed to take their livestock with them, but others left their animals behind, thinking they would return in a few days or weeks. Syrians tell me that now these dogs have become very dangerous. They were left behind with no food, and when the streets filled with dead bodies, the dogs started eating the bodies. "Now, they are uncontrollable and dangerous," one man tells me, "but we can't kill them because we already have so many dead in this country."
My main reason for visiting the hospital is to see and speak with the vaccination teams. Generally they work in the hospital one day a week, and the rest of the time move around with mobile clinics to vaccinate children under five in the various villages circling Tal Abyad.
The vaccination team is made up of three people; they work from eight in the morning to three in the afternoon, vaccinating almost 100 children every day in each location they visit. The main challenge they face is that sometimes there are limited vaccines. Some of the children haven't been vaccinated before, either because of the lack of vaccines or because parents are unaware of how important vaccines are for the health of their children.
Walking around the hospital, I enter the X-ray room and see a child lying on a bed. One of his eyes is covered with a white bandage, he has injuries all over his upper body, and his shirt is drowned in blood. Two men and a doctor stand next to him.
I ask what happened to the boy. The father replies, tears in his eyes, "He was playing with a battery that he found in the garden. Unfortunately it turned out to be an explosive device and it exploded."
The boy, who is eight years old, lost his eye, and has an abdominal injury and shrapnel wounds all over his upper body. "His younger sister was standing next to him but her injuries were not as serious," says the boy's father. The family is from Tishreen, an area recently left behind by the conflict, but which is still full of mines and unexploded remnants of war.
"They cleared the area, but apparently not fully," the boy's father tells me. "We went back to our houses thinking the area was fully cleared, but it seems there are still devices that attract kids without knowing that it will hurt them. This is not the first time a child in town has been injured by an explosive device."
In the end, the man cannot hold back his tears and they flow out. The child screams out in pain sporadically and, whenever he does, his father loses a little more of his strength.
In some parts of Syria, you can see and hear the sounds of war. Other areas are silent, with no sound of active war, yet there is still a great deal of suffering and exposure to traumatic events. At a later stage, the boy will need eye surgery, which is unavailable in Tal Abyad, so he will have to be transferred to Qamishli or to a hospital outside Syria. That's the best scenario. But if his family cannot afford the surgery, the child will live with this injury for the rest of his life. This war is unfair to him and his whole generation.
I walk around the hospital some more, seeing the MSF teams running around, fixing or installing machines, training medical teams, treating patients, organising the pharmacy and supplies. Everyone is working around the clock, desperately trying to make the hospital as functional as possible in a warzone, where medical supplies and equipment can take ages to arrive, and where delays and challenges are a fact of life.
I bump into one of the hospital's medical team. He is from Raqqa and fled the city a year ago by paying a smuggler to sneak him out. He decided to flee because there were not enough medical supplies or equipment left in the area for him to continue working. There used to be almost 66 surgeons in Raqqa, but now only three left, he says. He and his family initially went to a town in the west of Syria, before deciding to come to Tal Abyad, where he knew that there were limited numbers of medical staff and the needs were extremely high. He tells me, "We receive emergency and surgical cases every day, whether war-related or not. We receive injured people from explosive devices, mines and booby-traps almost daily."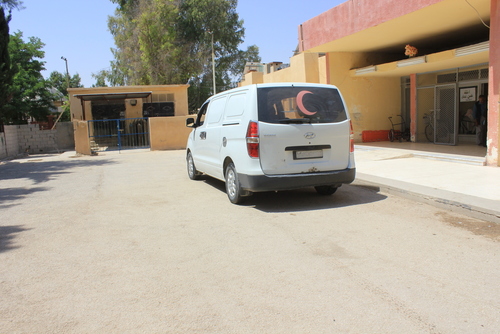 I leave him to his work, and continue through the hospital. Both the inpatient and paediatric wards are bursting with patients and their caretakers, all from different areas of northern Syria. Many are suffering from acute watery diarrhoea and respiratory infections.
Walking some more through the corridors of this hospital of tears, I arrive at the adults' ward. Most of the patients are asleep but, at the far end, one young man is awake. I notice that his leg has been amputated. Hesitantly, I approach him and ask what happened.
"I stepped on a mine while I was on a motorbike with a friend," says the young man, who is 21. "My friend died and I got injured. Earlier that day, my friend had come to my house to tell me about a house that was bombed by an airstrike, killing 14 members of one family. We needed to see if we could save anyone. We hopped on my bike, my friend sat behind me, and we drove towards the bombed house. That's when a mine exploded underneath us." He is silent for a couple of seconds before continuing, "He wanted to save someone's life but he lost his own."
A long silence fills the room after he tells me his tale. I wish him a fast recovery, offer my condolences and quickly make my way out of the hospital; I cannot bear to see or hear any more stories of war and tragedy.
Between my own memories of living under occupation in a warzone, and these people's mental and physical wounds, I am lost for words. For a couple of minutes I lose control over myself. As I walk out, I hide my tears behind my sunglasses, which act as a shield for me in this moment.
Before leaving the building, I turn to take one final look at the hospital. The medical teams are still busy, treating patients, distributing medicine and installing machines.
This is just a single day in a hospital in northern Syria. I cannot begin to conceive what it is must be like to have lived through these seven years of war.