Pneumococcal disease
Every year, four million children are affected by severe pneumonia and other pneumococcal diseases, of which almost one million children die – half of them in Africa. It is still the leading cause of death among children less than five years old and children with HIV are 21 times more at risk than healthy children. Pneumococcal disease is an infection caused by Streptococcus pneumoniae bacteria, sometimes referred to as pneumococcus. Infection can cause many types of illnesses, including pneumonia, blood stream infections, otitis media, or bacterial meningitis.
Pneumococcal disease impact
In developing countries, the disease is common in children under two years of age, including young infants. Children can be protected from pneumococcal disease with simple preventive interventions and low-cost, low-tech medication and care; however, today Streptococcus pneumonia has an increasing rate of resistance to commonly used antibiotics. Over the past few years, some progress has been made in improving access to lifesaving vaccines that prevent pneumonia, such as pneumococcal conjugate vaccine (PCV) and Haemophilus influenzae type b (Hib) vaccine, which is normally part of the Pentavalent vaccine. However, in emergency contexts – where children are the most at risk because of deteriorated living conditions – accessing the PCV vaccine is a challenge due to high prices and lengthy processes to secure adequate supplies.
For more information: WHO pneumococcal disease page
Pneumococcal disease facts
Transmission: Streptococcus pneumoniae bacteria are transmitted from person to person through direct contact with respiratory secretions like saliva and mucous.
Signs and symptoms: Pneumococcal pneumonia, the most common form of pneumococcal disease, can cause fever and chills, cough, rapid or difficult breathing, and chest pain. Very severely ill infants may be unable to feed or drink and may also experience unconsciousness, hypothermia, sepsis or septic shock, convulsions and hypoxemia (cyanosis).
Diagnosis: Pneumococcal pneumonia is diagnosed by the presence of either fast breathing or lower chest wall indrawing where their chest moves in or retracts during inhalation.
Treatment: Pneumococcal disease should be treated with antibiotics.
Prevention and control: Pneumococcal vaccines help protect against some of the nearly 100 types of antigens, but specifically those responsible of severe pneumonia and meningitis (while not active against those responsible for otitis media). WHO recommends the use of pneumococcal conjugate vaccines in all countries.
MSF activities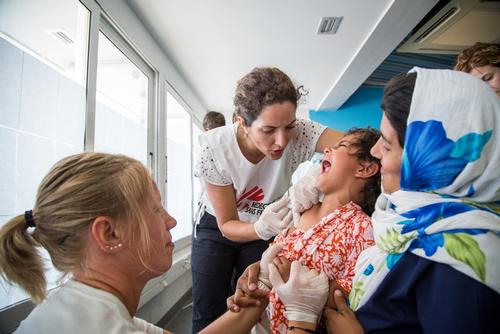 MSF is working to protect children from severe pneumococcal diseases by scaling up its use of the pneumococcal conjugate vaccine (PCV), as well as extending the package of vaccines used in humanitarian emergencies. Because of its prohibitive cost, humanitarian aid agencies have not yet been able to use the PCV vaccine on a large-scale. However, despite the high prices and logistical difficulties, MSF has now carried out PCV vaccinations in emergency contexts in Central African Republic, Ethiopia, South Sudan, and Uganda. We urgently need easier access to the pneumonia vaccine to reduce child mortality in other emergencies.
In May 2016, 193 governments met in Geneva for the annual World Health Assembly, where they unanimously passed a landmark resolution demanding more affordable vaccines and increased transparency around vaccine prices. Only about half of the world's countries have been able to start using the PCV vaccine produced by Pfizer and GlaxoSmithKline (GSK). One key barrier is the high price. Even at the lowest global prices, it costs 68 times more today to vaccinate a child in developing countries than it did in 2001 – nearly half of that increase is due to the high price of the pneumonia vaccine alone. This means that a growing number of developing countries can't afford to buy the pneumonia vaccine to protect their children against the disease.