Syria: Interview with Robert Onus, MSF Raqqa response project coordinator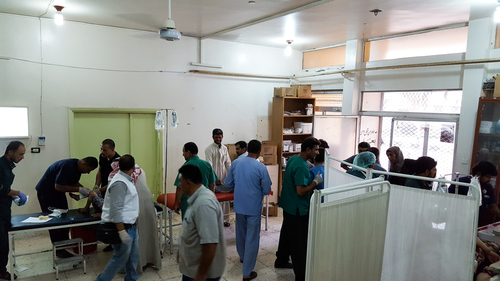 Where is MSF working in Raqqa governorate, Syria?
MSF is working in Tal Abyad hospital, supporting trauma care, surgical services and the overall running of the hospital in partnership with the local health authorities. We have eight ambulances providing referral services around Raqqa city so that anyone who is injured or needs emergency medical care can access the secondary healthcare facilities MSF supports in Kobanê, Menbij or Tal Abyad. We also have an advanced medical point in Hazima, north of Raqqa city, for patients in the northern Raqqa countryside who need emergency medical care, and we have five vaccination teams working across the governorate. In addition, we are supporting a basic healthcare clinic and a vaccination team in Ain Issa camp treating displaced people from Raqqa.
What are the main challenges facing the population fleeing Raqqa?
As Raqqa city is besieged we have very little information about what is happening inside the city. We know there are injured people, we know there are people in need of medical care but, due to the intensity of the conflict, we are unable to access them and there are no safe passages for these people to exit the city.
Patients we are treating for war-related injuries tell us there is still a large number of sick and war- wounded people trapped inside Raqqa city with very limited access to medical care and very few possibilities to get out of the city. We are extremely concerned about the wellbeing of those who are left behind without sufficient access to healthcare.
On the other hand, many people from around Raqqa are returning to their villages but still face the residual impact of the conflict. The villages and towns are littered with explosive remnants of war, including improvised explosive devices, booby traps and unexploded ordnances. We are receiving many patients in our ambulances and hospitals who are suffering from blast injuries and gunshot wounds. The vast majority of these patients are civilians who have been injured either in the midst of the conflict or in its aftermath when they returned home.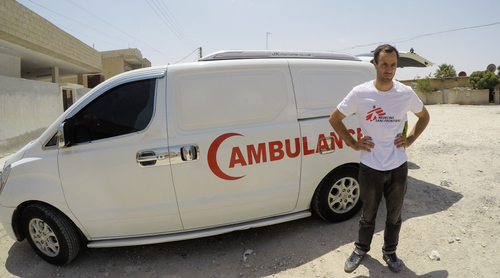 Is there a clear pathway for the wounded to leave Raqqa?
The city of Raqqa is a warzone; there is a very clear frontline and it is very difficult for civilians to cross that frontline. Some are able to cross at night, or perhaps they can use smugglers to leave the city but there is certainly no organised or coordinated way to medically evacuate injured or sick people from the city. Unfortunately, the people we can access with our services are the only ones that could reach us.
For example, in Tal Abyad hospital, we received a patient who had lost seven family members. He had shrapnel in his chest and arrived with his daughter and wounded mother, who was trapped for 15 hours underneath the rubble of a building that collapsed after an airstrike. They were finally able to access basic medical care and later fled the city.
The patient explained that, despite their wounds, they had to be smuggled out of the city with a group of 40 other people. They slept in the bushes for a night and had to follow dogs to avoid mines; the threat of being shot at by snipers from both sides was always looming. After they managed to escape the city, they were moved from one camp to another and only reached Tal Abyad hospital 10 days after being wounded.
What types of wounds are MSF staff currently seeing in the patients they are receiving?
We see two types of cases coming out of Raqqa. The first are the acute trauma cases – people injured from the fighting in the city who require immediate medical care. The second are those people trapped on the other side of the frontline. They are able to access rudimentary medical care inside the city but it takes them days or weeks to find a way to cross the frontlines and reach our hospitals for secondary healthcare.
What are the challenges facing MSF in its work in Raqqa?
The biggest challenge is related to access. We know there is still a sizeable civilian population inside the city – according to the UN, between 30,000 and 50,000 people. But we can't access this population and they most probably can't access medical care inside the city. For those who can cross the frontline to reach our ambulances, it sometimes takes hours or days to bring a patient to the hospital. That's an incredibly long time for someone who has been injured or is in need of emergency medical care.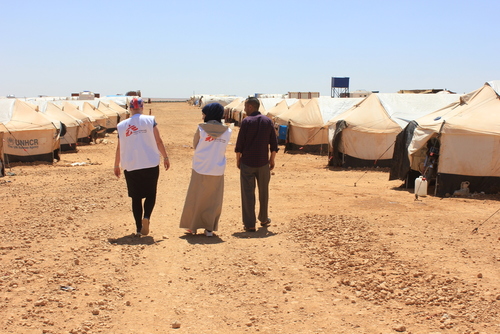 Why is MSF working in Raqqa?
After six years of war, the scale of unmet medical needs continues to increase. At the same time, only a handful of organisations are working in the region to provide humanitarian relief and medical care. When these two pieces of the puzzle are put together, the result is a major deficit in the medical care available for an incredibly vulnerable population. Emergency medical care, surgery, primary healthcare and vaccinations: all these services are effectively non-existent for people in Raqqa and MSF feels it is imperative to respond.
Why can't MSF work closer to the frontline?
At the moment, we have our ambulances and teams as close as they can safely be to the frontlines. Unfortunately, the rules of war and international humanitarian law have not always been respected in the Syrian conflict. We can't ignore that fact. Without that protected status, medical professionals are extremely vulnerable to attack, which, at the end of the day, makes it more difficult to work in areas close to the active conflict. All of this results in greater suffering for the patients.
The threat to medical professionals is not only close to the frontlines. Our teams are working in newly accessible areas that have been retaken from ISIS. We are finding large numbers of improvised explosive devices in these towns that are preventing people from returning to their normal lives. For example, in Hazima, north of Raqqa city, our teams resumed vaccination services this week but we have been forced to put them on hold, as the vaccination site – a local school – was found to be contaminated with mines and booby traps.