Jordan: A year of saving Syrian lives
The Médecins Sans Frontières (MSF) trauma surgery project near Jordan's border with Syria opened in September 2013 and began saving lives straight away. Since then, the project team has conducted more than 2,000 major surgeries - many of which were life-saving - on over 600 patients.
"One of our very first critical patients was admitted in September 2013 after he had been caught in an air strike in southern Syria. He told our medical team 'let me die, you can't fix me,'" said Paul Foreman, MSF head of mission.
The patient needed major surgery and three external fixators – devices which keep bones stable until they heal. After nine months of care in hospital and more than 30 surgeries, he was discharged.
"Not only did I survive, but I'm going to be able to walk out of here," the patient told the head of mission.
"Yasmina, my nine-year- old daughter, was injured in both her legs and her eye from shrapnel from a barrel bomb. The bomb was dropped from a helicopter and blew up when she was walking home from school. Yasmina and her school friend both got severe injuries and were transferred to Jordan. Since the bombing, she has had three surgeries on her legs and eye at Al Ramtha hospital and Al Maqased hospital in Amman for her eye. Yasmina is now traumatized. She is afraid about going to school. Anything that reminds her of school, makes her terrified."
-Ola, a patient from Dara'Al Balad.
The Emergency Surgical Programme inside Al Ramtha government hospital, where MSF works closely with Jordan's ministry of health, is around five kilometres from the Syrian border. MSF runs two operating theatres, and two in-patient and recovery rooms, and two wards – with a total of 33 beds. More than 140 national and international staff work in the project.
Operations conducted at the trauma surgery centre include treating severe abdominal, chest and orthopaedic injuries and in addition, physical therapy and mental health services and general inpatient care are provided. To date, a total of 1,100 mental health consultations have been carried out.
Although not in the country where the conflict is taking place, MSF teams are witness to the devastating impact of the war in Syria through the extensive injuries of our patients. Despite their best efforts, the severity of some of the injuries, and the time it can take to reach the hospital, mean that not all patients survive.
"Every single death of a patient strongly affects our team. Despite their skills, hard work and dedication, unfortunately some people can't be saved," said Paul Foreman the head of mission.
"In the last year, 17 patients have lost their lives, meaning that the mortality rate is less than three per cent," Foreman added. "Among the primary causes of death are complications due to the severity of the injuries, and in some cases patients arrive late to the Emergency Room due to the long hours of transportation they had to endure coming from inside Syria."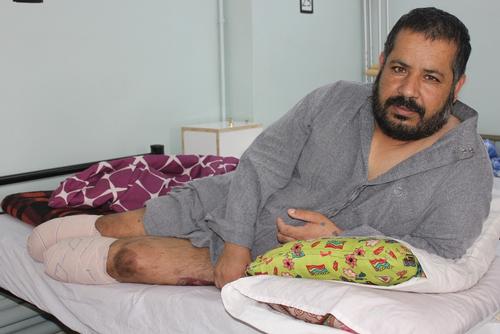 "I was blown up by a landmine while herding sheep and I lost both my legs. Two weeks later, my brother was also wounded in the same way. After four months of treatment, I tried on my prosthetics two days ago, I feel so happy. It's a feeling that you can't explain. I didn't know that it would be possible. I can't wait to go back to Syria to show my family that I can walk again,"
- Nawaf, a 45-year-old patient
As the project grew, in March 2014, MSF opened a post-operative care facility in Al Zaatari refugee camp. This 40-bed facility is for war-wounded patients transferred from Al Ramtha and other hospitals in Jordan. To date, MSF has admitted 179 patients, and as part of the post-injury treatment, more than 190 mental health consultations have taken place as well as other physical therapy services.
Helping people recover physically and mentally from traumatic injuries is a key part of the project. To assist in this process, MSF invited Richard Whitehead, a British Paralympic champion to meet patients and talk about his disability. He runs with prosthetic legs, as he has a double amputation. He explained how he managed to overcome obstacles and social barriers and become a professional athlete.
"Here in a conflict situation, it is very important to try and be positive and guide people through the process of getting back onto their feet, getting back to their loved ones. I hope that with somebody like me, patients can relate their circumstances to my disability and see some of the challenges that I've had to overcome," said Richard Whitehead. To watch the film: https://www.youtube.com/watch?v=JM0bO6mTYZw
War-wounded patients admitted to Al Ramtha Government Hospital are not registered as refugees in Jordan. Once discharged from the hospital, some return to Syria if they don't require further medical follow up. Others go to one of the refugee camps in Jordan, including Al Zaatari in Mafraq, where MSF has the post-operative care centre. If they are sponsored by a Jordanian family, they are permitted to reside in a host community.
---
Since the Syrian conflict began, over three million Syrians have sought refuge in neighbouring countries, including Jordan. Médecins Sans Frontières (MSF) has been present in Jordan since August 2006 with a reconstructive surgery program located in Amman. Since 2013, MSF has been working to support refugees through Al Ramtha emergency trauma surgical programme, as well as a mother and child hospital, and a non- communicable disease project in Irbid to support Syrians refugees and vulnerable Jordanians in host communities.