Greece: Testimonies from migrants and asylum seekers in Lesbos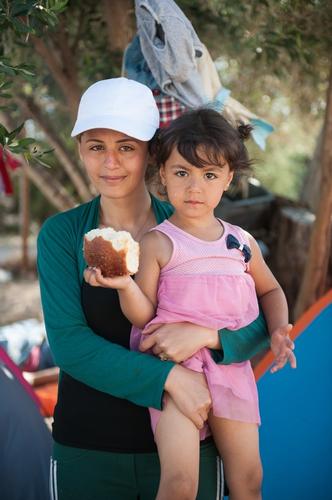 "Look at us now! This is inhumane."
Jeilan (28 years old and from Aleppo, Syria) with her 4 year old daughter in the Kara Tepe refugee camp on the island of Lesbos. She has already spent 5 days in the camp waiting for her papers to be issued by the police.
She says, "I am here with my husband and my four-year-old daughter. We had to leave Aleppo because of the bombing. We ran for our lives. We did not bring anything with us, we left everything behind.
We came from Turkey by sea, at night. It was very dangerous, the wind was strong and the sea was rough. My children would not stop crying. It was a small boat, about 4 metres long. There were 50 people inside, not protected. It took one and a half hours to reach the beach where we landed.
When we arrived at the beach, we found we had to walk 5.5 km with our children. There was no one to take us and the cars would not stop. First we went to the coastguard to get registered. We gave our names and they told us we would get our papers in a day or two, and then we could leave for Athens.
There are four other families with us – 10 or 11 people altogether. We have been here for five days, and are still waiting for our papers.
When we went to the police station yesterday to collect the papers, they told us that they did not have our names. They had made a mistake. The police officer shouted at me, "Go, just go". He gave no explanation, and did not say when we should come back.
We are staying in a dirty tent. There are no mattresses to sleep on, just cardboard boxes. There are no blankets, nothing, just dirt. We don't even want to go near the toilets. The water is not clean, we cannot wash.The food is not good. For breakfast, we have one piece of bread shared between three people.
One woman arrived today with her two small babies. Their clothes are all wet, but they don't have any more clothes. She has been asking where she can find some milk for her baby, but nobody gives her milk, so she will have to buy it from somewhere.
We don't see any help provided for us here in Greece. We don't want to stay here.
I can't believe that I am living in such conditions with my family. I used to be a teacher and my husband was an accountant. Look at us now! This is inhumane."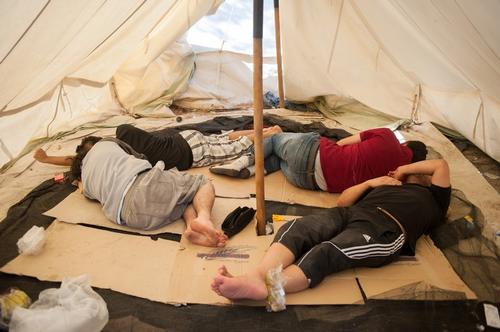 "We come from a country at war. We just need to find a place that is safe."
Mohammed, Tarik, Ahmed and Abbas from Latakiyah, Syria on their first day in Moria camp.
"We've just arrived in this camp in Moria. Six hours ago we were at sea and we almost drowned. We were in a very small boat, with 50 people crammed inside – families with small children and babies. The weather was very bad, with strong wind and big waves. The boat capsized and we fell into the water. Thank God the coastguard came and saved us. They took us to the port, they gave us a piece of paper and without explaining anything else, they brought us here. They gave us no information at all.
We simply cannot believe how awful this place is. Everywhere you look you see huge piles of rubbish and puddle of dirty water. We thought they would take us to a decent and safe place where we could rest, but here we found this dirty tent without any mattresses. Our clothes are wet, but no one has given us any dry clothes. We don't even know if they will give us any food or water. There is a small canteen that sells food and drinks, but it is very expensive.
When we were on the boat, we looked at the island of Lesbos and thought what a beautiful place it was, and we were very happy. But this camp here in Moria is truly awful.
We come from a country at war. We just need to find a place that is safe."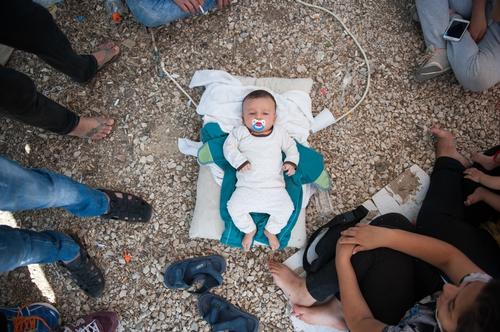 "We have been in the camp for five days so far. There is nothing here for us."
A Syrian baby lies in the floor of Kara Tepe camp. The family has no milk to feed the child and no money to buy.
The baby's father, 26 year old Deshevan said: "I am here with my family: my wife, my child and my sister. We are part of a group of 19 people from Syria.
We have been in the camp for five days so far. There is nothing here for us. All 19 of us sleep in one tent. Everywhere you see dirty water and rubbish. There are no toilets, no cleanliness. There is one small tap for drinking water and washing ourselves.
There is not enough food for everyone, but this is not important to us. What we need – but don't have – is information about our papers.
We were given a piece of paper by the port police, but since then we have been waiting here and have heard nothing. Nobody tells us anything. There is no one responsible to give us any information, and we don't know what to do. No authority, no police, no information, nothing.
There is no milk for the baby – no one has given us any – so we have to go to the supermarket and buy it. We don't have enough money, but for the baby we will find a way."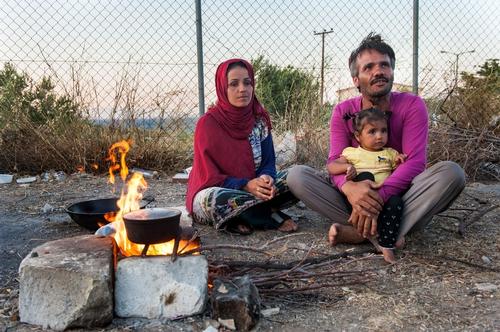 "Life is very difficult here for us. We don't have enough food and we are almost out of money."
Sitting by the fire, Leila is preparing some tea for her husband and children. They arrived at Kara Tepe camp seven days ago and are living in a small tent that they bought in a local shop.
"Life is very difficult here for us. We don't have enough food and we are almost out of money. There are no cooking facilities, so we cook food and make tea on an open fire. There are many people from Afghanistan in this camp and all of us we just want to get our papers and leave the island. This is not a place for humans to stay.
I want to thank the Greek coastguard for saving our lives. We came in a very small boat that was full of people. It was very windy, the sea was rough and the boat capsized. Thank God the coastguard came and saved us. I am thankful we are all alive."