A Fair Shot: World Pneumonia Day Call-A-Thon today!
12 NOVEMBER IS WORLD PNEUMONIA DAY – JOIN OUR CALL-A-THON TODAY!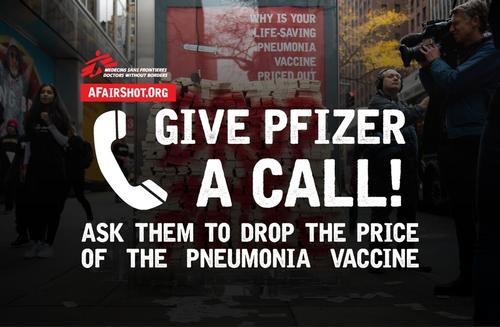 Pneumonia claims the lives of nearly one million children each year. There's a vaccine to prevent this disease, but it's too expensive for many developing countries and humanitarian organisations, such as ours, to afford. Help MSF call on Pfizer to lower the price of the vaccine and give all kids A Fair Shot.
Call the Pfizer office in your country and say: "Hi there, Can you pass on my message to your CEO, Ian Read? World Pneumonia Day is coming up and I hope Pfizer offers a sustainable solution by lowering the price of the pneumonia vaccine to US$5 per child for all developing countries and humanitarian organisations like Médecins Sans Frontières (MSF). Thank you!"
CALL NOW:
Argentina +54 11 4788 7000
Australia +61 2 9850 3333
Austria +43 1 52 11 5 0
Belgium +32 2 554 62 11
Brazil +55 0800 7701575
Canada +1 514 695 0500
Egypt +20 2 33337777
France +33 1 58 07 30 00
Greece +30 210 67 85 800
Italy +39 06 331821
Japan +81 03 5309 7000
Korea +82 02 317 2114
Luxembourg +352 26 11 49 30
Mexico +52 5081-8500
Netherlands +31 10 406 4200
New Zealand +64 800 699 276
Pakistan +92 21 32200121 5
Philippines +63 2 451 9200
Russia +7 (495) 2875000
Spain +34 91 490 99 00
Sweden +46 152 273 00
Switzerland +41 43 495 71 11
Turkey +90 212 310 70 00
United Kingdom +44 1304 616161
United States Call here