Chad: Patient stories, malnutrition in Bokoro region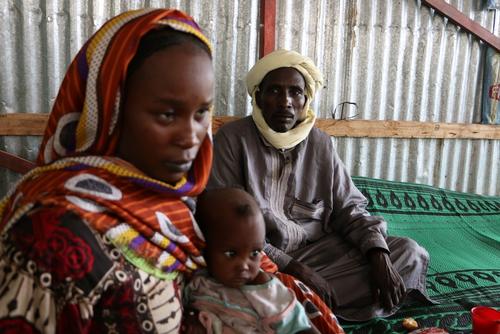 Hawa Hamad, a small child from a small village near Gambir
Hawa Hamad arrived at the public health centre in Gambir with her parents on a Monday night. She received an injection to stop the diarrhoea and vomiting that she was suffering from.
The family spent the night at the home of some relatives who lived nearby. They knew that the next day MSF staff would be running a mobile clinic in the village and they wanted the team to check on Hawa first thing.
Hawa was so weak she could not keep her eyes open or her head straight, and she wasn't able to swallow any milk.
Her mother, Bomboe Youssef, is 20 years old and pregnant for the second time. Hawa's father, Hamad, is 35. He sells groceries and works in the fields.
As soon as Hawa has been screened by the MSF nurses, she is referred to MSF's therapeutic feeding centre in Bokoro. It's about half an hour away by car. As MSF staff get ready to take Bomboe and her daughter to the hospital, Hamad asks them to watch over his wife for him. They are cousins, and she has not spent a night away from him since they got married.
At the hospital, Hawa is found to be suffering from a genetic form of anaemia, probably due to the fact that her parents are close relatives. She needs a blood transfusion. Hospital staff call Hamad, who is willing to donate blood. He tries in vain to arrange transport from Gambir but in the end MSF staff go to pick him up, along with his brother.
After a blood test at the hospital, staff confirm that Hamad's blood is compatible with Hawa's. But he also tests positive for syphilis, so is ruled out as a donor. After being persuaded that it won't make him too weak to work, Hamad's brother eventually agrees to give blood in his place.
The day after the transfusion, Hawa is noticeably better. She sits up and drinks some milk.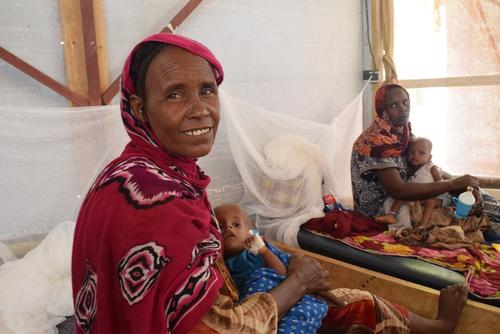 Hawa Haroum, a grandmother from Tchaway village in Bokoro
Hawa Haroum is from a small village in central Chad. She shares her home with her husband, their children and her husband's mother.
"I have five children – three girls and two boys. My sons are already married and work in the fields. I'm very happy with them. They work hard in the fields and bring home everything they find. And if they don't work, they go out to buy food."
Hawa has been in MSF's intensive care unit in Bokoro town for four days, looking after her grandson, Adeen, who is two years old. She says it feels very far from home. She is sitting on a bed in the busy ward, which can accommodate up to 70 mothers and their severely malnourished babies, and is keen to talk. She explains that she is at the hospital instead of the child's mother, Fatima, who is at home having just given birth to her second child.
"Fatima couldn't leave the house, so I took Adeen to the clinic to pick up some rations [enriched peanut paste to treat malnutrition] and then return home, but when the nurses saw Adeen, they said I had to come straight here. I thought I was just going to the mobile clinic and then going home again, so I wasn't very happy when they told me this. I'd been going with Adeen to the mobile clinic for three weeks but this time they said he wasn't getting better and that he had to be transferred. I've had to leave my mother-in-law in our village – she's a very old woman. I also have a three-year-old child and I've had to leave them both. I didn't even have the chance to get a change of clothes. I asked, but they said it was too far for me to go and they couldn't wait. There were four other women and their babies on that day who were transferred to the hospital here from Tchaway. One woman was lucky; she called her husband, who cancelled what he was doing and came on a motorbike to deliver her things before we left."
She sounds bemused but also pleased to see Adeem getting better. "He had a fever; he was vomiting and had diarrhoea. But since he's been here, he's been okay. The baby hasn't put on any weight but I can tell his health is better. I hope he continues to get better like this over the next couple of days so I can go home. I'm waiting to hear from the doctor before I know if I can leave."
As well as severe malnutrition, Adeen also has microcephaly, an abnormal smallness of the head where the brain doesn't fully develop. Despite this, Adeen's head looks oversized for his incredibly thin body and he has little energy.
Severe malnutrition is very common among babies and young children in Chad and often relatives may not be aware of the severity of their child's illness because it's what they're used to seeing. In addition, there are few health services in Chad and they often don't have the necessary medicine, so relatives don't always seek help.
The doctor comes and gives Adeen his hourly check-up. There's no cure for this condition, so once he has recovered from malnutrition, he and his grandmother will return to their village. However, it doesn't look likely that he will be discharged in the next couple of days.
Still, Howa is keen to talk about the medicine and support they've received. "They've given Adeen medicine and a lot of milk. They're always checking on him. I've had a lot of good food."
It's clear that Howa is also keen to get home because she's worried about her daughter. "I haven't spoken to Fatima since I've been in the hospital. I don't have a phone. She just has to wait for her child to come home. It must be difficult for her. Illness has separated them."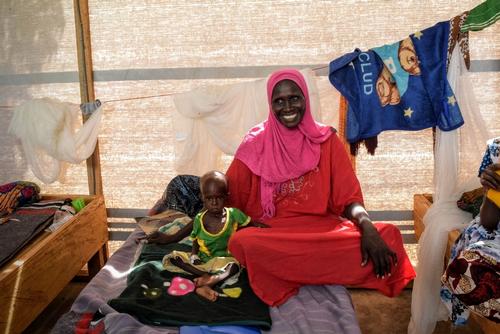 Zara Abba, a grandmother from N'djamena
Zara Abba has been at MSF's intensive care unit in Bokoro town for four days, caring for her granddaughter, Katalma Moussa, who is two years old.
When her granddaughter fell ill, Zara Abba was visiting Bokoro to pay her respects to a family member who had died.
"She hadn't put much weight on for a while and then she started to get very liquid diarrhoea and her health got even worse. I had been taking her out for walks and to play with the other children, but since she started getting diarrhoea, she didn't have any energy and I couldn't do that anymore. She was always hungry and crying and it was like the milk we were giving her wasn't enough. I looked after her for seven days at home but after that knew I had to get her to a clinic."
Katalma is incredibly thin and although she's sitting up next to her grandmother, it looks like it's a challenge for her. She's moving her hands and head very slowly to push the flies from her face. It seems to take all of her energy.
"As soon as we arrived at 5pm a doctor examined her. He gave her some water and an injection. Since then, she has only had diarrhoea once and now she's almost back to normal. She is starting to get her appetite back. It's as if she can't eat enough. She finishes all of the milk they give her and then she cries because she wants more."
Zara Abba also has a two-year-old daughter of her own. "I would travel all the way to France for my children's health." She says. "So I have no problems staying here until Katalma gets better. Yes it's hot and noisy, but it's hot and noisy in my house too. I have given birth to 15 children. Seven of them have died and eight are still living. Two of them were twins and they died on the same day they were born. The others, I don't know why; it was God's choice."
Sadly this kind of story is common in Chad. Women marry young and tend to get pregnant again soon after giving birth to their previous child. With high rates of malaria, poor hygiene and a lack of nutritious food, losing many children isn't unusual.
"My husband is a Marabout [an Islamic religious leader] and also sells things at the market in N'djamena. Four of my children are married and the other four still live with me. All of them have gone to school, and I hope they can achieve something with their lives. This is my daughter's first child. She's still in N'djamena but I've been speaking to her every day. She calls to ask about the health of her daughter. I say, 'your daughter is getting better, and MSF have gone above and beyond to help your daughter. They've worked really hard.' I would really encourage MSF to keep putting in so much effort for these children. There are a lot of illnesses for children here, but thanks to MSF there are now a lot of nurses and, even if there is still a lot of illness, it's getting less."