Ebola
Since the Ebola outbreak in West Africa was officially declared on 22 March in Guinea, it has claimed more than 9,100 lives in the region. The outbreak is the largest ever, and is currently affecting three
countries in West Africa: Guinea, Liberia and Sierra Leone. Outbreaks in Mali, Nigeria and Senegal have been declared over. A separate outbreak in DRC has also ended.
Following the downward trend of new cases reported in Médecins Sans Frontières (MSF) Ebola management centres across the three affected countries during the first weeks of 2015, between week 5 and week 6 the number of new cases has seen a slight increase (with 19 confirmed admissions on week 6. Surveillance remains weak: the World Health Organization reported that during the last week only about 15% of new cases in Guinea is from known Ebola contacts, while in Sierra Leone the available data is limited (according to WHO, on week 3 21% of new cases were from known contacts). There is almost no information sharing for tracing Ebola contacts between the three most-affected countries. Since a
single new case is enough to reignite an outbreak, the level of vigilance should remain high in order not to jeopardise the progress made in stemming the epidemic.
What MSF is doing
MSF's West Africa Ebola response started in March 2014 and includes activities in Guinea, Liberia, Mali and Sierra Leone. MSF currently employs 325 international and around 4150 national locally hired staff
in the region. The organisation operates eight Ebola case management centres (CMCs), providing approximately 650 beds in isolation, and one transit centre. Since the beginning of the outbreak, MSF has admitted more than 8,100 patients, among whom around 4,960 were confirmed as having Ebola. More than 2,300 patients have survived.
More than 1,400 tonnes of supplies have been shipped to the affected countries since March.
More details in the latest Crisis Update
What is Ebola?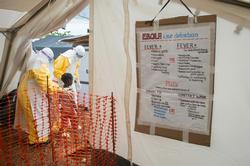 Ebola is a virus that can kill up to 90 percent of the people who catch it, causing terror among infected communities. Ebola can be caught from both humans and animals. It is not an air-borne disease. Human to human transmission occurs through close contact with bodily fluids of an Ebola-infected person. Patients need to be treated in isolation by staff wearing protective clothing. Supportive care can help the patient survive longer, and the extra time may just be what the patient's own immune system needs to fight the virus.
- Read the FAQs
- Interactive guide to an Ebola centre