Ebola
Since the Ebola outbreak in West Africa was officially declared on 22 March in Guinea, it has claimed more than 9,100 lives in the region. The outbreak is the largest ever, and is currently affecting three
countries in West Africa: Guinea, Liberia and Sierra Leone. Outbreaks in Mali, Nigeria and Senegal have been declared over. A separate outbreak in DRC has also ended.
What is Ebola?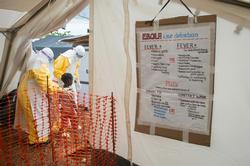 Ebola is a virus that is transmitted through direct contact with blood, bodily secretions, organs and infected people. Ebola first appeared in 1976, and although its origins are unknown, bats are considered the likely host. MSF has intervened in almost all reported Ebola outbreaks in recent years, but until 2014 these were usually geographically contained and involved more remote locations. Ebola has a mortality rate of between 25 and 80 per cent, and as there is currently no vaccine or treatment for the virus patient care is centred on hydration and treating the symptoms such as fever and nausea. Ebola starts with flu-like symptoms, followed by vomiting and diarrhoea and in some cases haemorrhaging and often death. Despite being so deadly, it is a fragile virus that can be easily killed with sunshine, heat, bleach, chlorine and even soap and water.
Preventing transmission is essential: patients are treated in Ebola Treatment Centres where strict infection control procedures are in force. Identifying those people the patient was in contact with when they were ill becomes a priority, as do safe burials. Community health promotion is also undertaken to inform the community about the threat and how to try and keep themselves safe and what to do if they develop signs.
What is MSF doing?
MSF's West Africa Ebola response started in March 2014 and includes activities in Guinea, Liberia, Mali and Sierra Leone. MSF currently employs 225 international and around 2 560 national locally hired staff in the region.
The organisation operates seven Ebola case management centres (CMCs), providing approximately 230 beds in isolation, and one transit centre.
Since the beginning of the epidemic:
8,351 patients admitted to MSF Ebola management centres
4,962 patients confirmed with Ebola
2,329 patients recovered from Ebola in our centres
More details in the latest Crisis Update
- Read the FAQs
- Interactive guide to an Ebola centre